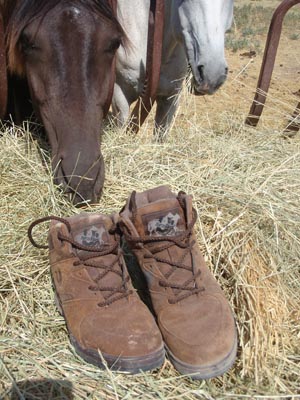 Sunday July 18 2010
Endurance Granny
just did a post on riding shorts (are there any? Besides Dave Rabe's jean shorts that he always wears : ) and riding shoes.
Here's a look at some of my riding essentials.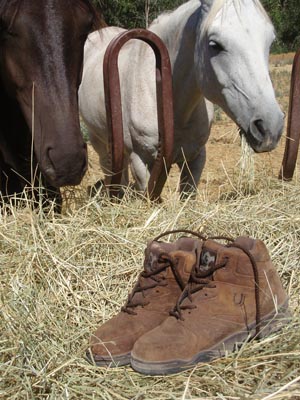 My shoes of preference are Roper Womens Athletic Horseshoes that I order from
ValleyVet.com
. Just my opinion, and that is: I've used these shoes for years and thousands of miles of endurance riding (many more thousands in training!). A decent amount of walking/running/bushwacking on foot too, in desert and mountainous country. They're very comfortable and I don't have a problem with ankles so I can't comment on support, but since they're a bit high-topped they seem like they have good support. They are quite hardy and last a pretty decent amount of time. Sometimes the stitching comes out in places, and the top layer of the shoe at the back of your heel wears out, but I think that's not unreasonable with the work mine get put through. To me they are worth the reasonable price.
Lisa at
Laughing Orca Ranch
and I were emailing this spring about tights, just at the time I was ordering a new pair of Irideon Essential tights (I got it from
Equestriancollections.com
though I don't see a website of an Irideon company), and (yet) another pair from
Evelyn Allen of Just For Horsin-Round
.
I've mostly worn
Kerrits
tights - and most of them have been hand-me-downs. They last a loooooooooong time, let me tell you. I sadly
threw two hand-me-down pairs away
last year after a very long second life with me.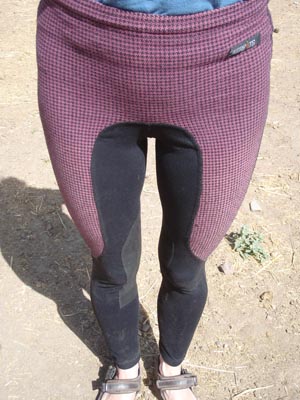 These are Kerrits' classic Performance Tight - very long life, very comfortable. I think this is actually the first new pair I've ever bought! The material is fairly thick so it keeps me warm when it's cold, but I do get a bit warm in the summer (wah! I HATE being hot!). But the thicker material should make them last even longer so I don't have to mourn throwing them away for a good long while. The material is 90% Meryl (if that makes any sense to anybody) and 10% Spandex. Gives you a good grip in the saddle.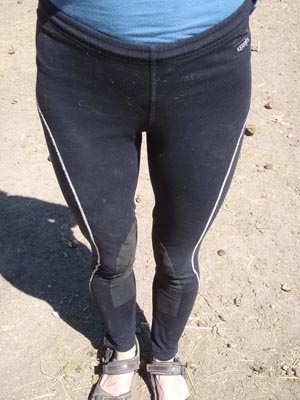 These are my ultra-favorite Kerrits tight - love the fit and the feel and they are great in a saddle. I like the zipper at the bottom of the legs. I like this pair so well I often take them traveling. I don't see them available on their website anymore, so they must not make them. Therefore I better stop wearing them so I don't wear them out!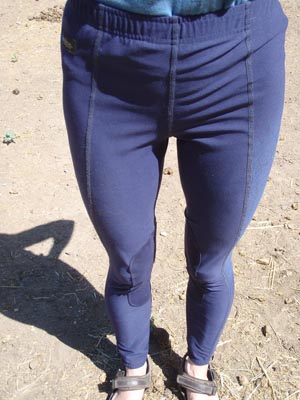 I just tried for the first time a pair of Irideons (on sale, plus a promo code coupon).
Love
the feel of the fit. I could live in these. I kind of live in my tights when it's not HOT anyway, and these are nice. The material is thick too, but slicker - 88% Polyester and 12% Lycra. Little bit less of a grip in the saddle, and it feels like the kind of material that will equal what the temperature is outside, i.e. when it's HOT outside I'm going to be hot, and when it's cold outside I'm going to be cold. I'll get back to you on that.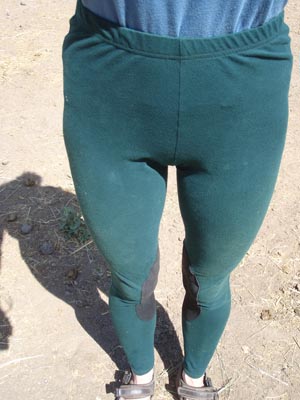 Then there's Evelyn's tights. I've been wearing hers for a long time, too. She makes a nice fleece tight for winter, thin but soft and effective fleece against the cold. Again, very comfortable, very long lasting (although my friend wore the butt cheeks out of one of my fleece pairs, haha). I live in these also, all winter.
Evelyn makes all her tights by hand (they aren't sent off to China to make), and she'll probably have whatever color you want (she had this hunter green for me I couldn't find anywhere else!).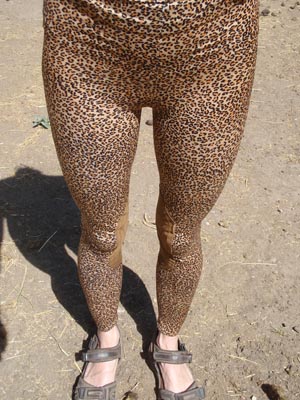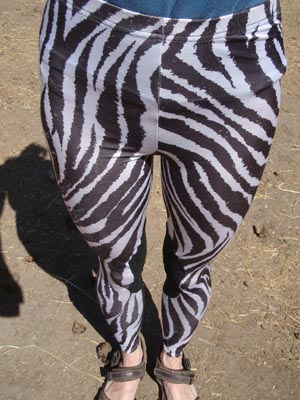 In my younger, earlier (crazier?) endurance days, I bought these tights from her. They fit great, they even look good on me, but if I wear them I make darn sure it's a horse I'm not going to fall off, because I figured I better look like I know how to ride if I'm going to be daring enough to show off in these. But then, what the heck - the zebra stripes would be easy to spot by helicopter, yes? And so far I haven't scared the horses, so what the heck.
Evelyn can work with you on fit, too. Her prices are extremely reasonable and to top it off she's a wonderful person. Consider supporting a US artisan and artist when you get your next pair of tights!
Then there are chaps. I do have a pair of full chaps that I wore when I did horse packing - very useful in the wilderness for unexpected frigid rain and snowstorms that can suddenly sweep over you, or for bushwhacking you might end up doing. I got them from a local 4H club. They have lasted forever but I don't know who made them.
For endurance, I wear half chaps. Some people just wear long socks - or nothing over their tights. My lower legs get pinches and rubs if I don't wear half chaps. That can make even a training ride miserable.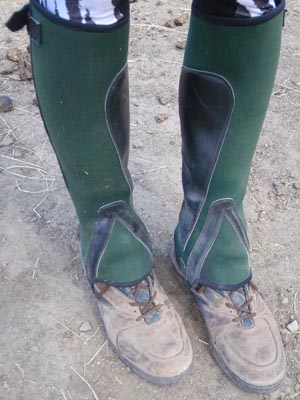 I often use a pair of
Just Chaps US
for training rides. These appear (so far) indestructible, and the best thing is that the zipper hasn't broken. I am totally zipper dyslexic so this is a very good thing. The only thing I haven't tried them in is heavy rain. I've seen some chaps sag down around ankles in rain, though these might not do that. Kind of hard to test in the desert : ) .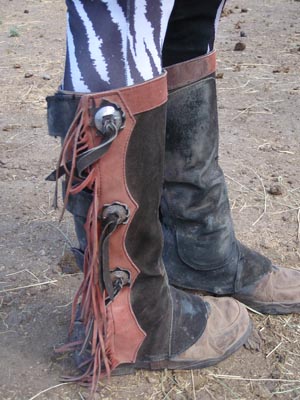 My most favorite pair of leather half chaps are these - handmade by endurance rider Ann Kratochvil in California. They have just enough flash (but not too much to make you look like a silly show-off if you fall off), are also rugged, adjustable, comfortable, good in all kinds of weather, and heck they just look good.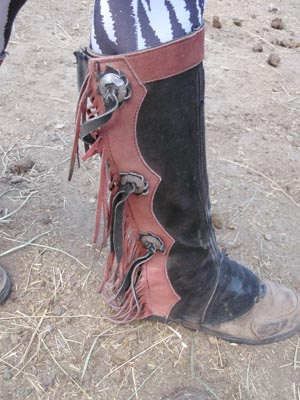 Ann can make them in any color, and she has several sizes. She says you can throw them in the wash, but I wouldn't - i just hose mine off and let them dry out of the sun (and stretch them a couple of times while drying, just in case they want to shrink a bit). The velcro is tough, and after thousands of miles of riding (and plenty of leading off the horse), sometimes some of the stitching comes loose or the under-the-boot-strap wears, but send them back to Ann and she can re-stitch them for a small fee. Ann doesn't do internet so if you're interested, email me and I can give you her contact info. I bought my pair years ago and they were around $110 then. Price of materials has probably gone up since then, but they worth it. And, you're supporting a US artisan and artist again. Always a good thing.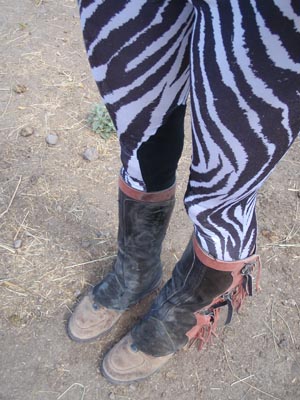 (This is a fine color combo. I've always had a hankering to go walk around the high falutin' shops in Hollywood wearing these chaps, or even better, these chaps with these tights. What do you bet some celebrities would think that is SO COOL and start wearing them, even though they have probably never touched a horse. Wouldn't that be a hoot! I haven't done it yet because I don't think Ann can handle the volume of orders the celebs would make...)
If you do order tights (or anything) online from companies, don't forget to first google the company name and "promo code" as you'll probably find some sort of discount.