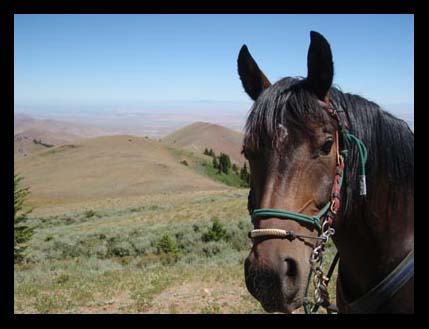 Monday July 20 2010
An epic adventure for Dudley in the Owyhee Mountains.
We hauled up to Silver City - a narrow, twisting, unpaved road up into the Owyhee mountains, to try to find a way to ride to Burnam Flat from up top. We'd
tried from the bottom
but couldn't find a way up there. You get out onto these old mining roads, and you never quite know if the road you're following is on the map, or if the map
says
there is a road when it no longer exists.
The trail was beautiful, historic. Past old mines, some restored old shacks/mills/now houses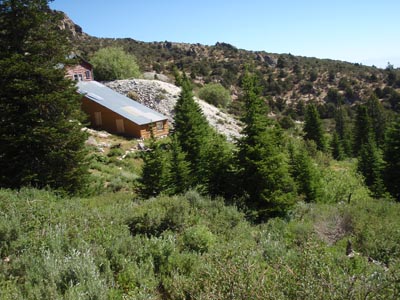 (I believe there's an ordinance in Silver City and the surrounding area that you have to rebuild to the way the buildings were in the gold and silver rush days), past old mines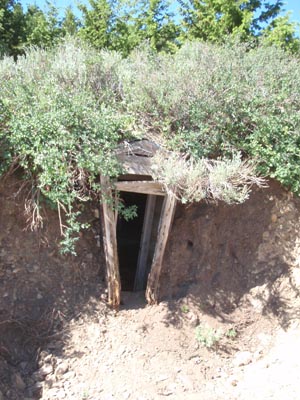 some with the rails still running into them and streams running out of them, past Fairview Cemetery (established 1875)(and with a very fine view to the Snake River drainage some 4000 feet below),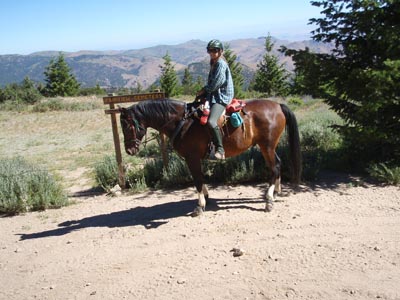 through cool and shady sweet-smelling fir forests, through hot mountain mahogany forests, through thick miniature aspen forests,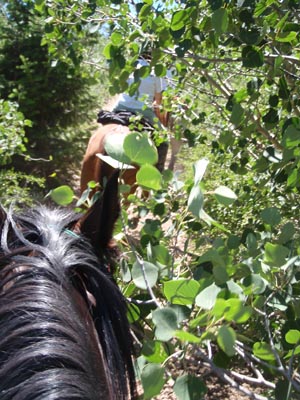 past red palisades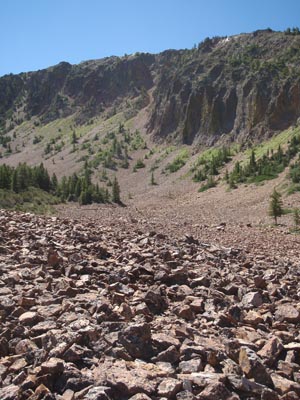 and mountain meadows,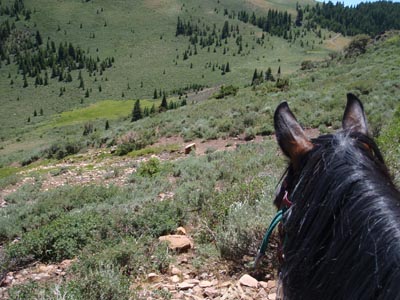 across the springs that are the headwaters of the creeks we ride down on the desert flats. Sometimes I would cup my hands to make a little dam in a flowing spring so Dudley could get a drink.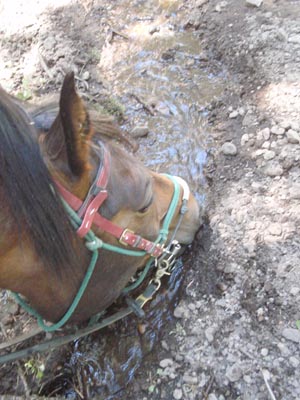 It was a lot of walking, a lot of climbing for a fat boy like Dudley, but he willingly went along, ears pricked forward, looking for that Burnam Flat Meadow I'd promised him a picnic in.
And after 7 1/2 miles, we reached it from the road we were on, and Dudley had the best picnic he'd ever had. We called Steph on a cell phone, "Hey Steph! If you look out your window right now, you'll see us waving at you from Burnam Flat!" (Of course she would have needed a telescope.)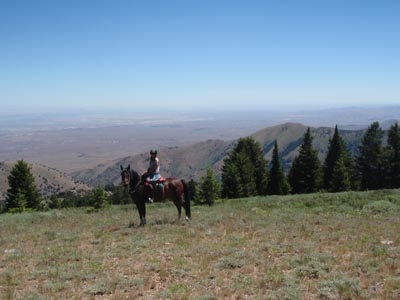 Instead of backtracking we decided to make a loop out of it - new territory for all of us. We had a map that covered most of the route.
It was that missing part of the map that we really could have used... and then it might not have helped us at all (see paragraph 1).
Over the Pickett Creek saddle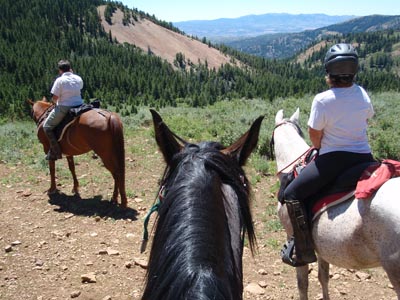 (that's the creek I live on, way down there!) and onto the backside of the Cinnabar Mountain, we followed a main old logging road (the one on the map), skirting the base of Cinnabar,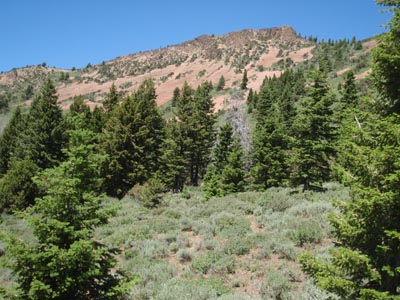 crossing the wide creekbed of Lightning Creek Spring (which is at times a huge runoff),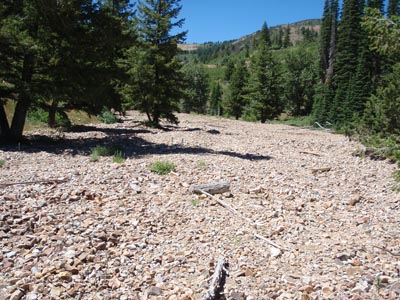 and a climb up the other side,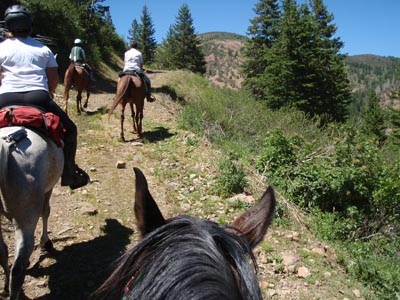 heading for a pass on Cinnabar somewhere.
We thought.
Somehow, this main dirt road becoming more of a... fading logging road, and we found ourselves heading the opposite way of where we should be going, and back
down
, after that hard-fought gain to 7,000 feet. And this is about where we were off the map.
14 miles now, and Dudley was working hard (even at a walk, but the fat boy hasn't done a whole lot). And then the road went up even more, a steep climb. I got off to lead Dudley - till I couldn't do it anymore. The horses all huffed and puffed and dug in and got to the top... and the road quit.
15 miles, and now a canyon between us and the ridge we should have been heading for. What now? Retrace our steps 15 miles (making a 30 mile trip... and mostly walking...) or try to bushwhack further up, then down (hoping it wasn't an impassible canyon) and up another steep climb to gain the Cinnabar ridge... and hope there wasn't a steep drop-off on the other side so we'd then have to retrace 17 miles...
I was feeling bad for Dudley. We hadn't planned on 20 miles, and certainly not this much climbing. He was pooped (though that didn't stop him from eating) and his feet were getting tender. He's barefoot and it's the first time he's done any more than 5 miles in the Easyboot gloves. And the fat boy was just tired.
Well, we went for the cross country scramble.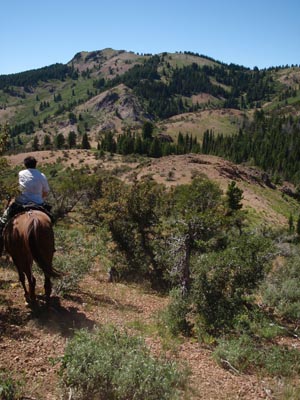 Fortunately we didn't have a deep canyon to cross, and though the climb was steep, it wasn't too bad, and we took our time and when we got to the top... we hit a road! At 7800 feet. We were between War Eagle Peak and Hayden Peak (8403', highest in the Owyhees)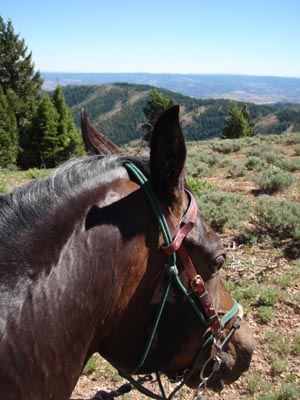 - the highest Dudley had ever been, and ever wants to go. Burnam Flat was a great distant memory. We were even above the last remaining big snow patch in the Owyhees.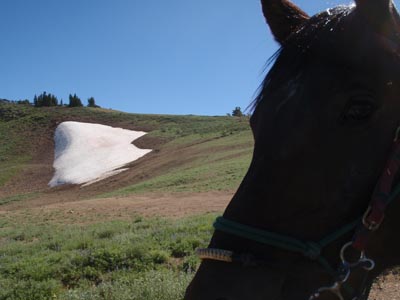 But a beautiful sight (besides the beautiful views that we'd had all day) was another small meadow as we descended by road off the Cinnabar ridge. Our horses dove into the grass... and soon the long hard trek was a distant memory.
We still had several miles to get back to our trailers, but we hit the road we were looking for, successfully making a loop (though it wasn't quite the one we'd intended), and it was mostly flat or downhill from there.
Dudley looked bright eyed this morning... and a bit slimmer. I see his hipbones starting to take shape again.
By the end, we'd done about 24 miles in 8 1/2 hours. I was pretty proud of Dudley. He just completed his first Bushwhackin' Owyhee Tevis ride.