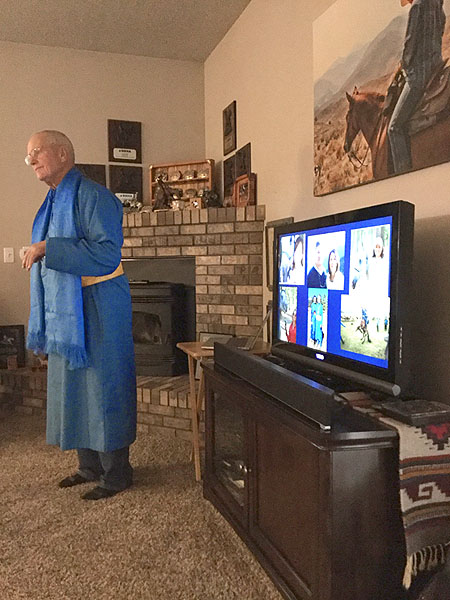 by Merri Melde-Endurance.net
January 21 2020
70-year-old Bob Long, from Boise, Idaho, was a rather unlikely participant in the 2019 Mongol Derby. Though he was a horse rider, and a cowboy in a previous life, he hadn't heard of the Derby, nor even the sport of endurance riding in the autumn of 2018 when a friend told him about the event. A 600+ mile horse race across Mongolia, changing horses every 25 miles? Aboard half-wild semi-broke Mongolian horses? Despite the average age of competitors being in their 20s and 30s, he signed up without much research or thought, other than, "I hate to think I can't do it."
Last weekend Bob gave a presentation about his adventure at the home of Alayne Blickle and Matt Livengood at their
Sweet Pepper Ranch
in Nampa, Idaho. The scheduled two hour talk lasted four hours, and nobody wanted it to end. Bob was delightfully entertaining.
Bob wasn't messing around with the Mongol Derby. If he was going to spend that much money on something like that (the entry fee is around $14,000), he was going there to win. It was a horse race, not a pleasure ride. He threw himself almost obsessively into his preparation, meeting and arranging to ride with Arizona endurance riders Lancette Koerner, Lawrence Serrano, and Tammy Gagnon, even if that meant driving several hours one way to ride several days a week. He rode the 50-mile Tonto Twist endurance ride in Arizona in January, and the 55-mile Old Pueblo in March. He met and learned from 2016 co-winner of the Mongol Derby, Marcia Hefker-Miles, who became a mentor to him. Marcia told him two important things that particularly stuck in his mind, and that he used in the race: never give up, and never stop riding, even if you have only 30 minutes left in the day. (This strategy was one key thing that helped him win.)
Back in Idaho after the winter, Bob rode Quarter horses for friends, all day every day. He took lessons from Matt. He went on a special diet. He practiced packing and repacking. He had to meet the weight requirement of 188 pounds, including his tack and gear. One clever thing he did, not only to protect against the dreadful insects of Mongolia ("They don't just eat you alive. They fly off with you and then eat you alive"), but to save precious weight - he soaked his clothing and gear in insect repellant and dried it in the Idaho sun. Twice. He said bugs didn't touch him, and they'd crawl off his bed at nights. He just came in about a pound under the weight limit, weighing in right before the start of the Derby.
Bob admitted he was not at the Mongol Derby to make friends among the competitors. He was there for one purpose: to win the ride. Most everybody thought he was too old, but this old cowboy had a few tricks up his sleeve - and on his saddle. One thing he used was printed cards, which on one side had English and the other side had the two dialects of Mongolian, that he presented at gers, asking the owners if he could water his horse and himself, or if he could stay for the night. It made communication possible, and he was always given the help he asked for.
One thing that he figures saved him time and again was the bucking rolls he put on his saddle - and fastened with screws, and checked the screws every night with a dime he carried in the side pocket of his 'French leotards'. (I don't think he wanted to admit he wore "tights."). Many of his horses bucked the first half mile, but as long as they were moving forward on a straight line, bucking in the direction he wanted to go, he kept on going. Only twice he turned around and brought a too-rank horse back and switched for another one.
Another key element in Bob's victory was his respect of the native customs. He wouldn't dare eat the Mongolian food his night hosts offered, for fear of getting an intestinal issue, but he knew how to properly accept the food with both hands and say thanks, to try it, and to return it saying, "Thank you so much, but I'm full." (He did carry with him seven days' worth of his own food - mostly powdered nutrition that he mixed with iodined-water, and pepperoni sticks - in his gear, and he strictly adhered to that diet, and he only lost two pounds the entire week.) He took the time once or twice when a herdsmen insisted he stay at a ger a few extra minutes to drink whiskey with him. He presented blue ribbons, brought from home, to the herdsmen whose horses performed gallantly for him.
The 2019 Mongol Derby was a bit different in that competitors didn't follow a prescribed path. This time they were given way-points, and had to use their own GPSs to navigate the best way to the next horse station. Bob had never used a GPS before he conditioned Tammy Gagnon's horses back in the winter in Arizona, but he credits her with teaching him how to use one. His navigation of the shorter routes also helped in his victory. He also learned to "stay out of the way" and let the Mongolian ponies steer themselves around gopher hole colonies, because they knew what they were doing.
It rained the first three days of the Derby and was below freezing some mornings; it was 85 degrees on the fourth day. Bob was impressed that he never saw a fence anywhere. He was not impressed with the dogs that guarded the gers that the Mongolians lived in; he'd steer far around any that he wasn't planning to stop at, because the dogs would run out and leap at his stirrups, with his pony running and kicking at them. Bob refused to sleep outside, and always stayed at a ger at night, as there's the danger of wolves attacking. (That's where the dogs do come in handy, as they protect the livestock.)
One can get time penalties for plenty of transgressions during the Derby, including horse lameness, dehydration or high pulse (pulses must be below 56 within 30 minutes of arriving at a station), or for the rider starting too early in the morning (before 6:30) or riding after 8 PM. Bob managed to not get any penalties during his Derby run.
Bob also managed to become a sort of Mongolian celebrity with his win. The last couple of days of his ride, out in front of the field (though he didn't know by how far, since the race organizers and veterinarians wouldn't tell him), he had the first pick of all the new horses at each station, and the herdsmen were eager to supply him with their best and fastest horses. At the finish, a group of Mongolian herdsmen presented Bob with a gift - his own Mongolian pony. Of course Mongolian horses can't be imported to the U.S., so Bob gave the herdsman $100 to take care of his horse for the year, and asked that he present next year's winner with this horse - a sort of living equine perpetual trophy.
Of the 41 riders from 12 countries that started the 2019 Mongol Derby, (three were eliminated in pre-training for the Derby, according to TheAdventurists.com, who sponsor the race, "boasting broken ribs, a punctured lung, torn rotator cuff, fractures scapula and severe vomiting and diarrhea"), only 27 completed. So many riders were in trouble and in need of assistance or evacuation, that on the morning of Day 6, the entire ride was shut down and riders held where they were for a few hours, while rescuers could get caught up and get back on the Derby trails. (Emergencies and semi-emergencies were: broken nose and concussion, hypothermia, severe chafing, incorrect GPS interpretations sending riders off in wrong directions, heat rash, dehydration and heat exhaustion, heat stroke, etc).
Bob is the oldest rider, and the third American to win the Mongol Derby - Justin Nelzen won it in 2010, Marcia Hefner-Miles tied with 2 others to win in 2016. To be sure, Bob had his share of luck, but nothing trumped his meticulous preparation for the Derby. And "Age is just a number," he said. That really had nothing to do with it.
Bob said he wasn't sure what his next adventure will be. There aren't many that would supply the same rush that he got in preparing for, and competing in, and winning, such an epic event as the Mongol Derby. Maybe he can relax now and enjoy some beautiful local trail rides.
But with such a keen and determined competitor as Bob Long, that's pretty unlikely.
You can read more about the 2019 Mongol Derby, including many collected articles on Bob, at
http://www.endurance.net/international/Mongolia/2019MongolDerby/

Above photo is Bob at his presentation, wearing a traditional Mongolian deel