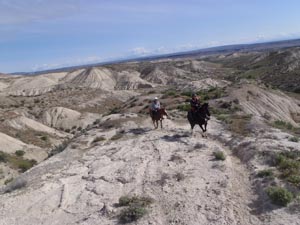 Saturday April 25 2015
You never know what you might see or hear or experience at an Owyhee Tough Sucker ride, particularly the 10th anniversary renewal.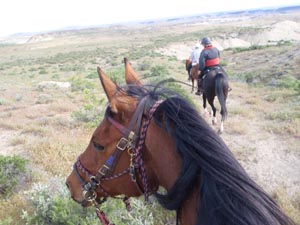 You might ride through an Owyhee desert that's never been so green or had so much grass or so many wildflowers, while an unseasonably cool breezy day keeps your horses cool on trail and threatens to blow their blankets into the next county at the out vet check.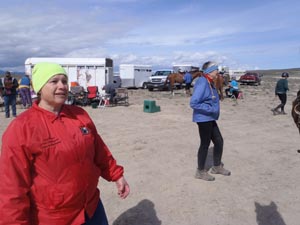 You might have interacted with the slew of SWITnDR volunteers who showed up just to help at the ride, even though it was a very cool blustery day on the flat, wind-whipped desert.
While trotting down the trail, you might have found yourself racing alongside antelope (!!), then watched them sprint across the trail close in front of you, circle around you and run back down the trail you came from (!!!!!).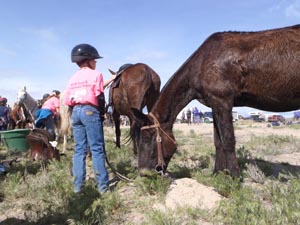 On the trail you might have encountered a herd of kids and mules that Trinity Jackson and her dad Warren Matthews brought to do the LD. You might have even seen the riderless mule, who decided to depart from his (adult) rider when he got off to fix something, and who took off across the desert to be caught later elsewhere.
You might have met 2 first-time trail riders who just might have been bitten by the endurance bug.
If you rode the LD, you might have ridden alongside Naomi, a first-time LD rider, riding her horse Sage's first LD. Don't let it intimidate you when you find out that it was Naomi Preston, who has over 10,500 AERC endurance miles, and who has a horse in the
AERC Hall of Fame, Mustang Lady
.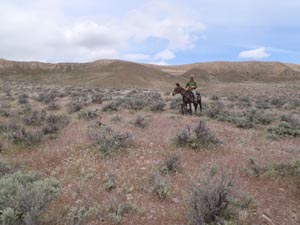 And if you were riding with Naomi, you might have heard that fast horse that came motoring down the trail behind her and which got right on her horse's butt, which, as a proper endurance rider, you would know is a bad and unsafe breach of etiquette (it's a good way to clip heels, get your horse tripped into a fall, or get knocked off your horse and, say, break your ribs). You might have heard Naomi holler over her shoulder, "Would you get off my *ss?!" and see her turn to see… the riderless mule. You would have seen that the mule did indeed get off her *ss, and ran on toward home!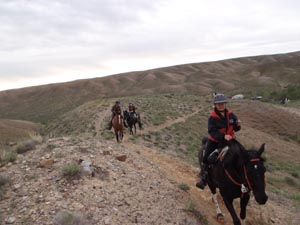 You might have seen junior Sarah riding her aunt Connie's hot and bothered Finneas on the 50. You would have figured he was hot and bothered because he's been told way too many times he's the Grandson of the Black Stallion, and he thought he should be out front, as usual, and you might have seen a tired but happy Sarah afterwards.
You might have seen ride manager Steph Teeter, riding on Smokey, (also referred to as Her Smokeyness by her trainer Ted Nicholes), and finishing their first 50 together.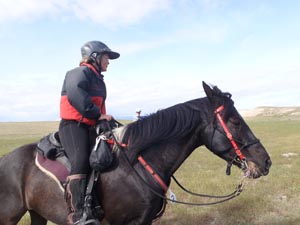 You might have ridden with Carol Brand, a Pickett Cricker, on the 50, when she got her 7000th AERC mile on her pal August!
You might have heard, near the end of your 50-mile ride, a great cacophony in the sky: a lost herd of very noisy seagulls flying around in confusion.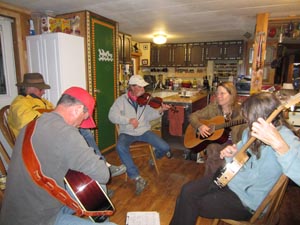 And if you stayed long enough after the dinner and awards, you might have been entertained by the first ever Teeterville Tough Sucker Jam with the Mostly Old-Time Pickett Creek Ramblers!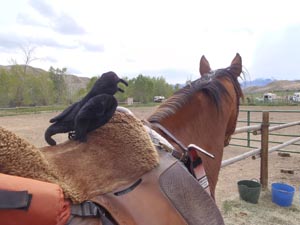 And the best sighting was The Raven, if you were lucky enough to catch a glimpse of this busy, hard-working bird!
For results and photos from this year's Tough Sucker I and II, see:
http://www.endurance.net/international/USA/2015ToughSucker/