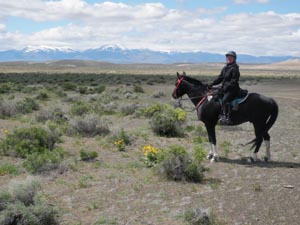 Saturday April 26 2014
"It was a bit windy…", photographer Steve Bradley commented. "OK, a lot of wind," he appended his statement - probably as he was chasing down his "Photo Ahead" sign as it tumbled across the sagebrush flats between endurance riders.
"The wind was horrendous, felt like it was going to blow me right off my horse a couple times!" Karen Bumgarner
posted in her blog about her ride on Thunder in the 50.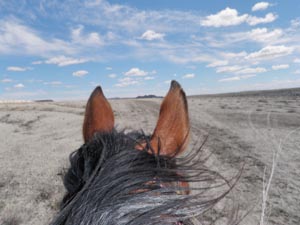 The good part about the chilly windy day was that it wasn't blowing hard before the start. It's much easier to saddle up when it's calm, then get blasted with wind when you're already out on the trail and going, than it is to try to get motivated to saddle up in a gale.
It was so windy out on the trail, even when we were trotting and cantering in the same direction as the wind, the dust kicked up from the following horse's hooves blew
past
the lead horse.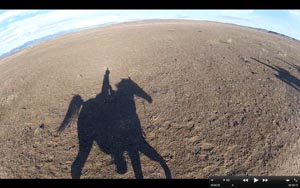 The hurricane didn't slow down the Mules! Six mules started the Limited Distance ride and they finished first through sixth, the winner Jill Hedt riding John Henry in a smoking time of 2:52. John Henry also won Best Condition. Three of the mule riders were Juniors. A total of 21 riders started the LD with 20 finishing, and the only pull being a Rider Option.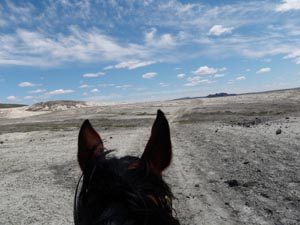 Twenty riders started the 50-mile ride with 19 finishing, with that only pull also being a Rider Option. Dean Hoalst riding Pay Attention, and Layne Simmons riding Beauty's Harley smoked through the 50, with Dean just edging Layne at the finish in a time of 4:41. Pay Attention won Best Condition. Third was another Mule - Calvin Gordon riding Restless Hanna, who won the Tough Sucker I 50 mile ride on April 5. Finishing 15th was Nance Worman on Big Sky Quinn, who reached his 4000 mile plateau.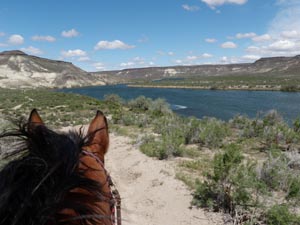 The Owyhee Desert was particularly green(ish) this spring, with abundant(ish) desert grass for snacking on throughout the two loops. A good rain on Friday left the scenic trails - particularly the Hallulujah Rim Trail and the Snake River Trail around Wild Horse Butte - dust-free. When the hurricane
did
kick up dust, it blew away so fast you hardly noticed it. We were slammed by one gusting whirlwind (distinguishable from the other 25 mph wind by the wall of brown flying at us at 35 mph) that passed through us before we could react.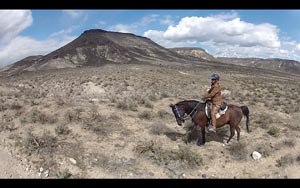 The Tough Sucker I and II rides, both managed by Regina Rose, were a good (brisk!) start to the 2014 Northwest endurance ride season in Idaho.
"Trail's Open!"
Ride photos and results and stories are at:
http://www.endurance.net/international/USA/2014ToughSucker/