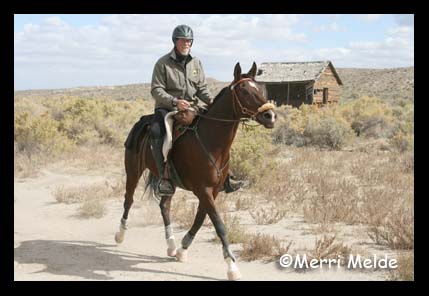 Thursday June 27 2013
The horse sounded like a good prospect for her new-to-endurance-riding husband Lee Pearce: 5-year-old Arabian gelding, sound, winner on the racetrack, a $2500 price tag; and Naomi Preston knew the owner and trainer Jim Bumgardner. The horse was by Sierra Fadwah +/ : the first stallion to reach 7000 endurance miles, the Jim Jones Award winner in 1983, Reserve National Middleweight Champion in 1988, and 1992 AERC Hall of Fame. What could be wrong with this endurance candidate?
Naomi and Lee loaded up their trailer and drove non-stop from Idaho to the Bay Area in California, to have a look at this Fire Mt Malabar. "It takes FOREVER to get to California," Lee emphasized.
Expecting to see a big strong Arabian ready to start on the endurance trail, since he'd been racing and winning on the racetrack, Lee and Naomi both were in for a surprise when they laid eyes on Malabar and his pasture cohort, full brother Fire Mt Legacy. "Oh my God," they both thought, "what have we gotten ourselves into!"
Lee was a heavyweight rider, looking for a burly horse to carry his weight over thousands of miles of trail, but neither horse looked like the typical "heavyweight horse".
In slight consternation, Naomi said, "Uh - we really need to see him move!" The exercise rider got on Malabar first and warmed him up. The horse definitely looked better moving around under saddle. Lee asked to climb aboard and ride him.
And that was it. "As soon as I got on Malabar, I knew I wanted him. He was really powerful, and smooth… I'd never felt anything so powerful before." Lee had been riding many miles on a favorite brawny mustang named Terminator, "but that horse had nothing of the power and elegance of Malabar. I knew this one had stamina and power."
Lee wanted Malabar, despite the fact that the horse took off running with him, aiming for an irrigation ditch, fighting with Lee who was desperately to wrestle him down to a whoa before he flew over the ditch. "Typical Malabar!" Lee laughed.
Lee and Naomi loaded up both Malabar and Legacy, and brought them home to the northwest.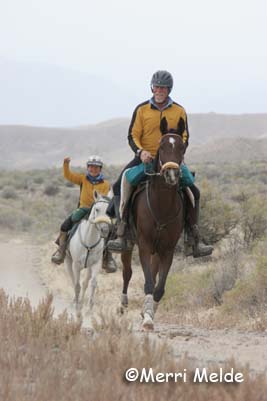 That was 2004, but Lee and Naomi were in no rush to get Malabar on the endurance trails. "We built him up for 2 years, even though he was off the track and in shape, because he'd be carrying a heavyweight rider, and he needed to strengthen his muscles and tendons," Lee said.
Lee and Malabar's first endurance ride in March of 2006, was at Home on the Range, in Washington state, with pasture-mate Karlady, also starting her first endurance ride. In those days, Home on the Range was a big ride, with over 160 riders in all distances. "We finished about 80th," Lee said, "although the first half of the ride we were in the top 25! Malabar thought he was in a big horse race. He was just an idiot!"
Eagle Extreme in Idaho in April was Malabar's next 50 mile ride. One might have thought the horse would have settled down a bit. Nope. "He wasn't much better. He was wanting to go fast, and instead of fighting him, I thought I'd let him go a little bit - WRONG! He got sore on those hills (Eagle Extreme is a very hilly ride) and was pulled for lameness." That was Malabar's last ride of the season; and instead, Lee concentrated on legging him up more.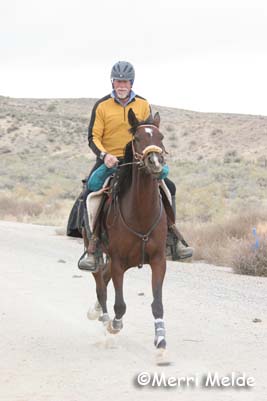 It paid off during the 2007 endurance season, where Lee rode a rested and toughened Malabar 775 miles. They completed 14 of 15 rides, including Malabar's first 100 mile rides, (at Sunriver in Oregon and the AERC National Championship in Idaho), with 4 Top Ten finishes.
In 2008, Lee started riding JAC Mr Turner as his primary endurance horse. He rode Malabar as his backup endurance horse to 'only' 8 starts and finishes (and one 100-mile ride), but this was the season the duo picked up the first two of their Best Condition awards.
Turner was slightly injured by a pasture-mate at the end of 2008, so Malabar became Lee's primary mount again in 2009. An outstanding record of 15 starts/completions and 8 Best Condition awards launched Lee and Malabar to 3rd place in the 2009 national Best Condition standings.
And Malabar has just gotten better with age: 2010 (11 years old) - 11 completions in 12 starts, 6 more Best Condition awards, and 3rd place National Best Condition; and 2011 - 16 completions, 12 more BC awards, and 1st place National Best Condition.
One might expect that with all those miles under his girth, Malabar might be an easy ride. Not so! says Naomi.
In 2011, at the 2-day Bandit Springs ride in Oregon, Lee planned to ride the first day on Malabar, but opted out because of a bad knee. Naomi thought she'd ride Malabar on the second day of the ride. "I should have ridden him on the 80, but I weenied out and did the 50. The Blakeleys (a northwest endurance riding family) took off fast at the start, and Malabar is like 'I'm going with them!' and I'm trying to hold him back - and he goes WACKO when you try to fight with him!" Naomi demonstrates a battle with imaginary reins attached to an imaginary wacko horse. "He wouldn't buddy up with anybody, he was having NONE of it.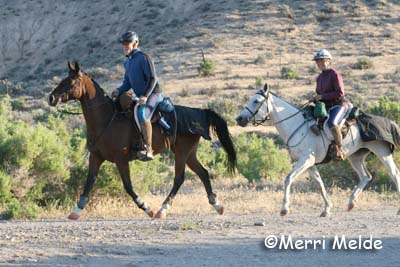 "And after a couple of miles, I just got off, and led him back to Ridecamp. I could not control him - he was so - OH MY GOD!"
Lee confirmed, "Yea, he was a nutcase."
"I was done!" Naomi exclaimed. "I didn't want to die that day!"
And it's not that Lee and Naomi are inexperienced riders who can't handle a rogue horse. Lee's a strong heavyweight rider, and Naomi has over 10,000 endurance miles, and rode international competitor, National Champion, and AERC Hall of Fame horse
Mustang Lady
.
The couple took Malabar and Karlady to a
Peggy Cummings
clinic one weekend. Cummings is a "consummate master horsewoman" who teaches Connected Riding.
"I thought I'd bring Malabar," Lee said, "because I thought he could use some help.
"In the clinic, Malabar's going around with his head up in the air, and Peggy's telling me all this stuff, and it's not working, so I said, somewhat exasperated, 'Peggy, why don't you hop on this horse, and just tell me what you think of him.'
"Peggy couldn't do a damn thing with him!" Lee laughs, with obvious fondness for his obstinate horse. "She said 'This is the most difficult horse I've ever been on!'"
One might also expect that with all those heavyweight miles and all those awards in the saddle together, that Malabar would be Lee's favorite horse. "Yes... Well... unwillingly! As far as riding, he's a rough-riding horse, he's hard-headed, strong, opinionated. He has no manners, and he scares the hell out of me!" How? "By going too fast!"
Asked if Malabar spooks: "Oh yea, ALL the time! I should've come off him many times, but it wasn't till 2011 he finally got me off the first time."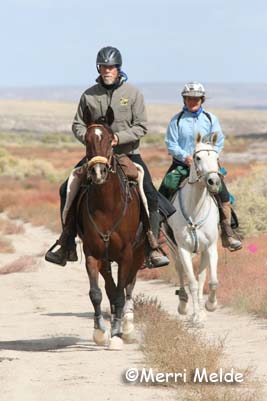 Lee is grudgingly willing to admit Malabar is his favorite horse, and to forgive him for his feistiness because of his consistently outstanding performances. The 14-year-old gelding currently owns 31 Best Condition awards (8th on the all-time Best Condition list, one of only 2 actively competing endurance horses). With 5 50-mile completions and 3 Best Condition awards so far this year, Fire Mt Malabar is 50 miles short of 4000 career endurance miles.
If age, experience, and the last few years are any indication, Lee and Fire Mt Malabar have many more miles and Best Condition awards, ahead of them.