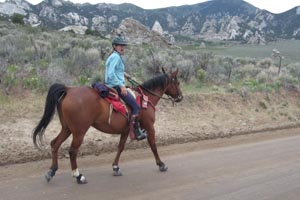 Friday June 15 2012
'Twas another weekend at City of Rocks National Reserve, gathering info and finalizing details for the inaugural City of Rocks Pioneer Trails Endurance Ride on July 11-14 in southern Idaho (just 3 1/2 weeks away!).
Friday we made a 20-mile loop from base camp outside the park, on the Hensley/Salt Lake Cutoff through Emigrant Canyon, into the park by the Twin Sisters, down the north side of the Circle Creek valley, and back to base camp.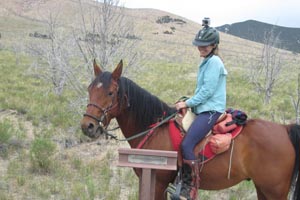 On August 22, 1850, Calvin Taylor commented on the trail: "In a short time after leaving camp this morning, we reached the bench of a mountain up which our road led. The way was rough and steep. n about 5 miles we reached the junction of the old Fort Hall and Salt Lake Road. This is quite a picturesque place."
The road is not so rough nor steep now, but then we have smooth and easy-going endurance horses to ride, and it's just as gawk-inspiring now as it was then. Calvin must have seen the same views of the Twin Sisters that we did, and he probably stopped at the old stage stop in Emigrant Canyon, remnants of which you can still wander around (if somebody holds your horse outside the fence).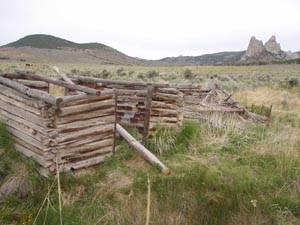 The Salt Lake Cutoff Trail joined the California Trail, and we turned onto it into the Park. Little spider figures climbed the walls of the Twin Sisters as we rode past.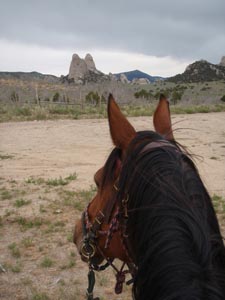 We rode around Register Rock, where emigrants wrote their names in axle grease between 1843 and 1869. Of course there are many archaeological findings from Native Americans from much earlier, before 250,000 emigrants passed through this area.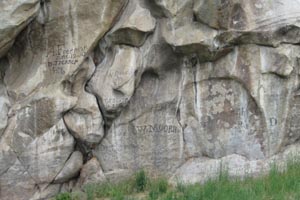 Despite the proliferation of granite spires and outcrops (making this one of the premier climbing areas in the world), most of the trails underfoot in the park are rock-free, making for smooth sailing.
Here's a video of our Salt Lake Cutoff/Emigrant Canyon/Circle Creek loop, part of the trails we'll ride in next month's endurance ride!
[video here]
(or link)
http://www.youtube.com/watch?v=jieI0UMnB7A
And more information on the ride here:
http://www.endurance.net/international/USA/2011CityofRocks/