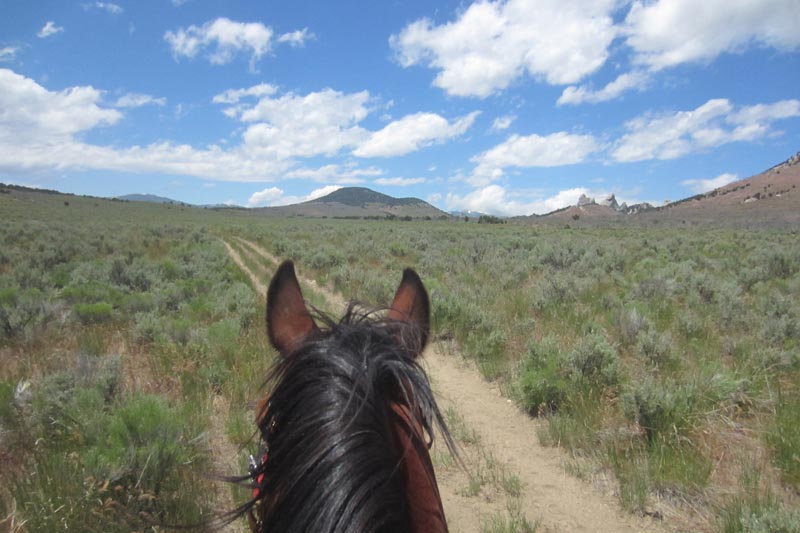 June 23 2017
Connie gave me her mount DWA Saruq to ride on Day 3 at City of Rocks Pioneer endurance ride, to sponsor and ride with her 14-year-old niece Sarah on Noble Desperado.
The two desperados Saruq and Dezzie had already done days 1 and 2, so I was looking forward to a relaxing ride. Flash back, if you will, to
my first endurance ride on DWA Saruq
in April of 2014.
"The start was rather, um, exciting, with 2 hot horses wanting to be in front. We found a little pocket at the start, a little space behind horses in front of us, but that didn't matter at the start of this HORSE RACE!!! (so thought Finneas and Saruq). A whole lotta shenanigans were going on beneath us, and I discovered the gloves I was wearing were not particularly good for gripping reins, something which was very important at that stage in the ride. I thought at one time I might lose Saruq there when he threw his head straight up in air and tried to leap to a gallop… but I managed to keep a hold of him.

The rest of the ride, 49.8 miles of it, took a lot of riding. A Lot Of Riding. Saruq knows how to pull. The harder you pull on him, the harder he'll pull and the faster he likes to go. He can bend his neck like a pretzel and still pull a freight train at 35 mph. When you're on a horse that pulls, you want to do the opposite: don't pull - because he'll just pull harder and go faster. That means really using your legs and weight, a lot, and trying to keep your hands light on the reins. Less pulling but more communicating with the reins, but still taking a good grip on them. Not pulling them, but working them a lot. I couldn't use my grip-less gloves, so the reins did a number on my fingers throughout the day..."
me, after the finish of that exhausting ride!
Bred by Robert Bouttier of DWA Arabians in Bellevue, Idaho, to be a racehorse, DWA Saruq (DWA Ziffalat x DWA Ebony Starr, by *Sabson) is related to a number of successful high mileage endurance horses, including DWA Sabku +// (4,370 endurance miles, 5th place in 2004 Tevis Cup, tied for 1st place in the 2008 Big Horn 100), DWA Powerball (3,720 endurance miles, 35 wins, 60 top five, 64 top ten, out of 75 rides), DWA Millennium (2,210 endurance miles), and DWA Express (tied for 1st place in the 2008 Big Horn 100), all campaigned by Christoph Schork, and all sired by *Sabson.
The name "Saruq" is a town in Iran where beautiful Persian carpets, also called Saruq, are made by hand.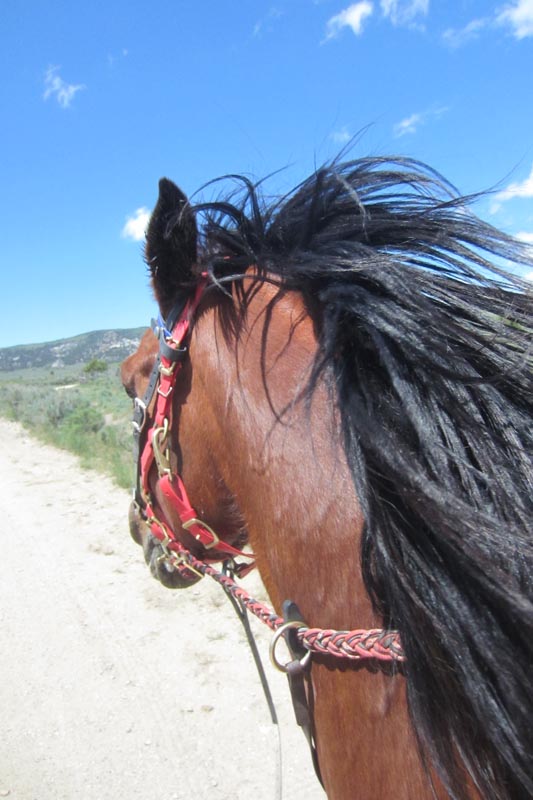 Saruq raced briefly on the track, but he didn't like it. When you ride him now, you can feel the power he still knows he has, and I am pretty sure he enjoyed running away from his exercise riders on the track now and then, just to put the fear of God into them. Saruq almost got away from me once on a training ride, but I got a hold of him just before he did it. He certainly got my heart pounding! Connie has worked hard over the years on his best gait: the
WHOA.
He goes in a strong 3-ring combination Mylar bit, which you mostly don't have to test the mechanics and effectiveness of, but you have it if you need it.
Mostly you don't need it - *particularly* after Connie has ridden him 100 miles before you climb on him. In the future, I might have her do that for all my endurance horse rides. Saruq can be very light and relaxed, which I was expecting him to be on his third day in a row. And he's much easier to ride now, with Connie's training and since he's garnered some 1600 endurance miles.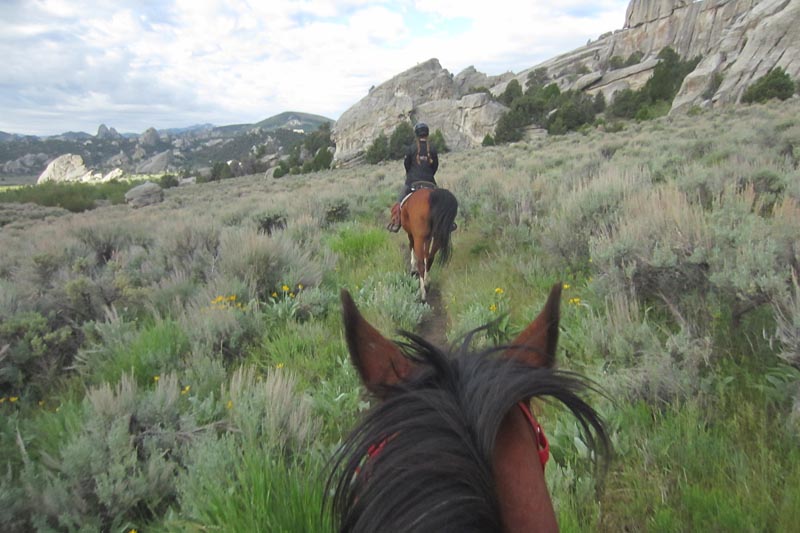 This ride, I decided, was going to be *so* relaxing after
getting a workout on Willie on Day 1
, that I told 14-year-old Sarah she would be making all the decisions today.
"You
are in charge all day," I told her before the start, "as long as you make all the right decisions. You're going to lead, you're going to make sure we follow the correct ribbons, you're going to set the pace, you're going to stop for water and grass when we need to. Saruq and I are just going to follow all day!"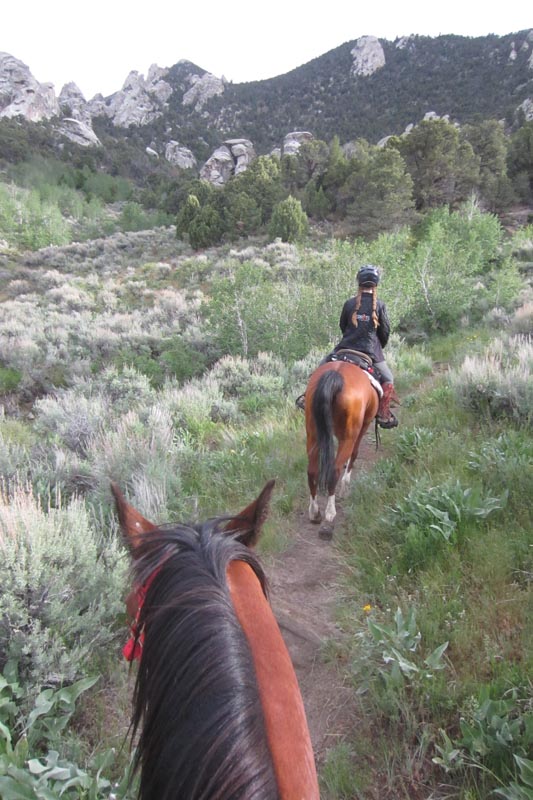 And that's just what we did. It was a novelty for both Dezzie and Saruq, because when Connie rides she likes to be in front, so Sarah usually follows on Dezzie. Sarah had to pay attention and
ride
Dezzie, because he was a little cautious and on alert in a few place (because Saruq told him there were horse-eating monsters in the woods be afraid of); she set a good pace from the start, trotted when we could, walked when we needed to; and they led the entire 50 miles. Aunt Connie has taught her protege well, and Sarah has excellently learned how to pace a horse in an endurance ride. She just needs to learn to clean her room a little better. (Just kidding, Sarah!)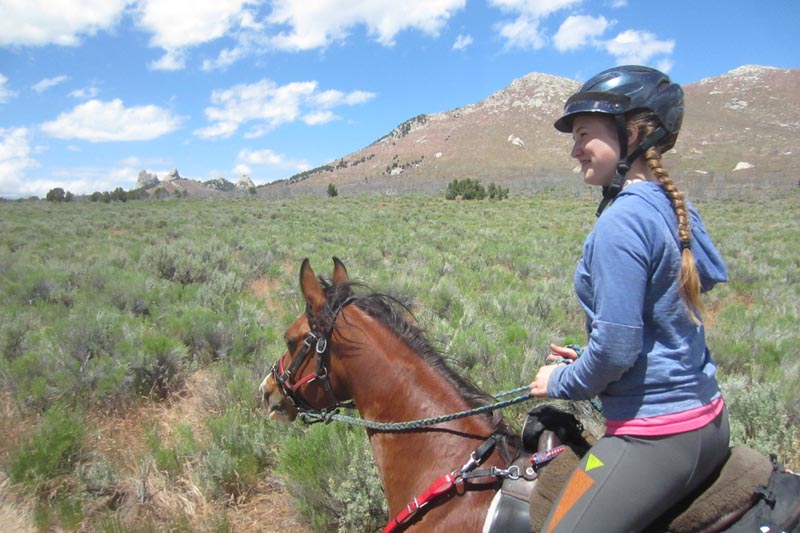 We were joined for the day by Nance and Quinn; the pace and company suited them just fine, too.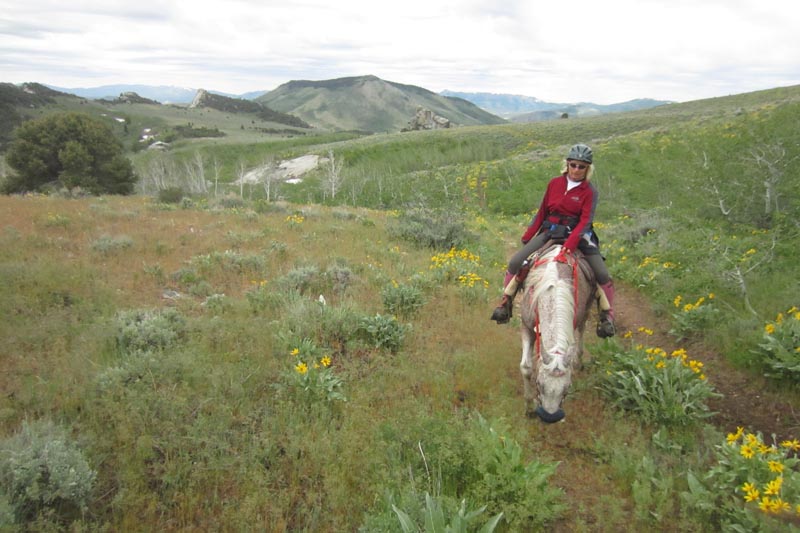 The only thing that did not suit Saruq was when Quinn had the audacity to take the lead on the dirt road leading to the Twin Sisters spires in the park. His ears were pinned so flat against his neck, I couldn't find them!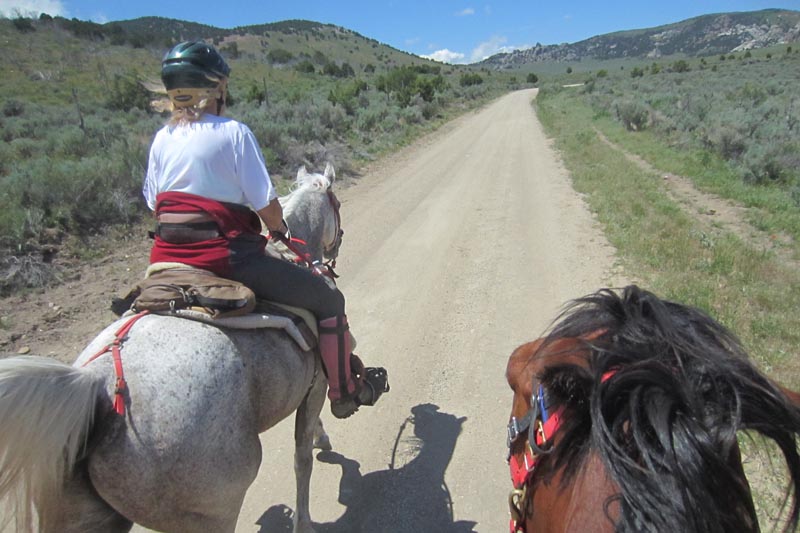 Saruq is pissed that Quinn is in front of him!
25-mile loop 1 took us up to 7500 feet at Indian Grove in City of Rocks National Reserve, with a vet check back in camp, and loop 2 took us out on the flats toward Utah, up the old Emigrant Trail past an old stage stop, into the backside of the park along the old California Trail.
I switched to a plain snaffle on Saruq for the last loop, because after 125 miles, he for sure should be easy to ride, right?
If you've ridden a fit endurance horse on a multi-day ride, day after day after day, you've experienced how they just get stronger every day. Saruq and Dezzie both moved free and easy all day long, did not feel like they'd gone almost 150 miles.
They all felt at their
most very freshest
on that last final 2.5 miles or so, coming down the hill from Circle Creek Overlook, back down the Equestrian Trail toward home and the finish (the same training ride they did several times before the ride started). They were
hot.
Saruq was breathing
brimstone and fire.
Coming home, downhill, feeling about like a runaway train, and Saruq with just a plain snaffle in his mouth,
yeehaw!
I didn't even have to tell Sarah to slow down, because she could probably feel Saruq dragon-fire-breathing down her backside and hear his teeth grinding his bit to pieces.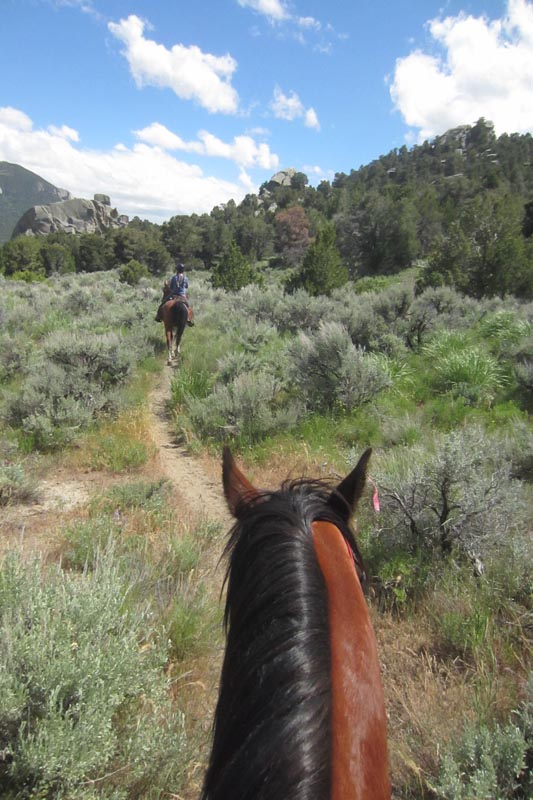 I gave up on proper riding with seat and legs and just anchored my hands against his neck and let him pull.
We made it back to camp with fresh horses, with Saruq and Dezzie being among 9 horses that completed all 3 days of 50's.
And Junior Sarah finished her first ride being Captain of the endurance ship!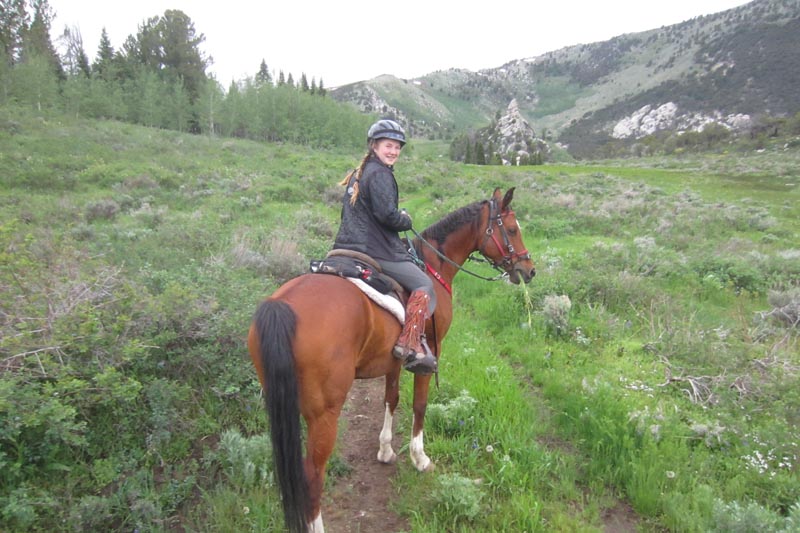 More stories and photos from the 3-day ride at:
http://www.endurance.net/international/USA/2017CityOfRocks/