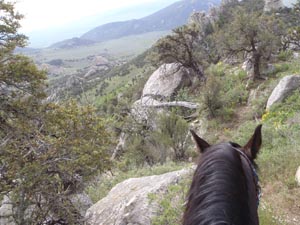 June 10 2015
It takes a monster effort putting on a multi-day ride 4 hours away from home.
("Darn. Did you bring a power strip?")
After 5 years, we've almost got it down to a science
(emphasis on "almost").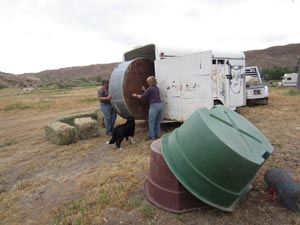 City of Rocks National Reserve and Castle Rocks State Park is a multi-use park/s for climbers, hikers, bikers, horseback riders… and of course endurance riders. In the park/s you can ride over pieces of the California Trail and the Emigrant Trail, while watching humans dangling from granite cliffs and climbing routes like Beef Jello/Banana.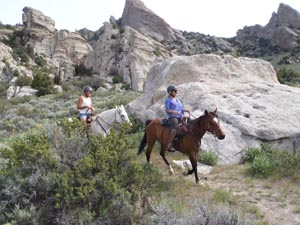 Ridecamp this year turned into a mini-city, with a bigger crowd than usual. Maybe it's the early June dates (cooler, better timing, cooler, fewer thunderstorms, did I say cooler?) that fit right into schedules. So many volunteers came to help too.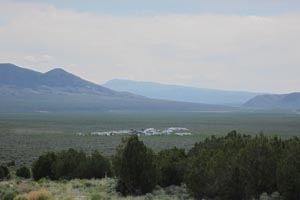 The first to arrive a few days early was endurance royalty, though she'd probably giggle at that label. Last year's AERC Hall of Fame person, Pat Oliva, drove all the way from Maryland to ride at City of Rocks. The next day another AERC Hall of Famer, Dave Rabe, drove in with 3 horses on his way to the XP. Two Hall of Fame riders at City of Rocks - how cool is that?
(Notice Pat has 3 layers including a down jacket on; Dave is in his usual shorts and tank top).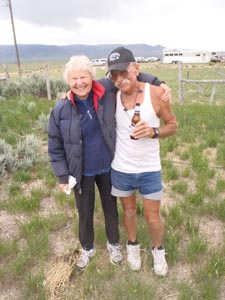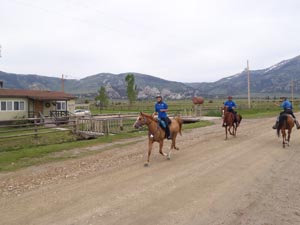 Christoph Shork pulled off 3 wins in the 50 milers, adding to his by-far AERC leading wins total, on Day 1 and 3 riding GE Pistol Annie, and Day 2 riding Medinah MHF. His intern Meryl Dalla-Via, from France, rode her first endurance ride in the US, finishing second on CMS Oso Elegant on Day 1, and on Day 3, riding Elegant again, tying for first with Christoph, and brothers Errol and Kent Fife.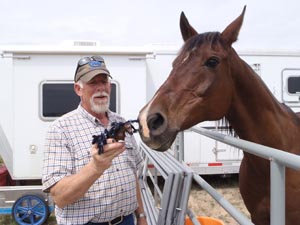 Another AERC Champion pair, Lee Pearce and Fire Mt Malabar, the 2011 National Best Condition Champions, finished Day 1 and 3 in the top five, and nabbing 2 more Best Condition awards, bringing their total BC awards for the year to 6 already. Lee was delayed on trail near the end of the first loop when he helped rescue Canadian rider Shari Macfarlane, whose horse tripped and fell on her. She ended up with a broken leg and spectacular bruises all over her body that we all wanted to see afterwards. She was able to hobble around camp in a walking cast (or be chauffeured by ATV) until after the ride, when several people chipped in to help get her and her rig and horse on their way back to Canada.
Gretchen Montgomery came from California to ride all 3 days on two horses; Definetly Spice reached the 5000 mile benchmark on Day 2. Gretchen rode all 3 days with Dave Rabe. Dave finished 1 day on Rushcreek Okay, and 2 days on that crazy horse White Cloud, who has over 8000 miles, and still a bucking bolting streak in his soul, and whom I must write a story about one day.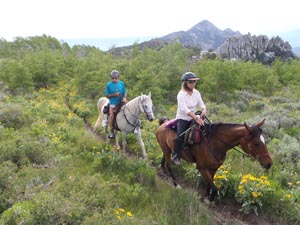 Look up and down the trails any day, and sooner or later you'd see some Belesemo Arabians trotting by. Seven of them accounted for 13 finishes over the 3 days, including Belesemo Dude, aka Dudley. It was The Dude's
(almost back-to-back!)
two days of 50's ever. He rode with his crick herd neighbors Jose and August. There was plenty of grass and horse-edible flowers along the trails in the parks to keep an insatiably hungry horse like Dudley happy.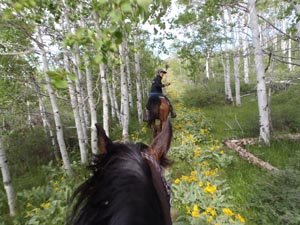 You might have seen a moose and baby on the trail at Castle Rocks State Park one day, if you'd taken seriously the hiker's exact words after you passed him, "There's a moose and baby over here." (Uh huh,
sure
there is!). Turns out he wasn't kidding, but I didn't turn around to go check because I didn't believe him. And anyway, if you were Dudley, you might not have wanted to see a moose and baby on trail.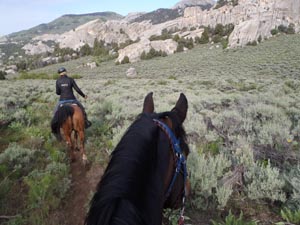 A bunch of brand new riders to endurance showed up at this multi-day ride, and the racing mules showed up for the LD on the last day.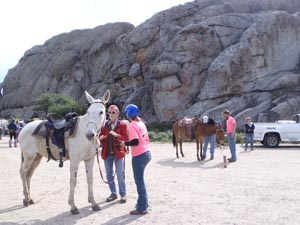 Two Trees catered the meals
(Wynn made the world's best homemade fried ice cream!)
, and riders inundated Rock City for their pizzas and Durfee Hot Springs for a good soak in the evenings.
Lots of photos, results, previous years' adventures and videos can be seen here:
http://www.endurance.net/international/USA/2015CityofRocks/