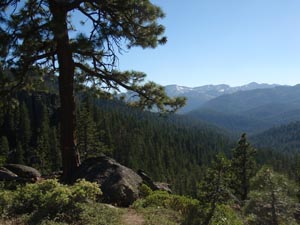 Tuesday July 27 2010
Tevis: there's a bit of magic in the air, if you're lucky enough to grasp it. Sometimes it all just comes together perfectly: the timing is right, you suddenly have a horse ready, you suddenly know
Now's The Time.
With the Tevis Magic, the trail doesn't intimidate you, the mountains don't defeat you, and that silver buckle doesn't elude you. Your amazing horse has carried you for a hundred difficult, challenging miles across that finish line in Auburn for the first time, the second time, or the thirtieth time. And somewhere along the way, you get the feeling, the
knowing
that you're going to finish with a sound, healthy horse.
That happened to me last year - everything fell into place on a Wednesday (when I never expected I'd ever ride the Tevis), and I was crossing the finish line in the wee hours of Sunday, and Julie Suhr was handing me my silver Tevis buckle Sunday afternoon.
It happened to Steph this year. She was writing an email on Tuesday when it just popped into her head, "I want to do Tevis on Rhett on Saturday!" and it all fell into place - the timing, the condition of the horse, the trailer ride there with friends, the ride with glued-on Easyboots, the 5000 endurance miles for 19-year-old Rhett if he completed.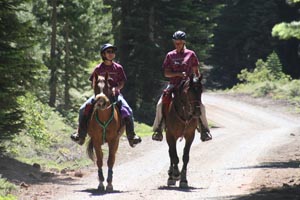 He did. It was one of the many Weepy Moments at this year's Tevis, when Rhett trotted out sound at the finish, and the veterinarian said those magic words to Steph: "Congratulations."
If you don't come out of this ride thinking it's a hard one, maybe the hardest ride your horse has ever done, you should try to do it on foot. If you don't come out of this ride thinking horses are amazing and incredible animals, you shouldn't be riding it. It is a very tough ride, and your horse is absolutely phenomenal to willingly carry you through it, whether you get all the way down the trail or not.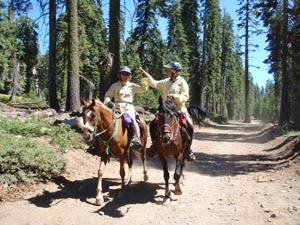 Carla Richardson who put a lot on the line to come here, only made it 28 miles on her horse Khid, and she had this to say, which says it all: " I didn't make it far down the trail. I was not riding fast at all, but had to pull at Red Star when my horse acted colicky after he drank there.  He gave me an absolutely wonderful ride, an absolutely dream of a horse I was on, my Khid. All heart."
That's what the Tevis is all about: All heart.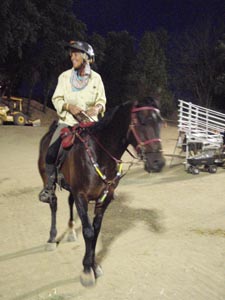 Many photos at:
http://www.endurance.net/international/USA/2010Tevis/
and more stories to come!