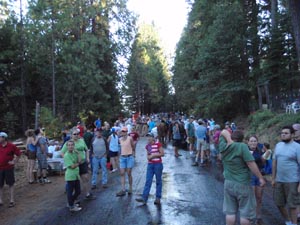 Friday July 22 2010
Packing up and leaving the chaos of Robinson Fat vet check behind us, we had a somewhat leisurely 8 or so hours to set up at Foresthill (45 minutes by road, 32 miles by trail) for the second and last hour-vet check... and to wait.
After we found a sweet crewing spot for our 5 riders (a tucked-away corner shaded by trees, with room for both vehicles and all the gear!) - we drove off for a treat - the real reason, I'd told Nance, that I was crewing for her: In N Out Burger in Auburn! The closest In N Out Burger to Idaho is Reno. No way I was passing up this opportunity! Fortunately the Yost crew I was riding with (Chris, Kara, granddaughters Burkleigh and Kennedy) wanted it as bad as I did. Did we really deserve such a heavenly treat after our crewing-challenged Robinson Flat affair? Sure we did. We hadn't had anything to eat since 8 AM. We picked up a burger for Bruce, who had shuttled John and Susan Favro to Auburn to get their own pickup.
Back at Foresthill, we'd just missed the top two riders going out - John Crandell and Heraldic, and Shannon Constanti and LR Bold Greyson (owned by Crandell), who were 40 minutes ahead of the next rider, Rachel Shackelford and BR Cody De Soi. (Rachel ended up getting pulled here.) The next riders were an hour and 15 minutes behind them.
it was
hot
. And humid. I was coated in a constant sheen of sweat - unless it was replaced with water I poured down my back and front. I could only think of (and worry a bit about) Steph and Rhett, Nance and Jazzbo, and the Yost family, probably heading for that second killer canyon right about now - the cloying heat, dust, very rocky trail downhill for miles, the long line of riders they might be in; the killer climb back out of the canyon - miles long, steep, and hard - the horses huffing and puffing, drenched in sweat from head to toe, heartrates soaring as they fought that uphill climb. It was the trail where we passed the dead horse last year. (This year, that part of the trail was lined with flowers. And later I heard another horse fell off the trail at the same place... the rider said the horse acted like she saw something.... the ghost of last year's horse, and backed off the trail... the horse was later rescued and unhurt. You never really know, do you?).
We waited around Foresthill, visited, watched other crews getting ready for their faster riders to come in, lining the long uphill road through the forest that led into Foresthill.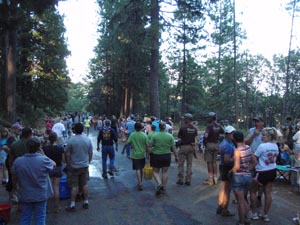 A wave of riders began coming in at 5:40 PM, with groups of crews jumping on the horses to unsaddle, strip boots, and sponge them down. Yellow shirted Tevis volunteers were everywhere - men, women, young, old - they filled water troughs and buckets, sprayed horses with water hoses, and handed out carrots; and residents whose houses lined the road sat in their back yards and watched. We all clapped and cheered for those horses and riders coming in - some riders had
happy tears, some got hugs of encouragement and congratulations. It lifts your spirits after that long slog of 68 rough miles to have people cheering for you as you come into the oasis of Foresthill.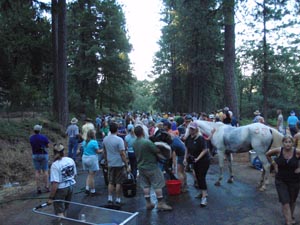 Fourth to arrive was Kassandra DiMaggio. Four weeks ago she was successfully riding TS Diamond Chip in the West Selection Trails - 80 miles at a canter - aiming for a slot on the World Endurance Championship. She decided to come to Tevis instead. They'd finished 13th in the Tevis last year and they were looking strong coming into Foresthill.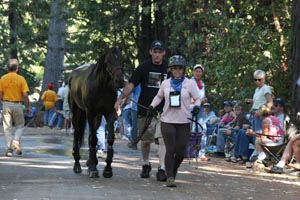 Coming in 7th was Melissa Ribley, her Robinson Flat-stitched cheek now swollen under the bandages, but looking as unperturbed, and willing to go on as her horse Monique who passed the vet check.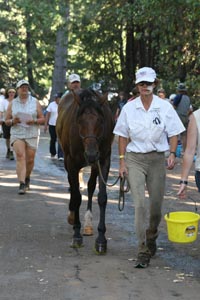 Ann Hall was waiting to crew for her husband Hal and Dreamm On (in 15th place, looking for his 27th buckle) and Mr Hasumii on SMR Zoltaan (in 20th place). She'd gotten word that Mr Hasumii had been pulled, but it turned out his number (#22) had been confused with Jeremy Reynolds (#32) who had been pulled at Last Chance at 50 miles (Jeremy's horse had fallen and cut his knee - he was okay, but was pulled). So Mr Hasumii was still in the hunt for his 7th consecutive Tevis buckle. When his horse trotted out sound for the vets, he gave the OK sign and got a cheer from the watching spectators.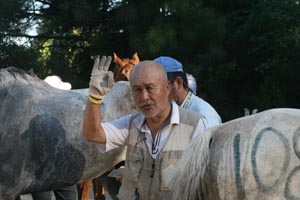 Kristine Hartman and Klassy Sam arrived in 19th place. I'd met Kristine at the Virginia City 100 last November when her horse suddenly colicked at 77 miles. Kristine was in near shock as Sam was hauled off to a vet clinic. He spent several weeks in the hospital, and Kristine was wondering if she'd ever want to do endurance again. But Sam returned to endurance this year with a few 50 mile rides, winning one, indicating Sam might be back to his old self. Kristine was having a good time with a big smile on her face with a tired, but happy horse.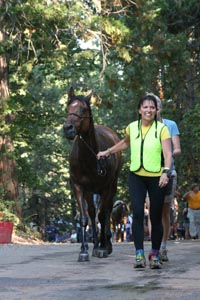 Probably nobody happier to arrive at Forest Hill (and just to be riding the Tevis) was Melissa Margetts, grinning ear to ear on a strong looking Cabo. Melissa unfolded her packed cane and prepared to dismount and hobble around on her brace as her Paso Fino vetted in - and passed.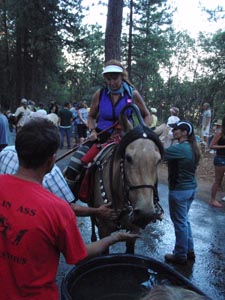 We'd arrived last year at Foresthill around 8:30. This year cut off in-time was 8:30. The Yost gang arrived at 7:43, and we expected Nance and Steph soon after. But we waited... and waited... and started looking at our watches...
Finally at 8:02 they came walking up the road, grinning, dirty; we stripped the horses' tack and sponged and hosed them down while Susan cleaned the riders' filthy faces.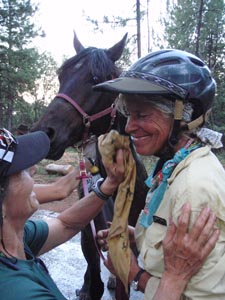 After all that climbing and descending, after those hot hot canyons (Nance said they were hotter this year than in 2009 and 2007), Rhett's pulse rate was down in a few minutes - wow. They just get stronger as the day goes on. They pulsed down at 8:07, passed the vet check, and were set to conquer the final third of the Tevis trails!
Our riders and horses were treated like a kings and queens at this Foresthill vet check, where we had
everything
anybody wanted. Food? Cold Starbucks? Oats? Beet pulp? Senior? A mix of the three with a dash of water? Sandwich? Frozen fruit smoothies? (Yes, Susan Favro brought a blender and made fruit/protein/energy smoothies for everybody!) Hay? Alfalfa? Cold water and gatorade for your saddle packs? Chairs? Massage? Cooler air with the sunset? (OK, we didn't have anything to do with that.) Fresh saddlepads? Glowsticks taped on breastcollars? I even had Steph's headlamp for her helmet in my pocket ready to hand her when she asked for it. We had it all here, and we had more, and we had it all ready.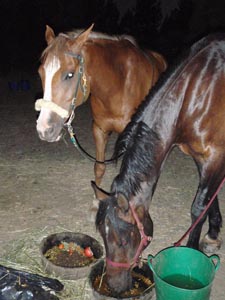 After sitting down Steph realized how tired she was, and when we started saddling the horses back up, they stopped eating and thought about how tired they were. But we got our riders and horses ready to go out on time, and they all had that Let's Get Down The Trail look in their eye. "Let's get it done!"
I saw Barbara White during her hour hold - Barbara going for her 30th Tevis buckle, and gave her a good luck hug, as well as her mom Julie Suhr, who was waiting with her. They all had 32 more miles to go to the finish. We sent them all away with a cheer and the good luck refrain:
"See you in Auburn!"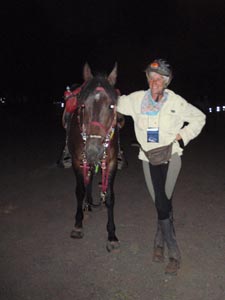 (The Raven and Nick Warhol and Don continue on from Foresthill too!)