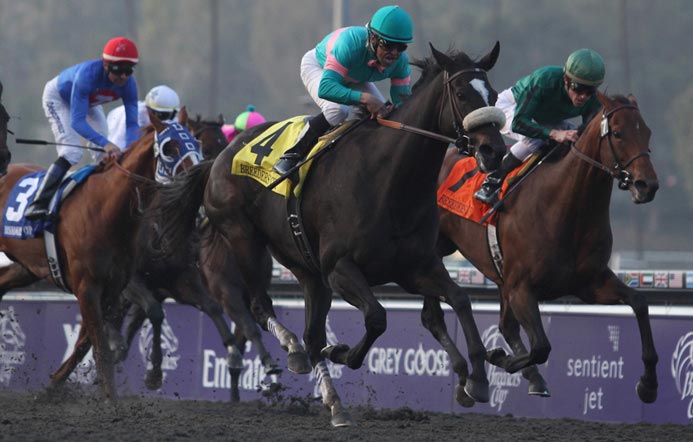 Thursday November 4 2010
I'm not sure when that started - the weeping - probably sometime after her 14th or 15th straight victory. And it's not just that the amazing female Thoroughbred racehorse Zenyatta always wins, and it's not even who she runs against, but it's
how
she wins. Coming from behind. Usually from last. Often off a slow pace in front, which means there is
no way
she should be able to win. But she does. Every time. Although sometimes you don't know it or believe it until right at the wire. You can watch the replays again and again, and you
still
don't believe she's going to get there.
But she believes. She seems to know exactly how to time it to cause the most heart palpitations before she gets her nose first across the wire. Her jockey Mike Smith is awed by her. He thinks she's never hit her highest gear yet.
Ask anybody who follows horse racing - and just about anybody who doesn't - to name one Great racehorse, and they might come up with Man O' War or Secretariat. I'd add a few more: Ruffian, Citation, Seattle Slew, Affirmed, Forego, Kelso, John Henry, Seabiscuit. And Zenyatta.
What it is that makes a horse Great?
Is it winning a lot of races by daylight? Is it setting stakes records or world records in many races? Is it a filly beating the boys? Is it the how they win their races? Is it a hard-knocking horse running over many years and winning - which is very rare now? Is it one of the older handicap horses that consistently carried heavy weights (which is almost non-existent now) and consistently won with bad knees and ankles? Is it a horse with an undefeated record? Is it a horse with personality that captures the excitement of the public?
Is it a mare who knows she's good - because she is - and who dances and prances in the paddock and in the post parade, playing up for the crowd? Is it a mare that puts tears in her jockey's eyes and a catch in his throat when he talks about her?
Zenyatta has that power over me. Zenyatta is Great. She's one of the best I've seen in my lifetime. She's Great because she puts that catch in my throat when she stops to pose for her admirers. She makes me hold my breath, and makes the tears run down my face when she does her Zenyatta dance in the paddock and in the post parade, because she knows she's that good. She makes my heart slam painfully when she leaves the starting gate, and she makes it stop beating for just under 24 seconds when she flies through the stretch.
And when she crosses the finish line first, again, and comes back to survey the frenzy she caused in the grandstands - she makes me weep. Zenyatta makes me weep.
Zenyatta is 19 for 19. She runs her final race before retirement this Saturday in the Breeders' Cup Classic, a race she won last year over the boys.
Win or lose, one more time, my heart will be racing and stopping, my tears will be flowing. Zenyatta is, simply, the Greatest.
Here is a look at Zenyatta's win in the Breeders Cup Classic last year:
http://content.usatoday.com/communities/gameon/post/2010/11/zenyatta-breeders-cup-classic-horse-of-the-year-mike-smith/1
Here is a story on Zenyatta on 60 Minutes:
http://www.cbsnews.com/video/watch/?id=7009219n&tag=contentMain;contentBody
(Top photo is not by me -
I wish!
- it's on
Zenyatta2010.com
)