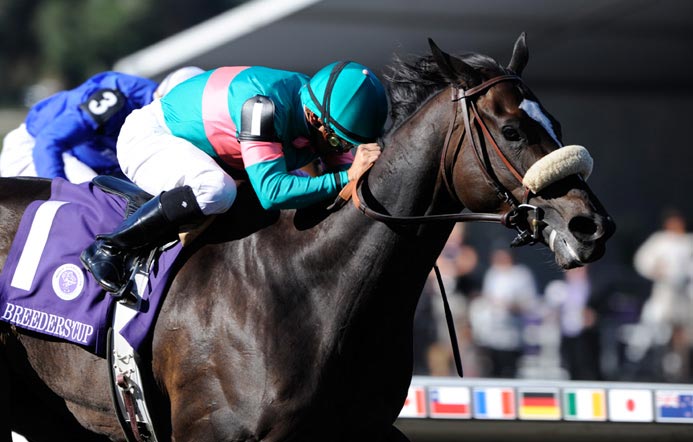 Wednesday November 10 2010
(Warning: Totally biased post!)
Zenyatta lost the
Breeders' Cup Classic
on Saturday by a sliver.
I was crushed.
I keep watching the replay of the race again and again, thinking she's going to get there this time.
You've heard the adage: The best horse in the race doesn't always win. Zenyatta was the best horse in this race, overcoming a huge deficit of at least 20 lengths behind the field, and having to check once in her stretch drive. As Tom Lamarra stated in
the Bloodhorse.com
, "all she lost was a photo finish."
Zenyatta's critics said she couldn't run on the dirt, only synthetic tracks. And yet three of her best races came on three dirt tracks, including this loss by inches in her final race. They say she wouldn't have won 19 in a row in her come-from-behind style if she'd run on dirt tracks. I think she would have.
This "Blame is Horse of the Year" refrain that the TV reporters (who have no vote, by the way) started singing the second after the horses crossed the finish line was really annoying. So I'm starting my own campaign here.
What is Horse of the Year based on? The only requirement is that the horse should have made one North American start during the year. (See my other qualifications on
what makes a horse Great
.)
So seeing as both Blame and Zenyatta have satisfied that single requirement, let's compare the two.
Blame:
4-year-old stallion, retired after this race with 9 wins, 2 seconds and 2 thirds out of 13 career starts. This year he won 4 of 5 starts, 3 of them Grade I wins. His one loss was by four lengths.
Zenyatta:
6-year-old mare. Out of 20 career starts: 19 wins in a row, a final loss in a narrow photo finish. Won 5 of 6 starts this year, 5 of them Grade I wins.
If Horse of the Year
were
determined by statistics alone, based on these statistics, Zenyatta should be Horse of the Year. Zenyatta could have retired
before
the Breeders Cup and probably been named Horse of the Year. Zenyatta could have run in the Ladies Classic in the Breeders Cup, but instead the fact that her owners put her up against the world's best males, once again, to attempt to repeat her Classic victory of last year, is only testament to their confidence in her greatness.
Here's another major aspect of the debate:
Who all came to Churchill Downs, and tuned into ESPN, to watch Blame run, and who all came to the track, and who tuned in to watch Zenyatta? How many fans carried Blame signs and how many carried Zenyatta signs? Which horse had a
huge banner with her name on the roof of the Hollywood Park racetrack grandstand in California
rooting her on? Which horse has a Breyer model made after her? Who got the public - old fans and new ones - excited about watching a horse race the last three years? Who was the celebrity, the darling of racing?
Zenyatta's owners and trainers allowed nearly free access to their champion. They offered her up for constant attention, letting people crowd around her, take photos, pose with her, even pet her and feed her treats (!). That's simply unheard of these days. Zenyatta was the Peoples' Horse, and people were allowed access to her. Zenyatta wasn't wrapped up in bubble wrap and kept away from her fans and the general public.
Who's going to remember Blame a year from now other than the horse that narrowly handed Zenyatta her only defeat? He was rushed off to retirement and the breeding shed after the Classic, at 4 years of age (early retirement is typical of the racing industry). If Blame was
really
that good a racehorse, racing fans will never know. Zenyatta ran till the end of her 6-year-old season (almost unheard of these days), when she could have run off to the breeding shed after the end of her 4-year-old undefeated year.
The horse racing industry has been lamenting for years (decades, even) that Thoroughbred racing is dying, racing needs a hero to come along.
She's been here. She is Zenyatta. People around the world will remember the great racehorse Zenyatta and what she gave to racing.
Few people, even critics, disagree that she's one of the best racemares ever. It's simply not a fluke to win 19 races in a row. To be denied a Horse of the Year title again (she lost in the voting to Rachel Alexandra last year - who had a great 3-year-old year but never reached her same form this year, and quietly faded off the track) would be a slap in the face to a horse who took horse racing by storm the last 3 years, who was the Hero racing was crying for, and who proved her greatness
every time
, even in her final defeat by inches. It would be a slap in the face to her legions of fans, who traveled across the country to see her run, who cheered for a horse for more than the mere statistics she provided, who worshipped a horse for her tenacity, her consistency, her brilliance, her accomplishments, her personality. Simply put: who's done more for horse racing in the last year - or in the last 30 years?
If you're basing Horse of the Year on
one race
, the Breeders Cup Classic, you can't - because then Zenyatta should have been Horse of the Year last year. If you're basing Horse of the Year on a continuation of perfection - especially at an age when most horses have long since retired, a horse who overcame the 'dirt track bias', a horse with her own website and merchandise to buy, wear, and hang on your walls, a horse who brought throngs to horse racing, a horse who became the Hero racing was looking for, it's Zenyatta.
Yes, there's emotion involved in the debate. But you can't take the emotion
out
of it. The emotion of horse racing, the emotion of Zenyatta running and winning again and again, and of losing her final race by inches, the emotion this horse has given to horse racing
is
what this sport is all about.
Zenyatta should be Horse of the Year.
ZENYATTA.
(Top photo is not by me - I wish! - it's on
Zenyatta2010.com
.)