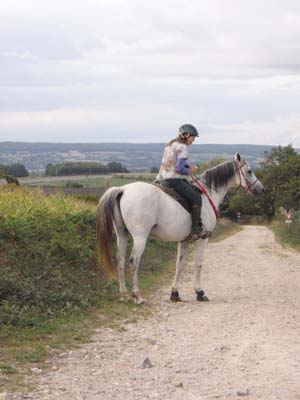 Friday September 10 2010
"Let me see - is it easier to ride Tevis or ....... get a licence in France to be able to ride 20km at Le Grand Luce? Which do you think?" asked Carol Arthur, who runs a French riding club, and who's been helping to get me a French endurance riding license.
The answer is: it was much easier riding Tevis!
If one is not an FEI rider, which I am not, one does not just waltz into France and expect to do an 80 km (50 mile) ride like one is accustomed to doing. One does not do a 40 km (25 mile) ride. One does a 20 km. Doesn't help if you try to flash your 4000 AERC miles or your Tevis buckle. One starts off with a 20 km ride. (Twelve miles!)
And that only after some fancy footwork by a number of people. Before I could even apply to get a French endurance riding license, a doctor had to affirm that I am capable. Fortunately, I had the foresight to bring along such a letter from my doctor saying I was alive and kicking. I had her write that I am "capable of participating in extreme sports which would include hang-gliding, mountain climbing and endurance riding to a distance of 100 miles." (You know, just in case I have a hankering to join a climb up Mont Blanc, France's highest peak at 15,771 ft or jump off said mountain in a hang-glider.)
Unfortately, I didn't ask for the precise wording in the letter, so it had to be redone by a French doctor, who I had to go see. Next, Nicky Freud had to arrange for me to get a club license, which was done with Carol via emails, and - I am now qualified to ride 12 miles in France on Dougal, one of Nicky's horses! (Who, by the way, has already competed in 120 and 140 km rides.)
Don't even ask me to explain all the French endurance riding divisions (for example, at the 160-km Florac ride this weekend there are a CEI3*, a CEN3* Amateur and a CEN3* Pro, all at 160km) - for I will be riding 20 kilometers - 12 miles - on Sunday at Le Grand Luce. Stay tuned!