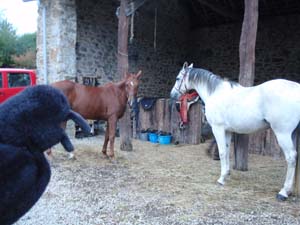 Sunday September 12 2010
At Le Grand Luce today, I'm riding a 20 km ride on Dougal; Richard is riding a 40 km ride on Mr Ox, a new horse Richard and Nicky bought for their client Selina.
Selina and her husband Graham and charming daughter Elsa drove down from England yesterday to watch and help crew.
The way these qualifying rides work is: you sign up for a distance, you show up on the day, vet in, and take off down the trail whenever you want. You have a minimum and maximum speed in which to do your ride, which I believe is 12-14 km/h (7.5-8.5 mph). There's no mass start for any ride but a 'starred' ride - i.e. the 90km CEI* ride will have an 8 AM starting time.
Nicky and Richard were going to turn me loose on Dougal to do my own thing, but I was happy to hear that Richard will try to time it to have completed his first loop of the 40 km and vetted through, and meanwhile Nicky will have vetted Dougal in so I can ride my only loop with Richard on his second loop. Dougal's an easy and fun horse to ride, but he's not my horse, and I don't want to cause him to put a foot wrong!
And most interesting (and odd) for me is that I will be crewed out on course! Nicky and Selina and Graham will meet us out on crew points to dump water on Dougal to cool him down. Heck, normally I'm lucky if I have crew helping me in vet checks, but that's what they do here.
Nicky and Richard and Selina have pulled out with the horses; Graham and Elsa and I will soon follow. The ride is an hour and a half down the road. We'll be following soon.