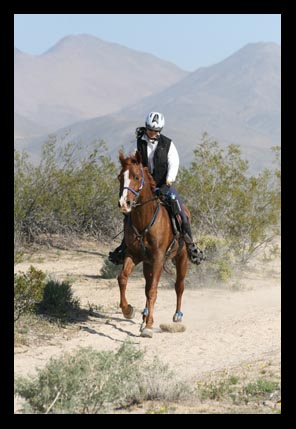 Wednesday April 14 2010
If you spend some time around her, you'll see she's quiet, even-tempered, methodical, and determined. And tough. Very tough.
Try sustaining 3 concussions - from the same tough horse - before you finally let someone else help you with him. (Bogart VF is now 14 for 16, and is qualified for the World Endurance Championship discipline of the 2010 Alltech FEI WORLD EQUESTRIAN GAMES.)
Try remounting your horse in a severe thunderstorm in the middle of the night, with terrifying lightning bolts dropping around you, and continuing your endurance ride, as if you might not die in the next second. (Charisse completed the Australian Quilty in 2008.)
Try following a veterinarian's rehab instructions to the letter for a horse with a hind bowed tendon: icing every two hours for 25 minutes, 24/7, for 1 month ("I was pretty exhausted"), then handwalking, no hills, no trotting, just walking for another several weeks. (Steel Patriot since completed 19 of 22 rides, including Tevis twice, and is qualified for the Alltech FEI WORLD EQUESTRIAN GAMES).
Try training and competing for one of five elusive slots on one of the two horses you've qualified, for riding in the WEC - World Endurance Championship in Kentucky in September. (Riders will be selected in August.)
And enjoy the journey while doing it.
Charisse Glenn grew up with parents who let her make choices to attain her goals. In high school in Los Angeles, she was in a special program that required students to do civic projects and think and plan for themselves. She credits both with giving her the confidence to know she can make it and do things on her own. She's always been a bit of a free spirit, living in various places around the world - Hawaii, California, Paris, New York - although, she says, "I never, ever, ever thought I'd end up living in LA!"
She's followed her passions, particularly with horses. "I've always wanted to ride horses around the world" - and that's exactly what she's doing now, competing in the international arena. "I love the multi-cultural flavor of the international competition - the people, the languages, the camaraderie, the different ways other countries do things, the pressure, the tension!" She also enjoys helping other riders in the vet checks when she's not riding, and will jump in anywhere, whether it's sponging down a horse to cool him down or taking a pulse, or carrying the rider's tack.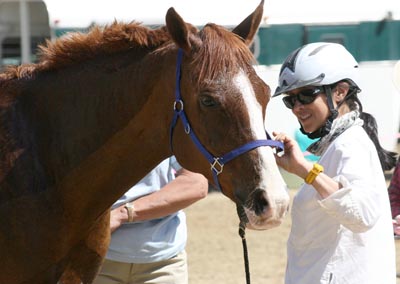 Charisse was actually doing a form of endurance riding as a teenager living in Hawaii - though she didn't know it at the time. She and a friend would saddle up two horses and ride off into one of the parks and camp for a few days. Or she'd spend a day riding to a friend's house, spend the night, and ride back the next day.
While living in New York later, "I was Jonesing for a horse, so I rode in Central Park on one of those rented horses. He was a bit high spirited, and I got in trouble for bringing him back lathered. They made me handwalk him for an hour to cool him down!" She signed up for jumping lessons with a friend - though she'd never jumped before - and the instructor took her under his wing and taught her some of the finer points of riding.
When she moved to the LA area to work for her mother (a casting director) for a while, she met a girl who asked if she wanted to ride. Of course she did! "That was my first time with Arabians; I didn't know anything about them." Eventually the friend gave Charisse the horse. One day Charisse was taking another friend for a ride in the hills, and she ran into a group of riders in Agoura Hills led by Boyd Zontelli. Boyd was one of the early endurance riders, and a 4-time Tevis cup finisher (and 1-time winner).
Boyd eventually talked Charisse into working for him, helping train and condition his horses, and learning about endurance. "We had some nice horses - they were owned by Shaikh Mahktoum. I didn't get to do a lot of rides, but we conditioned a lot in the hills." Boyd is known as a fast endurance rider, and while Charisse has a strong competitive streak, she learned the value of pacing her horse, and riding to his ability that day. "It's human ego that often gets in the way of doing the best thing for the horse."
Charisse met her husband through her work, when she was a casting director for a Silverado commercial. Carl Merganthaler, a horse trainer, worked with the horses on the commercial. They have a nice hidden acre tucked away in the Agoura Hills, and access to hundreds of miles of trails to train on, which is what Charisse does with her 8 horses, when she's not work as a casting director for commercials. "It keeps my horse habit going!" Fortunately she has good people working for her, and she can do a lot of her work on the road - which is where she has been spending a lot of time over the last two years, going to endurance rides around the country, working to qualify her horses for the WEC.
"It's a HUGE commitment, and I could NOT do this without Carl, who stops what he's doing and is wholeheartedly committed to it with me. He hauls my sorry butt around everywhere; he's my best crew. I couldn't do this without him, and if I make it, it's because of him; and if I don't make it, it's not because of him."
It's a huge commitment - and a big adventure for her. "If I make it, I make it; if I don't, I don't. Don't get me wrong, I would love to ride in the World Championship, and kick everybody's butt, but I've enjoyed the whole journey it takes to get there." And there's other rides around the world on her bucket list. "I want to do the hardest 100-mile rides in other countries." She's already checked off the Quilty in Australia - the one she survived a lightning storm to finish. "I want to ride in South Africa; there's Florac and Ribiers in France; I'd love to do the Quilty in Tasmania, because it's supposed to be the hardest one. I'd love to ride in a World Championship in Europe."
She's already got the desire, determination and confidence; and with a little luck, she just might be able to check off a World Championship in Kentucky this year.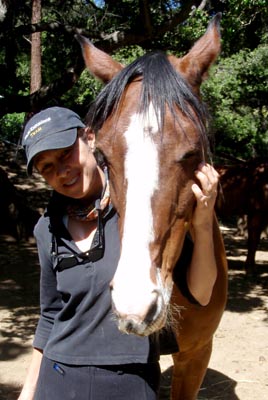 www.endurance.net/merri