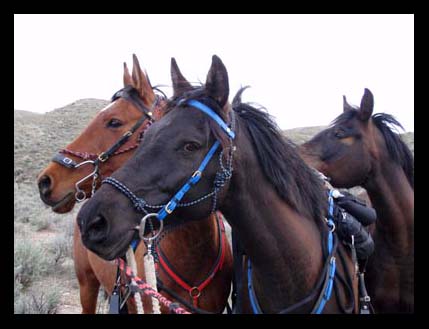 Monday April 5 2010
Just sitting down for a late afternoon fresh cup of Starbucks. Just taking the first delicious sip when...
"You want to come herd some cows with me?"
"Aw, man!" I whined.
I could think up many excuses: I'm sore from the endurance ride. It was cold. I hadn't finished packing for an early morning departure on a road trip to California tomorrow. Didn't have riding clothes on. My coffee!
Connie already had her horse Finneas saddled; she caught Jose for me as I changed clothes. I saddled up, and off we went. A half dozen or so cows were up Pickett Creek canyon on her 40 acres - which merges fencelessly with our 200 above that.
Oreana rancher Bob Thomas has cows on both sides of Pickett Creek, but somewhere they got through a gate or busted through the fence onto our properties. Connie had seen one Big Red Bull in the lot. Bob was gone for a few days, so it was up to us two cowgirls and two horses to get them off the property - or else they'd be eating our grass and leaving us icky souvenirs until Bob got back to drive them out.
Yes, it was up to us two cowgirls and two horses and... Dudley! Dudley had been turned out on the upper 240 with Finneas, and he was waiting for us at the fence. We hadn't ridden a half mile up the canyon when Dudley came galloping up behind us to join the round up.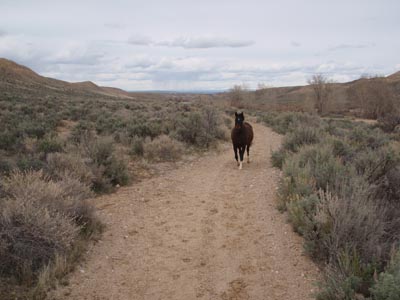 Well, why not? He'd spent some time with a cowboy trainer for a while.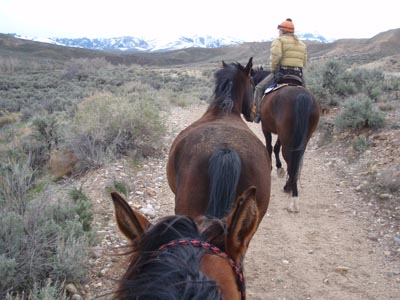 We found the half dozen cows across the creek. And another half dozen on this side, two of them bulls, one of them a Big Red Bull. Oh boy! "If he turns and runs at us, Jose and I are outta here!" "So are Finny and me!" Dudley too, I reckon.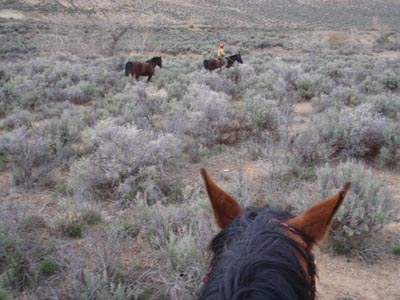 We got around behind them and got them moving across the creek, back downstream toward the other herd.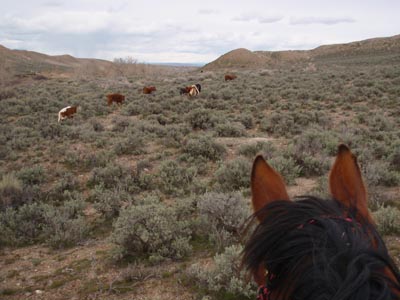 Jose hadn't objected when Connie had pulled him off his hay, nor when I saddled him up (he thought he'd have a couple of weeks off after Saturday's Owyhee Tough Sucker endurance ride), nor when we quickly cantered up the canyon toward the cows, nor when we started moooooving the cows. In fact, he seemed quite interested in the procedure.
Dudley was hanging back with us as we pushed the cows down-canyon,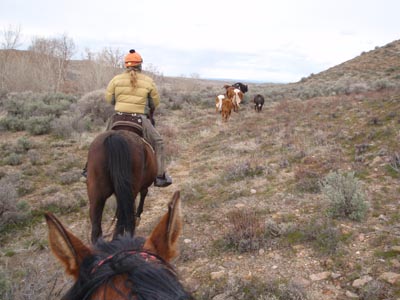 somewhat close to the border fence, along which we were hoping to find a gate - that we were hoping was open... but we weren't sure exactly where the gate was, nor if it was open. Connie guessed the cows broke through one of the gates along this fenceline... but it was only a guess.
We had the cows moving along in a nice single file line... until the terrain got a bit hilly, and we got stuck behind them when the lead bull darted down into the flat along the creek.
We let them go, since we really didn't know where this gate was. Jose and I sort of just kept an eye on them as they went back and crossed the creek, while Connie and Finneas, and Dudley and his Invisible Cowboy rode on along the fence toward where we thought the gate was.
Well... the gate was a lot further on than we thought. Besides, it takes a bit of skill, probably more than we had, to keep cows moving in one direction, then turn them out a gate along a straight fence. It helps if you have a gate in a corner.
A gate in a corner! I knew of one behind us, about a mile up the canyon! Change of plan!
Since the cows were already across the creek again, and now headed up-canyon toward that gate, and on the road, which was not too far from the other parallel fence, I said, "Let's keep moving them that way and use that fence line! There's a gate at the far end of the canyon, in the corner along that fence. You go up ahead to open it, and Jose and I will keep them moving toward you!" It's easier to move cows in the direction they already want to go, than to try to convince them they are wrong.
Connie and Finneas took off around and ahead of and past the herd and disappeared, while Jose and I made for the herd and kept them walking along the road, led by the Big Red Bull.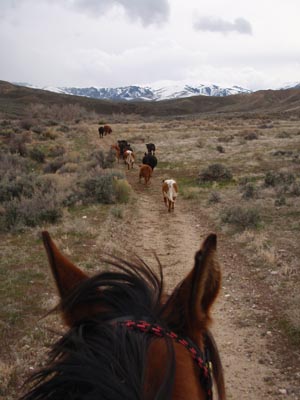 Dudley and Invisible Cowboy first followed Jose and me, but he watched Finneas galloping up the canyon and out of sight... he decided to run after Finneas instead. He took off at a whinnying gallop! (and scared Connie and Finny when he roared up on them.)
The cows were moving along fine - walking on the road and walking steadily more or less, but Jose was starting to get a little uncomfortable by himself, and no longer having fun. He'd freeze, then try to turn towards home, then leap when I nudged him. But he was still being the best cow horse ever, keeping those cows moving in a group up the canyon.
When Connie and Finneas, and Dudley and Invisible Cowboy finally got back and joined us behind the herd, Jose switched back into working cowhorse mode. The cows thought about heading for the creek to cross it again, but Jose and I cut them off, putting ourselves near the head of the herd, and turning them back up to the road and the fence. Connie and Finneas and Dudley and Invisible Cowboy drove from behind,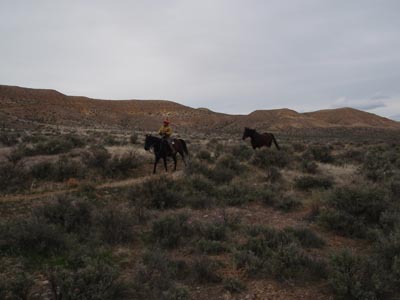 and, as the herd strung out a bit, and the middle few of them thought again about the creek, Dudley and Invisible Cowboy moved exactly where Dudley needed to be, to turn the cows back in their line, heading the right direction. I SWEAR Dudley knew exactly what he was doing.
Jose seemed to know exactly where to put himself too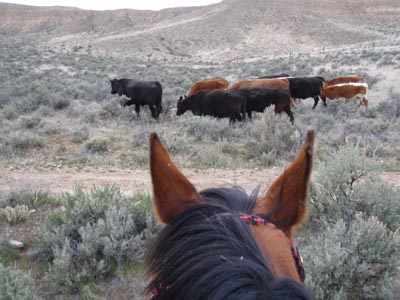 - I wasn't paying much attention to him - just automatically leaning and legging him and one-handing the reins as I yelled and waved at the cows. And he seemed so interested in the whole procedure, and how much control he had over those cows.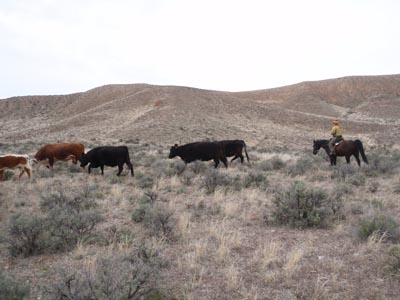 Between the 6 of us, we kept them moving right where we wanted them - closer to that fenceline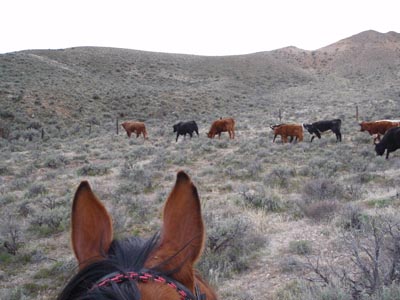 and straight for that open gate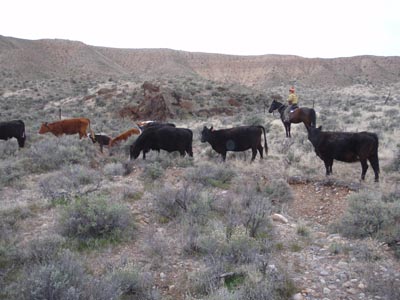 - (we had a feeling Big Red Bull knew these gates and where to go),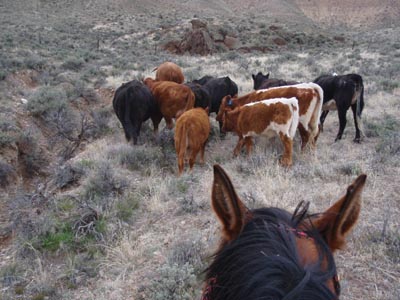 and pretty soon, Big Red was stepping through the gate off our property, leading his herd of strays out.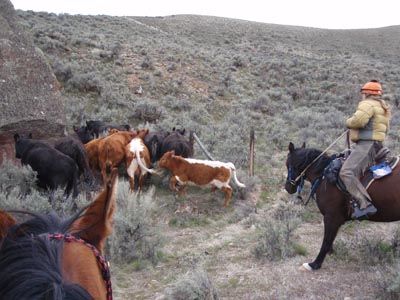 Yeehaw!
Connie jumped off and closed the gate after the last of them, and I jumped off and hugged Jose, the Best Cowhorse Ever.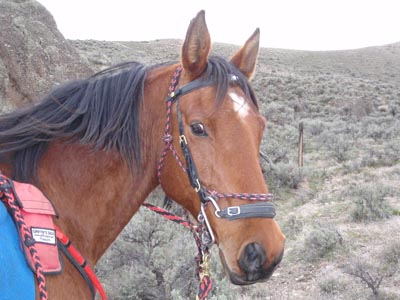 Dudley got a big hug too, and they all got Cow Herding Treats.
On the way back, we rode the other fenceline,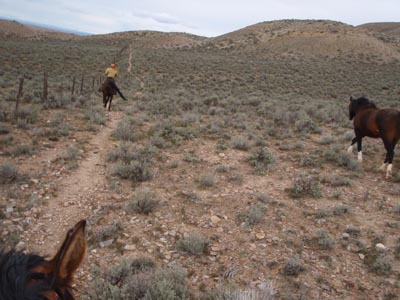 and found that gate they'd busted through. Connie wired it shut, then the 6 of us headed back home after a successful day on the ranch, hung up our bridles and chaps, and fed the ponies.
The Best Cowhorse Team Ever.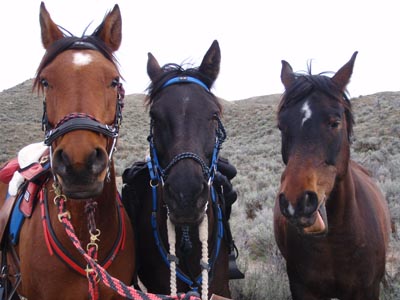 --
www.endurance.net/merri
www.TheEquestrianVagabond.com