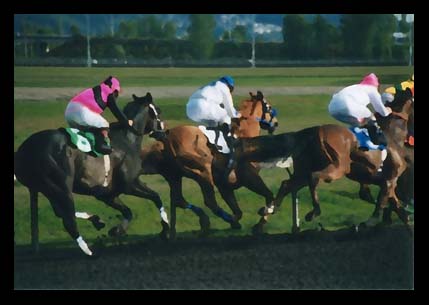 Friday March 12 2010
To quote Paul Sidio, "Quit yapping about Tiger Woods and the girls and start talking about Rachel and Zenyatta!"
Because they're back: 2009 Champion 3-year-old filly and Horse of the Year Rachel Alexandra and 2009 Champion Older mare (and Horse of the Year runner up) Zenyatta.
Both have been training magnificently for a return to the 2010 racing season, which will begin for both of them tomorrow, March 13th.
4-year-old Rachel Alexandra, 8 for 8 last year, will face 4 other mares in the 1 1/16 mile New Orleans Ladies Stakes at the Fair Grounds. She'll carry top weight of 123 pounds, but she'll be spotting the others just 2 to 5 pounds. Her trainer says she "will not be 100% cranked for her debut," but that Rachel may not have to show up to win.
6-year-old Zenyatta, unbeaten in 14 career starts, will make her bow in the Santa Margarita Invitational Handicap at Santa Anita. It's a tall order even for the likes of her: the race is at 1 1/8 miles against 8 other mares, and she's carrying top weight of 127 pounds. If all that wasn't remarkable enough, she'll be giving her opponents from 12 to 19 pounds.
If both mares come out of their races well, both are expected to meet for the first time in the Apple Blossom Handicap (now worth $5 million) at Oaklawn Park on April 9th.
Both of tomorrow's races can be seen live, streaming on
www.ntra.com
beginning at 6 PM ET, and on television on HRTV. Post time for Rachel Alexandra's race is 6:15 PM ET; post time for Zenyatta's race is 6:40 PM ET.
You might want to tune in, and you JUST might want to skip any endurance ride you've got scheduled if the two meet in April...
The
Bloodhorse.com
has any and all information you'd like to know on the two mares.