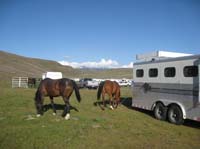 Saturday May 9 2009
It's pretty much in our back yard, about a 90-minute-by-horse-trailer away, but the scenery is quite different: verdant foothills at 3000' in the mountains north of Eagle (near Boise) - rich grazing, multiple species of flowers (the lupines were about a week from blanketing the hillsides in purple), and gopher holes galore. It's mostly on private land that we are graciously allowed to use, and there are lots of volunteers who graciously help.
And did I mention the hills? Lots of hills. LOTS. Of HILLS. As in, you don't want to bring an unfit horse, or a pasture potato here. It's not called the Eagle EXTREME for nothing. (As opposed to an Eagle EASY.)
Snow topped the nearby peaks, and there was a layer of frost on the grass and on my sleeping bag and pillow before dawn of the ride.
By 4 PM on Friday, ridecamp was looking a little sparse, but it had filled up more by night, and there were a few riders still arriving in the morning. In fact there were only seven less riders than last year, so it was a decent turnout. It happened that there were more than a few riders with foot-sore horses that couldn't make the ride... perhaps it was the above-average rains we'd had this spring in the area that had something to do with it, because it seemed too many to be just coincidences.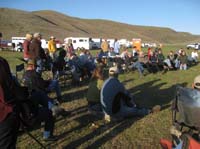 I was scheduled to ride John T's Rushcreek Mac in the 50, but when John called at the last minute and said he'd go, Jose Viola got pulled off the bench again to come along and do a 50 miler with Mac and Steph's horse Rhett - lucky me! (I love Jose!) Come to think of it, I was sort of coming off the bench too, as I'd last done a 50 in September, and only a 25 at the Tough Sucker in April, and not a whole heck of a lot in between. My riding muscles weren't quite in good shape, and certainly not for hills; and I'm at the point now where my knees experience some form of agony during rides. Let's see - do I take the Ibuprofen now or later? Or both?
Rhett and Mac sure were amped up before the start, so much that John was wondering if he'd stay on, and so much that we turned away from the starting line and trotted and cantered a quarter mile up the road. Jose was good as gold - not silly, just ready to go. (I love Jose!) As the riders started up the trail at 7 AM, we turned around - our horses more settled now - and trotted toward the start after them. Jose led the way until we got a half mile or so out, then Rhett took over.
Steph said we'd go slow today, but about all I remember of that first 17-mile loop was a blur! I couldn't tell you much about it except we passed more than half the field and Jose had to canter much of it to keep up with Rhett's big trot.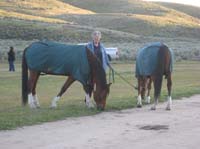 I knew it was too fast for Jose to do 50 miles at this pace (Rhett and Mac had been doing rides all winter), but I knew I'd be fighting him if I tried to pull him back off Uncle Rhett and Mac, and you really don't want a mad horse tossing his head up and down on this terrain. It wasn't all rough, but it was all up or down, and there were rocks and uneven footing to negotiate much of the way, (not so many big gopher and badger holes here - those came later), so you and your horse needed to pay attention. I planned to back off the pace once we got in for our first vet check; Jose would be able to handle this pace for 17 miles - a good workout for him - and I was curious to see what his pulse would be when we came in.
When we stopped for a drink at a water trough about 4 miles from camp, turned out John wanted to back off too! So we told Steph to go on - that competitive light was burning in hers and Rhett's eyes, and if Mac and Jose had each other, they wouldn't worry about Rhett.
And they didn't. Steph took off down the trail, and Jose and Mac just walked along. Only then I started noticing some of the scenery - but not gawking, because you really did have to pay attention to the footing. You could call it a technical ride, and it would be good to know your horse well. Just because he feels good and wants to go fast, you may actually know more than your horse, and know he needs to slow down, because on this ride, he was working hard, no matter how he might try to convince you otherwise or how easy he made it look and feel.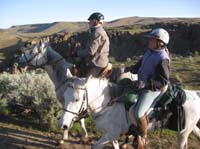 We took our time, letting the horses walk up and down the steep hills, trotting up and down the gradual hills and the flats. There was plenty of water put out on the trails, and grass to eat anywhere you wanted, and Mac and Jose took advantage of that. By the time we got back to camp for our 30 minute hold, Jose's pulse was at 56 (criteria was 60) - no problem! And Rhett was just about on his way out onto loop 2!
It was a pretty perfect morning - not too hot or cold. And the best thing about the vet checks (we'd have 3 today), the BEST thing about the WHOLE RIDE, was the buckets of horse Slop in the vetting area! Mac first discovered these at the Pink Flamingo ride last year, and he must have remembered, because he went right up to one and dove in. Jose followed him and was instantly infatuated. Two big buckets full of soaked oats, carrot and apple slices - the BEST! Oh, happy horses. Even when Rhett went back out on trail, crying for his buddies, Mac and Jose lifted their heads to look and whinny after him, but they did not budge from the Slop buckets. We had to literally drag them away from the Slop and to our trailer to eat some of their own food.
Tim Floyd, who was riding the 25, was back in camp - horse-less. He'd come off his horse on his first loop, well away from camp, and he and a friend hopped in their truck and trailer and went out to look for him. Tim didn't seem too worried, and he looked fine, but I heard later he'd broken some ribs! (He did eventually retrieve his horse, who was fine.)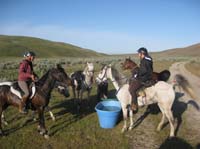 Next: out on loop two for 12 miles. John and I kept up the same strategy: walk the steep hills up and down, trot the gradual hills and flats. We were pretty much sitting mid-pack with nobody else around us. The ones in front of us had more than a half hour lead and they'd be going the same fast pace and leaving us more behind, and we were a good half hour over the riders behind us who'd probably be keeping the same pace.
The trails were marked quite well (although some riders did get lost... you did have to pay attention), mostly with spray painted arrows on the ground, grass, bushes, flowers, rocks. Ride managers Carrie Johnson and Trish Frahm had learned that cows eat ribbons, so the bright orange, yellow, pink, or blue spray paint worked quite well. There was only slight problem: the blue arrows were
actually
Horse-Eating Arrows. Jose let me know that, and he kept me safely away from them (even if I wasn't paying attention!) Jose doesn't spook at things, so I trusted completely his judgment on these blue Horse-Eating Arrows.
Jose pulsed down immediately back at camp for the 45 minute hold. Mac took a little longer. They both ate their whole way through the hold (especially the Slop!). They were less enthusiastic going out on the 13-mile loop 3 - we'd seen Rhett in camp and they had their crying weeping and gnashing of teeth over their separation again (though they still ate).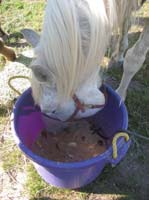 There was a lot of cross-country on this third loop - so lots of walking, and we seemed to be forever going away from camp. We'd seen a lot of cows which piqued Jose's interest. He's a looker anyway, interested in everything - on loop 4 he spotted a coyote far away, that I could not see at first, that held him transfixed for minutes; and he likes to stop on the top of hills and survey around him. But suddenly things went awry amongst these cows: one of them became an Attack Cow! I was in front on Jose, but suddenly I found me and my horse going in reverse,
fast
, with a mama cow coming at us! Jose was quite alarmed at the situation. I yelled at the cow, who slowed down - we'd surprised her baby and she was coming to the rescue. Once we got it settled between us that none of us wanted anything to do with the other, we continued on to a water trough where we made peace and drank with the cows there.
Finally we were headed homeward, and finally we reached the scenic canyon we'd passed twice today already. We trotted the couple of miles back in for our last 45 minute hold - with the Slop buckets! Jose's and Mac's mouths were always a mess in camp from the nostrils down. Jose managed to share a lot of Slop all over my shirt and in my hair.
I thought maybe we'd time it right so we'd be back out on the trail before Steph got back, but halfway through our hold, here came the winner of the 50, Jane Cunningham and Picadilly Grey. We thought Steph would be on her tail, and she might have been, if she hadn't blown a turn! The next three finishers, Martha McMurray, Patty Katucki, and Steph had missed the first turn right out of camp and had gone a couple of miles down the road before someone drove down and caught them and turned them around. Steph said a horse trailer that was driving out of camp was between her and the turn ribbons, and she was so focused on Martha ahead of her, that neither of them had noticed they hadn't been following any blue ribbons or spray paint for a while.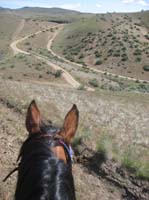 This wasn't a ride to daydream on - on the first loop Steph missed a turn that I saw behind her, and on the third loop, I missed a turn that John saw behind me. And you couldn't always see horse prints in the grass or hard rocky roads. And if you're the front-runner, you don't have these to follow anyway!
The geldings all had their Whinny Fest and expressed great relief at their brief reunion, and great sorrow at their separation again as we headed one last time.
Skyla Stewart, who was helping at the ride, told us to wet our horses down good before our last 8-mile loop: the first 2 miles were in a sandy wash - hard work and hot and a long climb. I told Jose I'd get off him and walk it.
Well, I didn't
really
want to walk in the deep sandy wash, because I had my hole-y shoes on (I do have a good pair of riding shoes, but I hate to wear them out, so I always wear my old ones), and I didn't want to get sand in my shoes. Whine! (And, OK, it's very hard to walk in deep sand, especially when you're tired.) However, as we started climbing a trail in less-deep sand out of the wash, I got off to walk, because I'd promised Jose.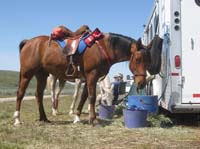 It was sandy, it was hot, and it was a climb. I was panting after 40 yards. But I kept plugging along, trying to keep up at Jose's pace, trying not to gasp for air. I like to do this once in a while, get off and experience what the horse is doing, what the horse has been doing for 42 miles, just to keep myself humble. (In fact, pathetically, I did not even make it all the way to the top. I had to get back on and let Jose carry me the last 30 yards.) And I
was
quite humbled - besides the panting, my knees were by now killing me so I did a lot of gritting my teeth and hobbling on my little walk.
In fact, try both of these things: get off your horse during rides, and jog with him up hills, or jog through sand for a while. Sure, he's a horse, and maybe he's fit, but this is still what he experiences, and you should always keep that in mind. Then go get yourself a backpack full of rocks that weigh at least 20% of your body weight. Then go jog up and down some hills. Burns your lungs going up, and hurts your knee and ankle joints going down, doesn't it? Just another thing to think about and be grateful for as your willing horse carries you up and down hills, through sand, over rocks, even while there are Horse Eating Blue Arrows and Attacking Cows out there, and the trail is booby trapped with leg-breaking gopher and badger holes right beside, and sometimes in the middle of the trail!
After the first few miles up in the hills, we descended back to the valley, and had a flat stretch back into camp. We heard a siren in the distance, and said "Gee, I hope that's not for our ride." As we crossed the main country road for our last few miles in to camp, we saw a fire truck parked on the road. Hmmm. As we trotted homeward, then we saw a sheriff's car, and ambulance, and another sheriff's car coming from the direction of camp - oh no! I didn't really want to think of what, or to whom, something might have happened.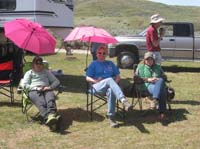 And it was easy not to think about it too much, because our horses were tired, and we were tired. We walked the rest of the two miles back into camp, and I got off and walked on foot the last half mile or so. I did keep glancing back over my shoulders, saying, "You know, we might get caught this last bit." John said, "I don't care." I said, "I don't care." Jose and Mac didn't care. We just walked on in.
And right when we saw the whites of Liz Smallwood's eyes, at the finish line with her clipboard - we heard trotting horses coming up behind us! Oh no! Run!
But we didn't. It was Tom Noll and the famous Frank (who, I am sure, DID have some opinions as to his placing - Frank, not Tom), and Lynne Frederickson. But they pulled up, and we all just kept walking across the line, finishing 8-9-10-11th, a full two hours behind the winner. Only 4 minutes behind us were Nance Worman and Chris and Kara Yost, which left just 3 more riders out on the trail. (Eight riders had pulled.)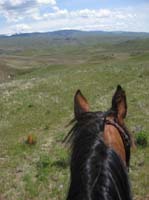 And here we found out who the ambulance was for, and why Cindy Bradley and Bo were the turtle finishers, an hour and 25 minutes later. Annerose Carlisle came off her horse on loop 3, five miles out from camp, got knocked out because she was NOT WEARING A HELMET. She'd worn one on the first 2 loops but decided not to wear it for loop 3. All I kept thinking of was my Aussie friend Meg Wade, who WAS wearing a helmet when she fell and hit her head, and today, twenty days later, she's still unconscious in a hospital.
Cindy Bradley stayed with Annerose while someone rode off for camp at a gallop for help. Annerose (who is in her 70's, by the way, with over 9000 recorded AERC miles, and her horse JAC Ginger has over 4500 miles, and "never spooks," someone said) was out cold for about two minutes, and, being hard-headed in more ways than one, eventually got back on her horse and rode on toward camp till she was met by a 4-wheeler, which took her to camp, where the ambulance took her on to the hospital.
When Cindy and Bo finally crossed the finish line to applause and cheers, (with 20 minutes to spare under the 12 hour time limit), Bo looked great, "like he could do another 50 miles!" I said. "That's because he had an extra 45-minute Annerose Carlile vet check out there!" Cindy said.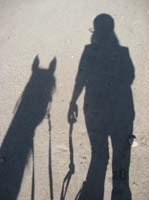 When Bo was vetted in and taken care of, the awards and potluck dinner started. The horses had had their delicious Slop; we humans had gourmet food: pizza, fried chicken, salads, southwest Mexican bean salad, brownies, cookies, creme puffs. The food was quite varied and delicious and completely devoured.
17 of 25 finished the 50, and 26 of 28 finished the 25. Not bad at all for a tough ride. Lee Pearce and JAC Mr Turner duplicated last year's Best Condition award in the 50 and Carolyn Roberts and Milly Ann Tucker won the 25 and got Best Condition.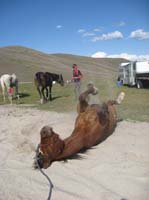 Our horses were pooped, we were pooped... but it was a Good Day. The horses had excellent vet scores, they had a great roll in the sand afterwards, and they even made it home to their own beds at night.
THE DAY AFTER REPORT:
Our horses looked great, but boy am I sore! As in, a couple of days worth of sore. Hobbling, crippling sore. However, I did NOT take any Ibuprofen, before, during or after, the ride. : )
And Annerose thankfully is okay. But please people, wear your helmets!
Now go out there and thank and hug your willing horse today. (I already did, several times. Did I say already I love Jose??)