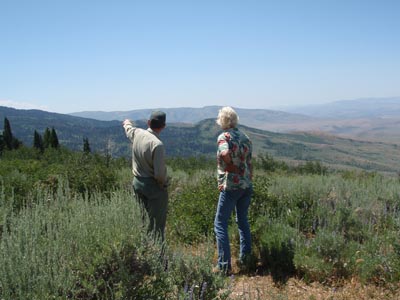 Thursday July 28 2011
Hovering above, and reaching 30 miles northward beyond the City of Rocks are the Albion Mountains in southern Idaho. That's where we were headed with the Recreation Manager for the Minidoka Ranger District, to get a lay of the land and a tour of the road/trail system. David is an old friend of mine from my Forest Service trail work days and it's a delightful coincidence that he's here managing part of the area Steph is hankering to put on an endurance ride. Of course it's an added bonus that he knows the area well, knows horses, and welcomes horse use as part of the recreation on the district, even if it is a bunch of rabid endurance riders.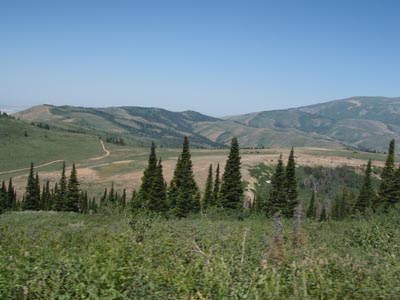 It's a scenic mountain range with captivating possibility of trails - loops around alpine lakes, and trails running all the way from City of Rocks, around Cache Peak, the highest point in Idaho ("south of the Snake River" : ), and - if we wanted to go that far, Mt Harrison.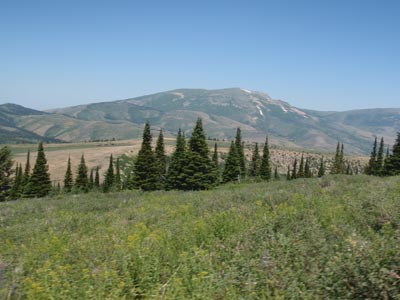 There's a ridgeline trail, through forests of pines, firs, and aspens, with sweeping views of the basins on the east and west sides of the mountains. The terrain is not too rugged nor too steep, nor the trails too rocky.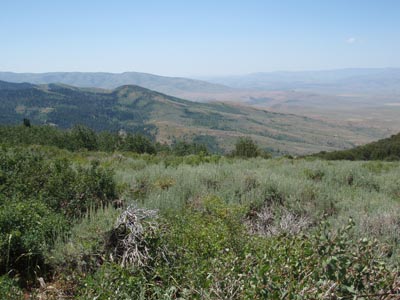 We poured over maps and looked at trailheads and schemed over the possibilities. Maybe one day a ride around City of Rocks. Maybe one day a ride from the City of Rocks up into the Albions. Maybe a ride just along the trails around the lakes in the mountains. Maybe all of that in a multi-day ride!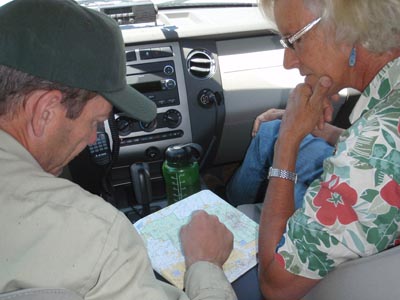 Time, exploring, and many hoofprints will tell.