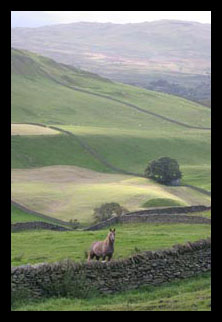 Wednesday August 25 2010
I've landed at
Seren Arabians
("Seren" means "Star" in Welsh) in the Lake District of Cumbria, England - home of Jan and Dom Atkinson and Crabbet Arabian horses. They are carrying on very selective bloodlines from the original Crabbet stud (established in the 1870's) that ultimately dispersed in 1973.
Endurance riding friends Chris and Kara Yost of southern Idaho stumbled on Seren Arabians last year when visiting England. Ultimately they brought a Seren Crabbet stud colt home - one of the lucky few people to do so! Jan and Dom are very protective of their Crabbet offspring and won't sell to just anybody - you have to prove the horse will get a good home and will be used properly.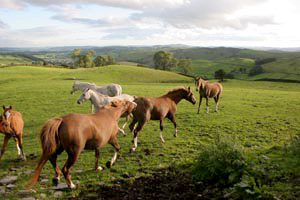 The Seren horses are lovely, sturdy, and allowed to be horses. They're known for their even temperaments and friendliness. They're brought up barefoot on steep hills where they develop good muscle and bone naturally, and they live in herd situations so they mature mentally and naturally - like horses.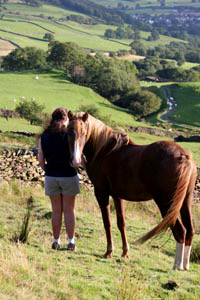 The Atkinsons don't show (though 2 of their homebred geldings just won first and second place in the Wessex Arabian Horse Group Summer C Show, and one of their 3-year-olds just got the highest score this year, and the highest score ever for a 3-year-old and for a purebred Arabian, and the second highest score of all time, in the British Equestrian Federation Futurity Grading for endurance), and they have been too busy to do endurance lately.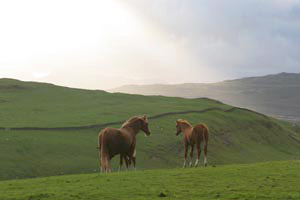 But their horses - and their 'unconventionl' method (in Great Britain, and Europe, anyway) of turning stallions out with the mares and colts in herds and bringing them up this way - are speaking for themselves.