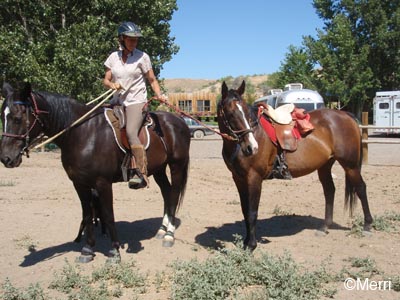 Saturday August 6 2011
The Old Man Ride
We took the old men out for a ride today: 21-year-old Krusty, Steph's half Orlov Trotter ('and half mostly arabian, a little thoroughbred'), and 20-year-old Stormy, my Thoroughbred ex-racehorse.
We ambled up onto the rim on John's trail, heading toward the Owyhee mountains on a warm sunny day, and came back on the ridge on Steph's trail, into the summer breeze.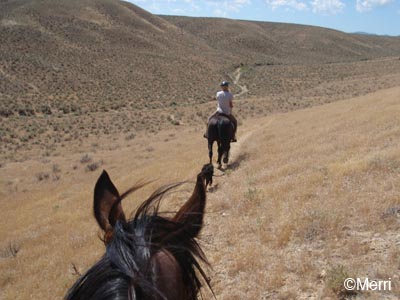 Krusty's been around the block a time or two - as in, he's done over 3300 miles of endurance over 12 seasons, and in his younger days he competed in a World Endurance Championship in France and the Dubai World Cup in the UAE. Stormy's been around the block a time or two - as in, he was a racehorse for 5 years, winning 6 times and finishing 2nd 9 times and earning over $45,000 during his career. They've both had bouts with navicular, but today they felt great.
And today they're both semi-retired beloved pets. Krusty's job now is to take out beginners and those with a lack of confidence on the trails. He's restored riding courage back into a rider or two. Stormy's job is to mow the lawn (his favorite) and to go out on the occasional leg-stretching ride. He took my niece on her first horse ride ever.
They're gentle old souls, and we pretty much let them do what they want on a ride.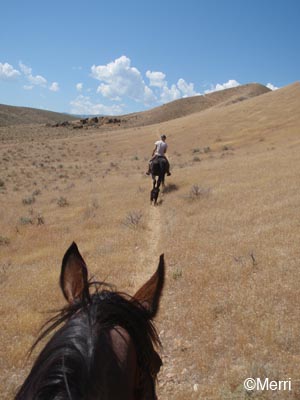 When they want to trot, we let them. When they want to walk, we let them. When they want to take a particular trail home, we let them.
Stormy likes to walk along with his nose to the ground at places, sniffing like a bloodhound, so I let him.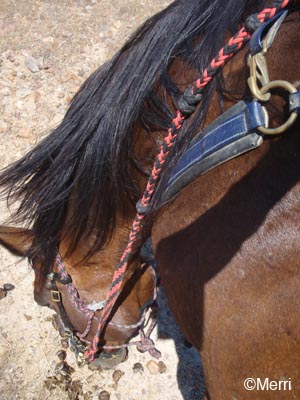 Stormy likes to stop for a treat, so I give him one.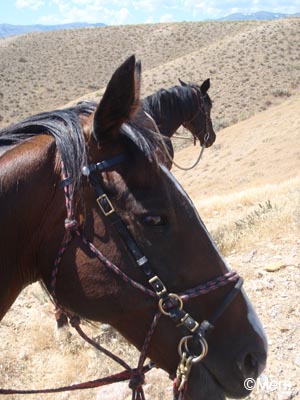 They're good old men, good for some relaxing, easy rides, some spoiling, and some good memories.