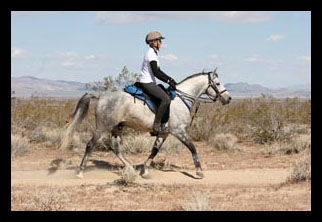 Thursday January 13 2011
There are several things you notice immediately when you lay eyes on the Shagya stallion KS Rubin.
He's handsome, conformationally outstanding, and extremely disciplined and mild-tempered. As a 5-year-old, he was described as having a "charming personality." And he's friendly. "He gives good hugs!" says Deane Zahn, one of his riders in endurance competition.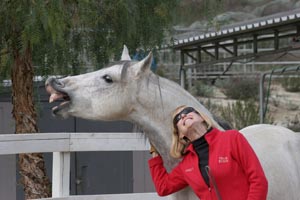 And one would swear he has a sense of humor.
He's also flawlessly bred, and that's one of the reasons Katherine Voyer, of
Oak Knoll Sporthorses
bought him as a 5-year-old in 2005. With only one Arabian in his fourth generation, (a purebred Shagya is not allowed more than seven Arabian ancestors out of the sixteen in its fourth generation), you can't get much purer than that.
He'd been imported from Germany to Illinois by Donna Cross as a long yearling. Around that time, Katherine had been looking for a stallion to 'balance' the white hot racing Polish, and Polish-Egyptian cross Arabian mares she had been breeding and racing.
"I did a lot of research, and entertained every reasonable breed, and I ultimately settled on the Shagya."
The Shagya breed was developed in the 1700's at the Imperial Stud in Babolna, Hungary. The cavalry was in need of a mount with more intelligence, bigger bone, better feet, better training ability and temperament, and one that was an easy keeper. This sturdy new breed developed from the native Hungarian mares that were crossed with desert Arabians - and was named after Shagya, one of the most influential foundation desert Arabian stallions from Syria that was used in the beginning.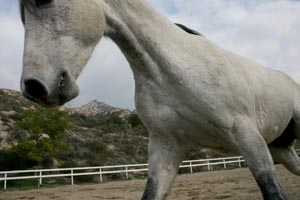 Today Shagyas are known for their athletic ability, their steady temperaments, their jumping ability, and as an 'improver' of other breeds of horses. The Shagya breed is still rare, with less than 250 horses existing in the U.S. and about 2000 worldwide; but most of those who own them are fiercely loyal to them and believe in their abilities. You can see this devotion in all of Rubin's 'girls.'
One of those girls is Carolyn Hock. Carolyn is one of those who is still a horse addict now, probably because she couldn't have one when she was growing up in the Mid-West. "We couldn't afford a horse, but we had a Pony Club down the road. I would beg, borrow, and steal to ride anything with four legs."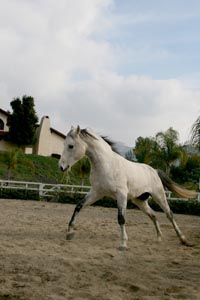 Later, when married, it was her husband Chris' fault. "He made the fatal mistake of saying, 'There's no reason why you can't buy a horse.'" At this, Carolyn and Chris both laugh. "We bought a horse from a garage sale," says Chris. "$400 for the saddle, and $100 for the horse!" 'Silver' turned out to be a fun Tennessee Walker-Appaloosa cross.
Eventually, as Fate would have it, Carolyn and Dottie McAdams, an endurance veterinarian and rider, crossed paths. Dottie talked Carolyn into riding her Arabians. "I said sure, since I was used to riding anything. The first time I got on an Arabian, I found myself in the dirt. I thought, 'Well! This is different!'" Carolyn was used to riding anything, but she wasn't used to Arabians spooking.
Carolyn naturally got into endurance riding because of Dottie: "It's all her fault, and I told her that!" And as whimsical Fate would have it again, the first endurance horse that Carolyn bought from Dottie, GT Sando, turned out to be her best.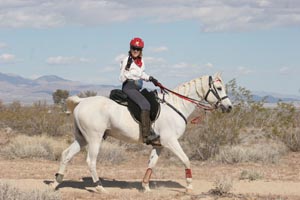 Carolyn first saw Sando after Dottie bought him as a three-year-old from Lee and Garvin Tankersly. Carolyn recalls he looked like a cross between a giraffe and a deer. "But Dottie was able to see the potential in him. She taught me a lot about that."
Carolyn bought GT Sando at 5, when he was much better looking - especially on the endurance trail. In ten years of competition, they completed 2410 AERC miles together, finishing 38 of 44 starts, including 10 of 16 100-milers, one of those being the Tevis Cup. They also finished 11th in the 2003 Pan American Championships at Trout Lake, Washington, won Team Gold at the 2005 North American Championships at Fair Hill, Maryland, and finished the 2005 World Championship in Dubai.
It was these accomplishments that made long-time endurance rider Ruth Waltenspiel recommend to Katherine Voyer that she send KS Rubin to Carolyn Hock for endurance training.
Carolyn's response: "I don't do stallions."
She did agree to go look at Rubin, and found herself impressed with his extraordinary temperament and training. After Rubin had done a solid year of dressage training under Sue Eoff, Carolyn agreed to take him on for endurance.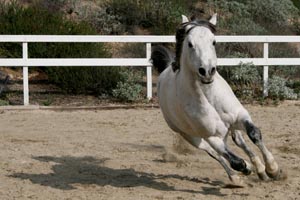 He turned out to be a gem. "With stallions, you
always
have to pay attention, but Rubin's management was impeccable."
Deane Zahn, another of Rubin's 'girls,' agrees. "He's 100% compliant, intelligent. I'm a scientist grad student (and a recent convert to endurance from the dressage world, thanks to Carolyn) - I can really appreciate intelligence in a horse."
Deane has the majority of miles on KS Rubin so far - 630 of his 1465 miles - and she recalls a ride in Ridgecrest where a dog spooked Rubin (all riders in Ridgecrest know this naughty dog, who throws himself against a board fence when riders are going by, and have been almost spooked off their horses by him!) and she almost fell off. "Rubin didn't panic, didn't run off - I was hanging off the side of his neck. He just stood there and looked at me funny while I pulled myself back into the saddle. He took great care of me!"
Another rider, Laura Hayes, echoed that phrase about her ride on KS Rubin in 2009. "The day I rode Rubin was the last day of Bryce. I had ridden two other horses that week that were not mine, the first one bucked me off on my head - I was barely in the saddle and came off the other side. I had a wicked head and neck ache all week The second, while a wonderful horse, caught a toe during a big trot and went down on my leg on a gravely road. I had a nasty road rash from above my knee to half way down my calf on the outside of my leg.
"By the time I got on Rubin I was really sore. He jogged through that 50 miles like he was carrying a child - I was hurt and pretty out of it. I couldn't get off when I normally would, and I think I was probably close
to useless to him as a partner. He didn't know me from Adam, but he took care of me and we finished. I haven't seen him since, and I went straight to bed I was so sore and tired, but when I do see him again, I
have to apologize to him and thank him for taking such good care of me!"
While he does behave very well, Rubin does notice the equine ladies on the trail... he is, after all, a stallion. "Sometimes he'll slooooooooooow down and drag along if a mare is behind him, or he'll speed right up if one is in front of him," Carolyn says. "He
always
knows where the ladies are! But if he starts thinking about anything other than working on the trail, that thought is stopped - and that's the extent of it."
"He does prefer redheads!" Deane says.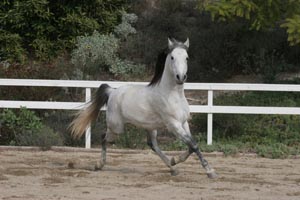 Katherine Voyer has never ridden her horse. A back injury has kept her off horses since before she got Rubin. She doesn't complain, but she does have that wistful look in her eye. "I'd like nothing better than to get on him and ride a 50 or 75 - just get on and go..."
But instead she contents herself with raising good horses and watching Rubin, her prized horse, continue to grow and develop.
KS Rubin is quietly amassing accomplishments as he trots down the trails. "We had two goals last year. One was the Jim Jones Award (for the highest mileage endurance stallion for the year), and one was to have a number of different riders on him, to show how rideable and manageable he is." Rubin finished second in the Jim Jones Award with 960 miles, and he carried 6 different riders to finishes, including two Young Riders.
In 2010, Katie Bran and Rubin finished 10th in the 75-mile North American Young Riders FEI ride; and Deane Zahn rode Rubin to a finish in the 75-mile Git R Done FEI ride. These finishes contributed to KS Rubin becoming the highest ranked FEI endurance Shagya stallion in the world for 2010. He's also the all-time endurance high-mileage Shagya stallion in North America.
KS Rubin is recorded in the RPSI (Rheinland Pfalz-Saar ) Stallion Book 2; he can be used as an outcross in the Hungarian Felver and Hungarian Sportlo books of the Hungarian Horse Association of America; and has been inspected and approved for Shagya breeding by the NASS (North American Shagya-Arabian Society) and ASAV (American Shagya Arabian Verband registry).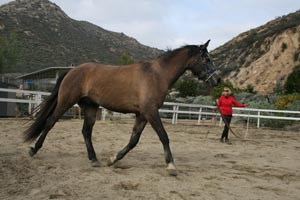 Due to his endurance competition, KS Rubin isn't breeding, but Katherine had him collected before he began his training, and frozen semen breedings are available. He has produced three outstanding-looking youngsters out of Katherine's Polish mares; four-year-old Renoirr is in training with Carolyn Hock and should make his first Limited Distance start in the fall of this year.
KS Rubin fits the typical characteristics of the Shagya breed description exactly: he's 15/16 Purebred, he's 15.1 hands, he's an excellent natural jumper (witnessed at his 2007 ATA Inspection), and he's very people oriented. "Rubin loves 'hands on' more than any other horse," Deane confirms. "He loves being touched, groomed, and handled."
And he already appears to have the ability to 'improve' breeds, if his three offspring Katherine owns are any indication. "I think three-year-old Rodinn is going to be even better than Renoirr!" Katherine says, with an unbiased gleam in her eyes.
KS Rubin still has many more endurance competition years ahead of him, and he'll be steadily working toward accomplishing more goals.
And a couple of young sons will soon be following in his footsteps, making their own marks.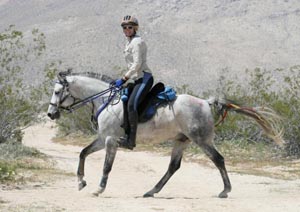 KS Rubin gallery
Renoirr gallery