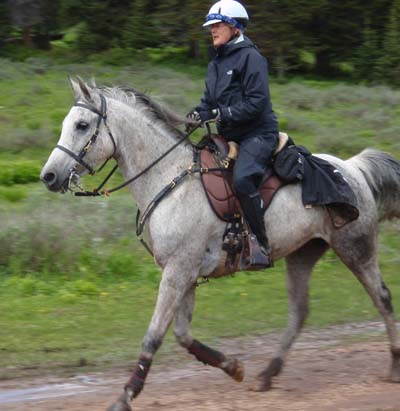 Thursday October 8 2009
Wednesday found Sue Hedgecock of Park City, Utah, and a load of horses, "driving across Kansas at the speed of light." That was a good thing, since she'd left home in a snowstorm the previous day, driving considerably slower. They are headed for Lexington, Kentucky for the October 14th Kentucky Cup Endurance pre-ride.
Since starting his endurance career in 2007, 8-year-old Julioslastchance, her mount in Kentucky in the 100-mile race, has 11 finishes in 14 starts, having finished in the Top 10 in all but one of those completions. "He's a big trotter. He likes to compete," Sue says.
Sue likes to compete also, and It's easy to see where she gets her competitiveness from: she used to be on the US Olympic Ski Team with her twin sister. She still teaches snow skiing in the Park City mountains in the winters.
Sue is excited about riding in Kentucky, but also a little worried. Julio has tied up twice, the last time in his most recent ride in the Owyhee Fandango 100 in Idaho in May. "I wracked my brain trying to figure out what it was that those 2 rides had in common, what ingredient it was that caused him to tie up. I think it was standing around too much before the rides; he needs to be ridden daily." Sue since changed Julio's training and nutrition program, and has been conditioning him all summer.
The area where Sue lives outside of Park City is great for endurance training. She has a long gradual uphill climb that goes from 4500 to 7000 feet, and she has a good 30-mile trail she can do. "I've put on my heaviest gear, plus 40 lbs, to get him working and build muscle."
Julio is clipped since he already got a jump on his winter coat, and temperatures in Lexington should be in the 40's at night, and 60's during the day. "That should be about perfect."
Sue's looking forward to arriving in Lexington and getting settled, getting on her horse, and seeing what he can do. Additionally, two more of her horses, Fast Eddie and Steadys Temmpo, will be ridden by Brazilians on the 120 km ride.
Ultimately, Sue has her eye on the WEG in Kentucky next year. "I'm not aiming to get nit-picky at this ride, I'm aiming to make it work."
Another Top Ten finish, this one in Kentucky, would work just fine.