Thursday October 15 2009
I have to say that the Best Condition judging was quite a disappointment. None of the horses from the 120 km race were seen the morning after the race, when the horses from the 160 km-reduced-to-120 showed, because the UAE and Spanish horses all left Wednesday night after they finished the race. (Incidentally, other foreign horses could not get their passports to leave the stable area until after the BC on Thursday.)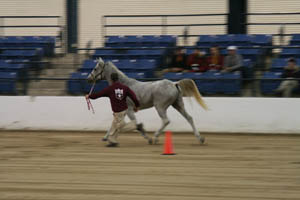 Nobody knew if the 120 km horses 1) didn't show at all, 2) if they showed the night before and one was awarded a prize, or 3) if the 120 km BC was combined with the 160 km. In any case, it would have been nice to see these horses, which looked good when they arrived at the Kentucky Horse Park, and good all during the ride. Phenomenal horses, some of them, and we never saw them again.
Additionally, the actual inspections and trotting out of the 160 km horses at the BC judging was, I must say this, and can think of no other way to put it, conducted like a funeral. Nobody was allowed to clap, whistle, or cheer in any shape or form until after each horse was finished and given the 'Okay All Done' nod, and if anyone mistakenly peeped too soon, officials rushed down the sides of the arena to shush anybody doing so.
Which brings me to Protocol. Some people observed that Protocol was strictly followed in some things and not in others, was reasonable in some cases and unreasonable in others. Protocol is a fine idea if it applies to all, and if it's reasonable.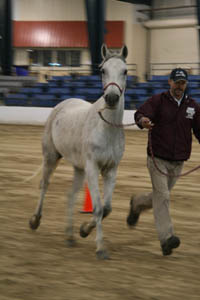 Everybody dressing up for the initial vetting in of their horses is a practical idea. It looks good for the spectators. Everybody dressing up during the race to cool down horses and vet in horses at the vet gates is not practical (especially with messy conditions of Wednesday). Riders waving their country flags across the finish line is an excellent idea, for the riders, countries, fans, and spectators - it expresses enthusiasm. I don't see why everybody shouldn't be able to do this. It is done in other countries in FEI rides, why not here?
I've been to big important endurance rides in this country and other countries where the Best Condition judging is a lively cheerful event with audience participation, where everybody is understandably proud of the horses that made it through the ride in the Top Ten (especially through the strenuous muck of yesterday!), and they cheer for the horses as they trot out. The gloomy, silent, and funereal showing of the horses on Wednesday is not practical (you can't tell me a judge would be influenced by cheering), nor is it fan or spectator friendly. Why can't we show that we are proud of our best horses and riders after what they have accomplished?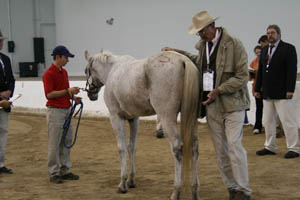 The ceremony itself was nice, with the individuals and teams in their matching outfits bring out their horses and riding them around the arena. The only almost sad thing was, when Jan Worthington's horse Golden Lightning was announced as the Best Condition winner (hooray Leon!), Jan was stuck on the podium as Leon's trophy was handed to Leon's groom! Nobody said anything, and perhaps with the solemnness of the BC judging, maybe Jan was afraid she might do something wrong if she stepped down to be with her horse.
I waved at her, said "Jan come on down!" - still nobody said anything, and at the risk of me getting kicked out of the arena I said, "Jan - IT'S YOUR HORSE!" and finally she stepped down to be united with her beloved Leon, and she recieved a horse blanket blanket from the representative of the Emirates Equestrian Federation.
Now on to the event itself. We were reminded several times, "This is a TEST EVENT." Emmett Ross and his staff and volunteers were truly tossed a big TEST to deal with. October truly is the driest month in Lexington, so while possible rain could have been predicted, nobody would have been prepared for the deluge we got, right on race day. Emmett will have a year to figure some things out, and, as he said, "Pray!"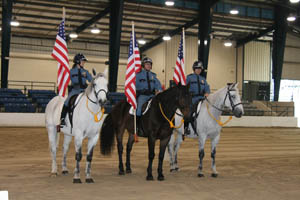 And despite the difficulty of the footing, making it possibly the toughest ride most of the riders and horses had ever done, everyone I talked to enjoyed the course and realized its great potential in good weather.
Carolyn Hock, who pulled her horse GT Sando at the second vet check, said, " It was way cool! We cantered through this wrought iron gate, down this driveway lined with trees shading it, to this old mansion, where we galloped around their circular driveway, and people were out on the porch waving at us! It was fabulous!"
160 km winner Danielle McGunigal said, "Had it been nice it would have been fantastic and fast."
I only heard praise for the well-marked course despite all the twists and turns and the trail crossing itself many times. Any riders that I heard who were disappointed with the shortening of the 160 km to 120 km still saw the wisdom in that decision. Footing conditions were not going to improve through the night, even if it did stop raining.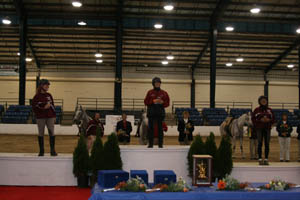 Second place Ellen Rapp commented, "The trails were marked beautifully, I had no hesitation at any turns or crossings."
The top three finishers in the 160 km showed up at a press conference after the awards. 38-year-old Danielle McGunigal, 1996 World Endurance Champion and daughter of 2-time World Endurance Champion Valerie Kanavy, said it was the most difficult ride she's ever done. "With the mud, rain and cold, it was like swimming uphill with a hole in your paddle." She was disappointed the race was shortened, because she needed her COC - but also glad, because she didn't know how the horses would have done attempting the full distance.
From Fort Valley, Virginia, she's been racing since she was 8; she rode in her first National Championship at 10, and was on the US Team for the first time at 15. Danielle's mount, 8-year-old Gold Raven, "is a rising star." Danielle helps train Valerie's horses, and while something about every horse is special, Raven is unique. "She can be such a bully; in the vet check, she can be difficult - but at the same time that's what is great about her." Danielle has competed on two of Raven's sisters, and "they are all very tough, and really put their teeth into their work, and they get 'er done."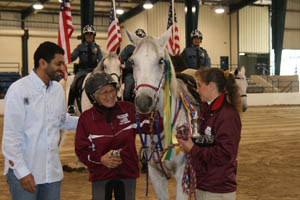 Ellen Rapp, a 27-year-old former eventer, from Dubuque, Iowa, was somewhat overwhelmed with the awesome performance of her horse, Berjo Smokey. "Lots of horses come and go, but no horse can hold a candle to Smokey." Her partner Jeremy Oleson found Smokey as an unbroke, untrained 7-year-old, 7 years ago. She and Jeremy are the only ones who have ever ridden him - "He hates people, he was wild, still is." Ellen gets on him at rides only, where "He tolerates me. He's gotten me far, he's absolutely amazing!"
Jan Worthington, from Scales Mound, Illinois, said it this was one of the hardest rides she'd ever done in her life, "and I've done a lot of rides." (Over 27,000 AERC miles, and countless rides around the world.) "It was so bad, so cold, raining... I couldn't see out of my glasses at times, couldn't see the markers." She was very proud of her 9-year-old gelding Golden Lightning's performance today. Jan didn't like Leon at first as a 5-year-old: "He was shy, was a racehorse, didn't like people, you couldn't catch him. Now he's an easy horse; what you want him to do he'll do. Anything is okay with him." And maybe the reason he did so well in the mud, said Jan, "Is because he has tiny feet, like a mule." The Best Condition award was a surprise - "I've been blessed with a very very nice horse."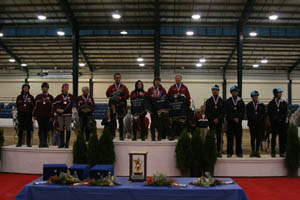 Besides the accomplishments of the individual riders, this was also the North American Endurance Team Challenge. There were some nice horses and riders in all the US and Canadian regions that were thrown monkey wrenches by the weather and footing and luck. Riding plans certainly changed with the weather and footing. As Jan Worthington said, "The horses do get sour in the mud. You had to know when to go slow and when you could go faster."
Team USA East won the Gold Medal: Danielle McGunigal on Gold Raven, Dr Meg Sleeper on Syrocco Harmony, Stephen Rojek on Savvy, and Farzad Faryadi on Hot Desert Night.
Remember the quote by Team USA Central's coach Grace Ramsey? "I've got old age and treachery on my side! Two pups and two old ladies!" Team USA Central won the Silver Medal: Ellyn Rapp on Berjo Smokey, Jan Worthington on Golden Lightning, Darolyn Butler on DJB Juniper, and Julie Jackson-Biegert on Halsteads Firesky.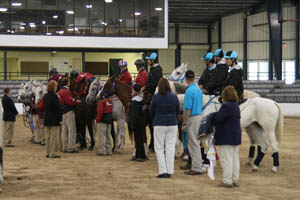 The Team Mountain USA won the Bronze Medal: Christoph Schork on TC Mounshine, Suzy Hayes on Pal of Mine, Doug Swingley on JV Laredo, and Tennessee Mahoney on Ruleta PJ.
With the lessons learned, next year everyone will be a little more prepared for just about any circumstances. Emmett Ross insists it won't rain. "It can't!" But in the meanwhile, let's all just worship the sun and pray a little. Can't hurt.