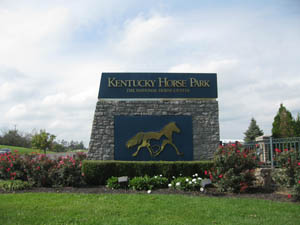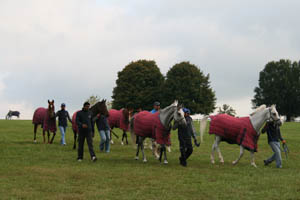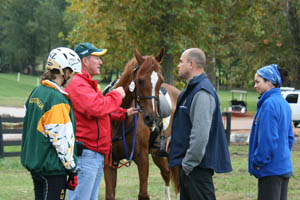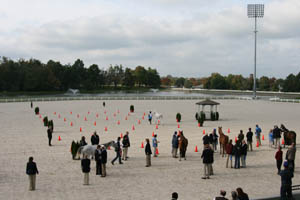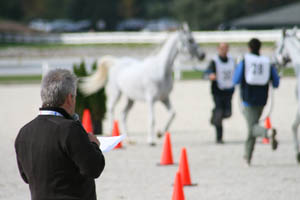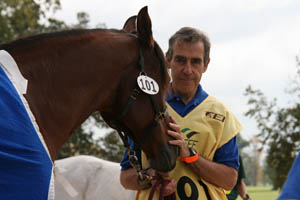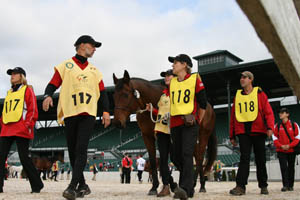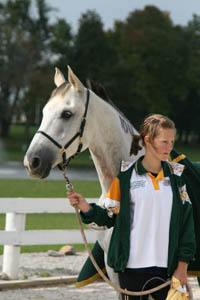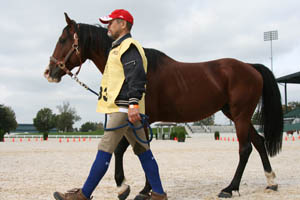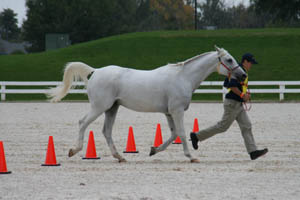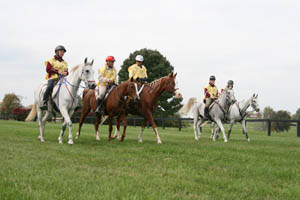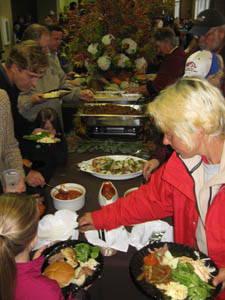 Tuesday October 13 2009
If your pulse doesn't quicken when you drive into the Lexington, Kentucky, area, along all those immaculate white-fenced farms with gorgeous creatures grazing in those green green bluegrass fields, you probably don't truly have horses in your blood.
Harmonizing with the appropriate state motto, "Kentucky - Unbridled Spirit", Lexington lays claim to the indisputable title "Thoroughbred City" and "Horse Capital of the World". Kentucky's first racetrack was built in 1789, and generations of the world's best Thoroughbred racehorses have graced the bluegrass here. Ever heard of Man O' War? Secretariat?
But even if you're not a Thoroughbred racing fan, it's the home of inexhaustible Horseness: the Rolex Kentucky 3-day Event, endless horse shows, and the Kentucky Horse Park, with its museums and hands-on look at over 40 horse breeds.
And then there's the 2010 World Equestrian Games to be held here, in the Kentucky Horse Park, next year from September 25 to October 10. The test event for the World Endurance Championship would be held on Wednesday October 14th this year, to test the facilities, course, protocols and flow of things for next year's ride. It was also the North American Team Challenge, with riders from the 5 US regions and 2 Canadian regions competing. The Team Challenge was a 100-mile FEI 3* event (160 km, in FEI lingo) and was also open to foreign riders; many riders were here to obtain their COC (Certificate of Completion) as a rider/horse combination to qualify for next year's World Championship (100 miles in under 12 1/2 hours). There was also a 75 mile ride (120 km, in FEI lingo) for those who didn't want or need to ride a hundred miles and just wanted to see most of the course, in the Kentucky Horse Park and over private farms outside the park.
On paper the course looked confusing and complicated, many times crossing over itself and a lot of common trail going both directions, but course designer and event director Emmett Ross almost guaranteed riders wouldn't get lost, as the course was marked "so well," with "thousands of ribbons and signs and markers," and 2000 glow sticks for the night loops.
The biggest challenge was probably going to be the weather - the forecast was dismal, with the chance of rain steadily increasing to 90% chance on race day, and the high temperature reaching only 44*.
Vetting in was to be held on Tuesday at 11 AM in the nearby outdoor arena. The UAE and Spanish horses hadn't arrived yet, and when the vans pulled up, everybody and everything was put on hold for 45 minutes while those horses were dealt with. Riders wanting to go out and ride before the vetting in were stuck in their stables unless they'd slipped out earlier, and those wanting to return to their stalls were stuck outside till the veterinarians inspected the foreign horses and their passports. The horses were then led past the US and Canadian stalls to their roped off stalls in back.
The UAE and Spanish horses were the first to go to the arena and vet in. They all looked racing fit and professional - clipped manes and business attitudes. All were full Arabians, except for one Anglo-Arab and one "part Arab." One was taken for a second trot-out in front of a panel of vets. (Later, after all the other countries' horses had vetted in, two more horses from the UAE went to the arena and were vetted through.) Once the UAE and Spain returned to the stables, the rest of the countries got ready to head to the arena.
As Argentina was waiting to go in the vetting area first with their horses, it was announced that the dress code in the vetting in ring was to be strictly followed. No blue jeans and tennis shoes! Poor Christian Peterson, riding Cheryl Van Deusen's mare CA Amal Hafizolivia, was not allowed to take his mare in and present her because he had tennies on. The riders and crews from the different countries, and from the different US and Canadian teams looked spiffy in their particular colors. All of Canada was a bright bold red statement!
The vetting in itself seemed to go smoothly. A few horses were asked for second trot-outs, but later at the ride meeting, Grand Jury President Brian Dunn announced that all the horses had passed their vet inspections.
Many riders took their horses out for rides as the clouds gathered and got heavy, a portent of things to come. While the mood of many riders seemed to be light, maybe some were just hiding their nerves well. Jeremy Olson noted a "tension in the air"... that maybe some of the horses picked up on. Young Japanese rider Chikako Nishiyama took her horse for a spin, literally - he was a bit rambunctious on the grass track, and must have bolted coming down the hill to the stables. He turned and dumped Chikako, who was hauled off to the hospital. That evening we heard she was still thinking about riding, but she ended up not starting.
Jeremy's 11-year-old Shagya gelding SA Belshazzar, who's "never bucked in his life," did it on Tuesday. "My groom was holding him for me to get on, and she said 'Good luck!' I got on, and he ran backwards, bucked forwards, then planted it!" He gently squeezed his legs, and finally got him moving forward, and then he was okay. Jeremy and his wife Ellen Rapp - riding 14-year-old Berjo Smokey - were hoping for a good ride - and expecting it to be a fast one. Ellen's 11-year-old mount Smokey isn't a pet: "He hates people!" Jeremy trains him, and he "tolerates" Ellen in endurance rides. Jeremy found him as an unbroken, untouched 7-year-old, who "was wild, and still is!" Their horses had been resting since a good ride season over the winter in Florida, and they were ready to roll here.
Endurance 'superstar' (though I doubt she'd want to be called that) Maria Alvarez Ponton of Spain - the reigning World and European Champion - was here to ride Sahara, a horse who was second in the Spanish Championships this year (under Miguel Vila Ubach). Last year's Spanish Champion, Jordi Arboix was here riding his Shagya Arabian Gazal XVIII-3, as was Maria's husband Jaume Punti Dachs, riding Kopal de Cabirat. UAE riders included Shaikh Mohammed's son Shaikh Majid, riding Kangoo d'Aurabelle, an 11-year-old gelding previously owned by French rider Virginie Atger. Shaikh Mohammed himself had been pre-entered but he ended up not starting. All the UAE and Spanish riders would ride in the 120 km.
A couple of other previous World Endurance Champions were at the ride: 3-time winner Becky Hart, US Chef d'Equipe, was present to observe, while 2-time World Champion Valerie Kanavy was riding LM Parys, and her daughter, Danielle McGunigal, 1-time World Champion, was riding Gold Raven.
French Chef d'Equipe Jean Louis LeClerc arrived to check out the course and to watch two French riders, Virginie Atger (riding Cia Reis' horse Trysam Tiki) and Caroline Denayer (riding Jennifer Poling's horse Indigios JC Midnight) in the 120 km, and Sarah Chakil (riding Doug Swingley's Iamsamm) in the 160 km.
Oldest rider in the Kentucky Cup was 69-year-old Jan Worthington from Illinois, riding Golden Lightning. If you think you're a tough endurance rider and you have a tough horse, try getting knocked over by a strike from a lightning bolt 10 feet away, and getting back up and on and going on to finish the hundred miles, like Jan and Leon did in the World Championships in Malaysia in November. (They ended up getting pulled at the finish because Leon trotted out lame.) If you think you're too young to ride in a World Championship, try riding with 14-year-old Alexandra Toft from Australia, fresh from the Junior World Championships in Hungary in September, where she finished 17th on Bremervale Justice, her mount for this ride.
And while there were some nerves fluttering with some people, there was still plenty of amiable ribbing going on between the Canadian and US teams. At a meeting where each of the teams and riders were introduced, good natured challenges flew through the air: "We're going for the gold!" "We don't care about winning, we're just here to beat Pac West!"
Jolly moods carried over to the big dinner the night before the ride, rumored to be provided by Shaikh Mohammed, or perhaps the Emirates Equestrian Federation who was one of the key contributing sponsors of the ride. Tables overflowed with barbecued lamb, beef and chicken, a traditional Kentucky Corn Pudding dish, various salads, fabulous dessert, and free-flowing beer and wine. A guitarist and violinist walked around playing lovely music, though it was mostly drowned out by happy endurance people having a good time and looking forward to tomorrow. Almost impossible to believe the party was "thrown together at the last minute," like I heard.
The start times in the morning were quite reasonable - 7:30 AM for the 120 km, 7:45 for the 160 km - but the party dispersed at a reasonably early hour. Horses were checked on one more time for the night, then it was off to bed for the competitors... after laying out an assortment of rain gear in preparation for a wet day.