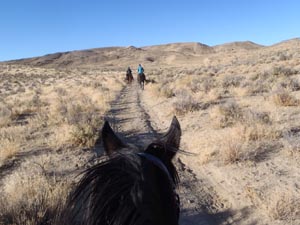 October 11 2015
In a couple of weeks, you'll probably look back at the Owyhee Canyonlands and remember it as the last stopover on the way to endurance fame.
After finishing all 3 days of this year's Canyonlands, Ann Kratochvil and GF Brazil's Envy are one ride away from reaching the elite status of the Perfect Ten Equine. Only 7 other horses have received this award where the horse must have completed 10 years, 10,000 miles, 10 first place finishes and 10 best conditions in their careers.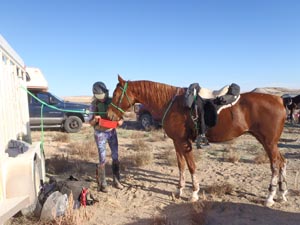 Ann hadn't planned on riding all 3 days - she usually takes a day off in between on multi-day rides, because "Envy doesn't know slow." Ann was hurting on day 3, but Envy was raring to go. Finishing Top Ten all 3 days (which is normal for Ann and Envy), the pair were 1 of 6 riders who finished all 3 days; and the 155 miles left Envy with one more ride to go to cross the 10,000 mile mark into the AERC history books.
(Stay tuned for the Bill Thornburgh Friends & Family on October 24!)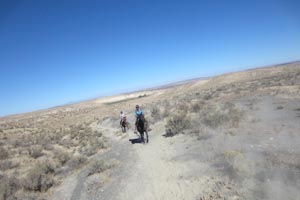 Wasch and Gabriela Blakeley were first and second in all-3-day standings, with a combined time of 15:15 for the 155 miles. Miki Dekel and the appaloosa Kool Hand Luke also completed all three days, in a combined time of 29:24. That's perseverance!
Four riders completed all 3 days of LDs, with Terry Doyle and Shamrock DE having the fastest combined time of 13:00, and local Pickett Crick rider Linda Kluge and Ted second in 13:02.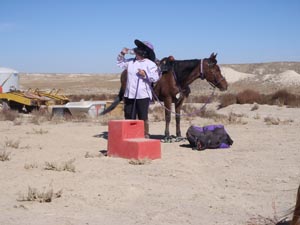 A pair that certainly would have completed all 3 days of the LD were Janet Tipton and the rather famous mustang Lady Jasmine. Already the all-time highest-mileage LD horse with well over 5000 LD miles, Janet elected to ride a 50 on one of the days (and LDs on the other two), to chip away at that Decade Team award, for equine and rider teams who complete at least one endurance ride (50 miles or more) each year for 10 years.
It was rather warm on Days 1 and 2, since many of the competing horses already had a good start on winter coats. A cool front blew in the night before Day 3, dropping temperatures twenty degrees into the 60'.
Some
of us still thought it was a bit hot, but riders managed their horses well, and nobody was treated.
In what is hopefully a regular occurrence at the Owyhee Canyonlands, and what should be required at most endurance rides, the Teeterville Bluegrass Jammers picked on the porch in the evenings for entertainment. The first nite we got two whoops; the second night we got two neighs; the third night we got some horses kicking their pens. I'm not exactly sure how to interpret that. The fourth night, one rider ventured to join us to sing a couple of songs. Bring your instruments next time and play with us at your own risk.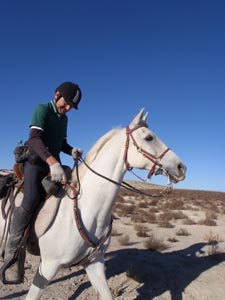 31 of 36 riders finished the Day 1 50, with Junior Barrak Blakeley getting 1st on Ela Khomanche, and 6th place Elroy Karius and Jolly Holliday getting BC. 20 of 22 riders finished the Day 2 55, with Sanoma Blakeley winning on OMR Dream Chaser, and Wasch Blakeley and PR Moon Danzor getting BC. 25 of 26 riders completed day 3's 50, with Tani Bates and CR Marjan Roars winning, and second place Max Merlich and TCF Miles High getting BC.
Pat Gisvold and Raffons Noble Dancer won the Day 1 and Day 3 LDs. Bill Miller and Tezeros Hot Shot got BC both days. All 18 starters finished Day 1, and 16 of 18 finished Day 3. Winner of the Day 2 LD was Jeff Stuart and JV Remington, with BC going to second place Maria Kilo and Belesemo Geronimo. 18 of 19 starters finished.
For photos, see
http://www.endurance.net/international/USA/2015OwyheeCanyonlands/