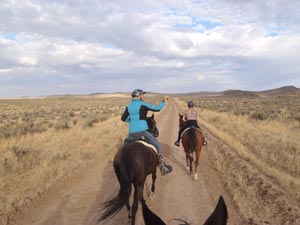 September 26 2015
All kinds of adventures and excitement (the good and the bad kind) took place at the first Lost 'N Lava endurance ride near Shoshone, Idaho.
Upon arrival, if you took the correct turn off the highway into Ridecamp, you'd drive past a truly spectacular modern throwback homestead, with acres full of collections of every possible piece of everything you could ever need, want, or imagine. Big steel A-frames anyone? How about wooden ones? House frame? Or any of a dozen old tractors, lined up in a parade row. (One old tractor got a flat tire while plowing up one of the fields, and why fix that tire when you can just hitch up another tractor? Although there were surely spare tractor tires somewhere on the place.) Some old chevy car. Lots of other old cars. And pieces of cars. And former pieces of former cars. Generators. Machines. Cabins. Pieces of cabins. Old bridge. Old wagons. Older wagons. Lots of huge hunky draft horses running free. Lots of baling twine. Baling twine holding up 'fences' made of steel girders. Sometimes it was a tight fit, squeezing a big horse trailer on the two-track dirt road through the collections. You would not want to meet a horse trailer coming out at you, because neither of you would have room to make a mistake backing up!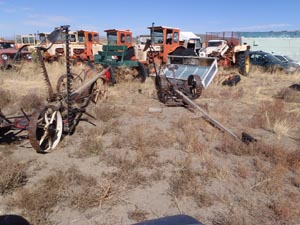 This was the Barney's property, a laid-back, friendly, calm father and son, jack-of-all trade throwbacks to the 1880's it looked like, who happily let Lynn White put on a ride out of their place.
Upon arrival, if you took a wrong turn off the highway on what looked to be the right road, but turned out to be the wrong one, you might have ended up on a narrowing-to-scary dirt road along a canal, with not much choice in turning a rig around. That happened to Drin, who came all the way from Montana for the ride. (And after all that driving from Montana, Drin was so sick with the flu on Saturday, she didn't even get to ride.)
But it was a good thing Drin came, however, because a sick, scrawny one-eyed cat sidled up to Drin the evening that she arrived, begging for a rescue. Somebody must have dumped the cat, who was once obviously human-owned, and it had survived for who knows how long, along a creek among owls and coyotes, on wits and cat prayers, until heaven arrived in the form of a camp full of animal-loving endurance riders. At Friday's ride meeting, money was quickly raised so the cat could be treated by a vet. It was obvious that New Cat/Lava/Barney would be adopted by the end of the ride by some softie, you could just tell.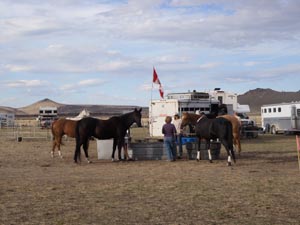 If you were in camp a night early, you and your horses got to mingle, whether or not you wanted to, with first cows, then the resident draft horses, who were all happy to find yummy hay, and sometimes grain sitting outside horse trailers. The draft horses were locked up the next evening!
You could also catch sight of a hulking pair of draft horses, pulling the water wagon, which filled up the water tubs in camp. Hopefully your horse would not see this spectacle as he was vetting in on Friday, or during a vet check in camp on Saturday!
The 55 mile ride had over 20 riders in it. There were 3 loops, 16, 20, and 18ish miles out into the sagebrush desert and back to Ridecamp for the vet checks and finish. There might have been a dozen LD riders, and nobody rode the 75.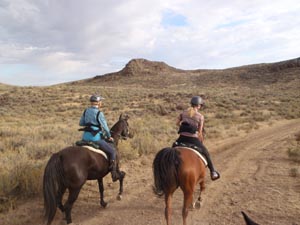 At the very start, riders crossed the Big Wood River. Which was bone dry at this time of year.
Footing was pretty easy going on the first two loops, mostly flat, with a couple of minor hills. Plenty of cows, if you wanted to break your endurance horse to cows, or if you wanted to chase them away from water troughs, which Dudley was happy to do. Some lava rocks in the trails slowed you down at times, but your horse enjoyed a break now and then anyway. The area is a site of a lava flow from the 10,000-year-old Shoshone volcano. We rode right by the Black Butte crater, part of this lava flow field.
The third loop had a good bit of rock in the trail which slowed riders down, but was doable, and not too hot, with a good enough breeze to kick a dust trail up from horses' hooves. The temperatures were supposed to reach around 90 degrees, but a lovely cloud cover kept the first half of the day cooler, and the breeze helped with the second half of the day.
As we were finishing up the second loop, a helicopter flew right over us. When we got back to camp, we found out Julia Corbin had an accident, and was Life Flighted out. (Reminder to everyone:
Renew your Life Flight membership!! It's only $60 a year!
) Scary! Turns out she broke her pelvis when her horse went over on her. She'll be fine, but feel free to send her your good thoughts and vibes for fast healing.
When you're out on the trail, you're often oblivious to what's going on with the rest of the ride. At the finish, we heard a couple of riders missed a turn early in the day, and went some miles out of their way following the wrong color ribbons. 3 horses had been treated - a bad day for them, though they ended up being fine.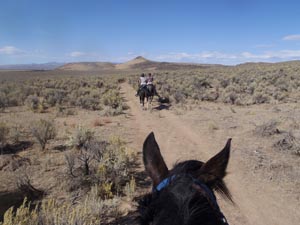 Winner of the 55 miler was Jolly Holiday and Elroy Karius, who drove 2 days from Canada to get there. Best Condition went to Lee Pearce and Fire Mt Malabar - the gelding back in usual fine form after an illness this summer.
It was a real good day for New Cat/Lava/Barney. Helen and Archie from DWA Arabians up the road took him home. You knew Archie was the total softie that would end up with him. Archie spent the day driving the 'horse ambulance' - the truck pulling the horse trailer along some of those tricky lava-rock roads, while Helen and Ann rode their DWA horses.
Lots of volunteers showed up before and during the ride to help. If you were standing around, you were volunteered to help. The catered dinner was terrific after a long day of riding, particularly the pink cake for desert. Lynn ran a good ride despite all the chaos. Hopefully that took care of all the gremlins for years to come!
More stories and photos (and a future video to come) at:
http://www.endurance.net/international/USA/2015LostNLava/