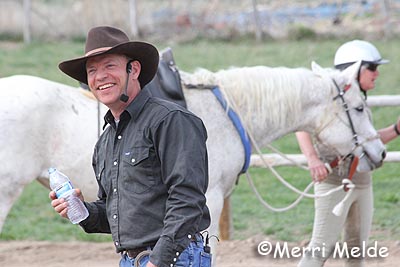 September 23 2015
by Merri Melde-Endurance.net
The Teeter Ranch in Oreana, Idaho, was the site last weekend of a third "Foundations and Beyond Horsemanship" Clinic taught by natural horsemanship trainer, Ted Nicholes of Parma, Idaho. Seven pupils (a mix of endurance, pleasure, and trail riders), seeking a better working relationship with their horses, participated in the 3-day clinic.
A former cowboy, and former teacher, Nicholes had an "epiphany moment" a few years ago when he
discovered the difference between a tool (horse) to get the job done, and a mutually respectful, willing, and appreciative partnership with a horse, after he learned the Downunder Clinton Anderson horse training method and began applying it.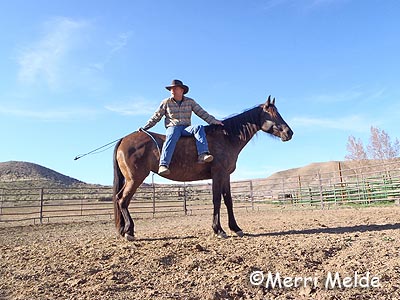 "I'd seen that partnership between human and horse, but I'd never really recognized it for what it was, I guess," Nicholes says. "I never knew it existed. I knew in my heart that most people never knew that existed. The epiphany moment I had, I just wanted to share it. So I coupled that with my desire to teach, and it became a passion; it became an emotional passion."
"I can help you and your horse!" is Nicholes' mantra. Over his 3-day clinics, Nicholes uses Anderson's Downunder Horsemanship method* to teach his pupils. And Nicholes is a good teacher. He's encouraging to those who have trouble with something, and commends those who finally get a correct response from their horse on something they'd been having trouble with. Nicholes is also known for his honesty in evaluating you and your horse. It's a rare occurrence, but he will tell you if he doesn't think your horse will be safe enough for you to handle, and he will give you the tools and knowledge you need to be able to see that for yourself. No question is a stupid question, and he likes to say, "If you have a question I can't answer, I can find somebody who can!"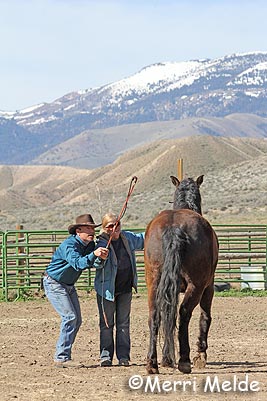 On the first day, time is first spent indoors discussing reasons behind Nicholes' philosophy, and the method behind 'The Method.' Students then begin with groundwork in the arena as a foundation for the weekend; by the afternoon of the third day, most students are confidently cantering on loose reins on relaxed horses in the arena, and effectively using light one-rein stops.
Nicholes limits clinics to seven participants, so he can spend time with each person individually, if necessary. Also present at the clinics are a number of Nicholes' children, who are as competent as their father in teaching horses and helping riders. If pupils are uncomfortable at any stage, or need extra help in communicating with a horse or using the tools, Ted or his helpers will step in to lend a hand, or ride the horse.
Endurance rider Ann Kuck came to the clinic for the first time with a newer horse she'd been having issues with. "Marty was just being a recalcitrant 6-year-old," Kuck says. She left the clinic with more tools and knowledge to help her continue her horsemanship journey with Marty.
"The clinic greatly helped me," she says. "And I do have to take charge.
I
have to be the one who says (to Marty), 'No, we're doing it
this
way, and we're doing it
now.'
I have to become Arnold Schwarzenegger," she laughs. "That's helped me a lot. Ted's very good at teaching!
"We've come a long way, but I want to get Marty back into endurance riding, and I don't feel like we're ready to do that, unless we have more of the fundamentals. I'm excited."
Endurance rider Steph Teeter participated in the clinic for the third time, this time with a new horse. "With horses, it always takes a third time to get it," Teeter says. "I think it's the same with people. The first time I did the clinic, I was totally clueless - the tools were crazy and I felt I was all over the place. The second time it was making sense. And the third time I felt like 'I can do this!' And you refine your skills, get a little better at it each time. It's amazing! Ted's a magician."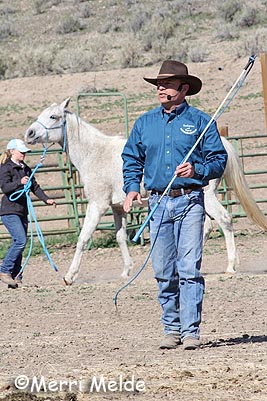 Riders come away from Nicholes' clinics with the fundamental knowledge they need to work on having a safer horse to enjoy and bond with, and a good start on their horsemanship journey with a happy, respectful, willing partner. It's fulfilling, for both riders and for Nicholes.
"The emotions that I have for horses, and the love I have for them, just comes out in that desire to help horses and people," Nicholes says. "When I see those horse owners realize what they can do, it's fulfilling."
For more information on Ted Nicholes and his program, see
www.foundationsandbeyondhorsemanship.com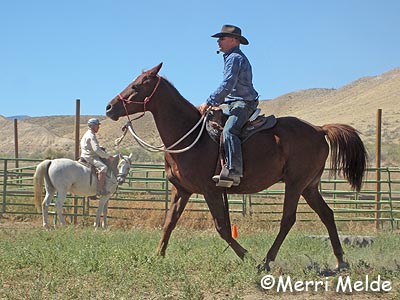 *Ted Nicholes and Foundations and Beyond Horsemanship are not representing, sanctioned by or in any way officially affiliated with DUH or Clinton Anderson.