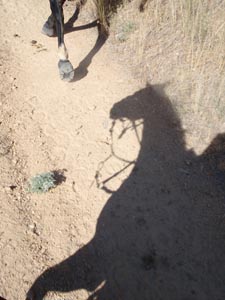 Wednesday September 7 2011
One is laid back. A ponderer. A stop-and-studier. A Deep Thinker.
The other is an endurance fiend.
None of these attributes are a bad thing when you're Jose Viola.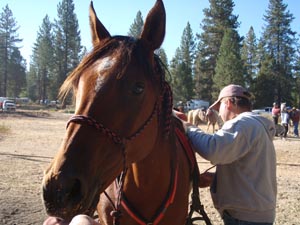 At home or camping and on training rides, he's casual, nonchalant. Lags in back, stops to look around him at the scenery. Studies it. Absorbs it. Appreciates it. Remembers it next time. He's got Elf eyes and can see tiny distant things I don't pick up on till he sees them.
In an endurance ride, Jose is a completely different horse. He's
all business
. Bombs down the trail. Throws himself wholeheartedly into it. Doesn't notice the scenery. Doesn't care. All that matters is working hard, roaring down the trails, eating up the miles.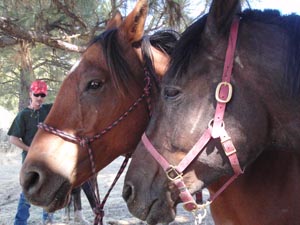 When he's on a endurance ride like Old Selam, trotting beside his best buddy 20-year-old Rhett (who, incidentally, acted like a 2-year-old and thought about bucking Steph off at the start), nothing is going to keep them far apart, and nothing is going to slow them down until they reach the finish line 50 miles down the trail.
That's what the pals did on Day 2 of Old Selam in the southwest Idaho forests. Neither Jose nor Rhett had done an endurance ride since June, and with the cold, crisp morning (I had ice on my sleeping bag when I woke up), Steph and I both had our hands full of fresh horses. We zipped the first 18-mile loop in under 2 hours and our horses never broke a sweat.
The 23-mile loop 2 was hotter... but no slower. Nance Worman on Quinn (my Tevis partner!), and Chris Yost on Jack rode with us for most of the ride. Maybe that added to Jose's awareness of the competition. He had a job to do, he wanted Rhett beside him and the other horses behind him on the trail.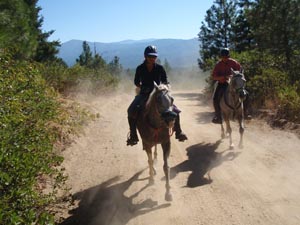 Those trails were amazing, gentle climbs from 4200' basecamp, and descents along soft logging roads and some single track trails that allowed the horses to charge along at a strong pace. We came to some high clearings that overlooked the Grimes Creek drainage where gold was discovered in 1862 and the gold rush to the Boise Basin started. The ghost of Old Selam gallops out there also, a horse who helped an inmate escape in 1901 from the Idaho State Penitentiary.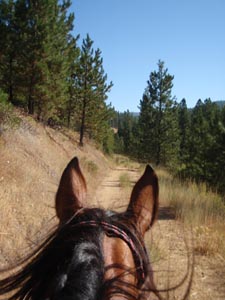 Perhaps Jose sensed his presence and wanted to catch up with him. Jose isn't normally a puller, but I worked hard on him, trying to get him to take it easier without pulling on the reins. The horses were still fresh as we pulled into camp for our second vet check. It was hot now, in the upper 80's - nearly a 60 degree temperature difference.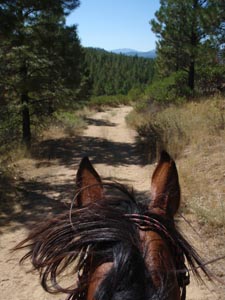 Not a problem for our efficient, intent equines. Jose must have heard me say the last loop was only 8 miles, because he flew. Little snorts escaped his nostrils with every left front hoof-fall. I stroked my fire-breathing dragon and told him to take it easy. He often broke into a canter and threatened to lengthen to a gallop, and I had to haul back on him so he wouldn't cause Rhett to pull Steph's arms out of her sockets.
In less than an hour we cruised into camp with still-fresh horses. Steph and I were worn out. Jose thrust his nose in front of Rhett (well... most of that last loop) at the finish. That put him in tenth place.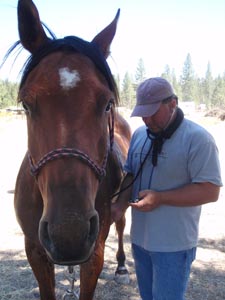 I figured there was no point in showing for Best Conditon, because I weigh as much as a butterfly in riding tights... but when I led Jose to Dr Ruble for his completion trot out, Keith said "If you want to do a CRI, trot all the way to the cone." The CRI is part of the Best Condition scoring. The cone was a long way. It was hot. I was whooped. I trotted Jose all the way there and back anyway. What the heck. After Jose finished the vet check, Keith said, "Come back in an hour for your BC exam." I looked at my vet card. Jose's CRI was 48-48. : )
No point in showing for Best Condition (which went to Lee Pearce, which makes something like 10 or 12 BCs this season : ), but Jose tied for High Vet Score.
: )))))))))))))))))))))))))))))))))))))))))))))))))))))))))))))))))))))))))))))))))))
The SWIT&DR club - Southwest Idaho Trail and Distance Riders - puts the 2-day Old Selam ride on every year, here around Centerville, Idaho, on private, state, and federal forests; Neil and Liz Smallwood spend two weeks here running themselves ragged getting things ready and running the ride. Beth Bivens helps manage it, and so many people chip in to make this 2-day ride happen. Steve Bradley came early and helped find and mark trail and he stayed after to help unmark it (besides taking great photos during the ride!). It shows. It was a great ride - fun, challenging enough, great footing, abundant water at all the right places, wonderful weather (if a bit HOT for me during the day)(and if a bit COLD for other people in the morning), excellent organization. It's one of the best.
Dr Jekyll, Mr Hyde, Jose Viola, and The Raven, are in full agreement.