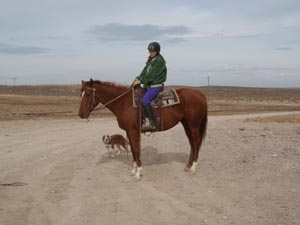 Saturday October 16 2010
I'm flabbergasted.
Today, I not only
touched
a filly by Storm Cat, but I
rode
her.
Some down-the-highway neighbors, Andy and Gloria, own/ride/train horses. Andy's a cowboy who grew up around here. He's back here training horses now.
This filly is one of them. This filly by
Storm Cat
.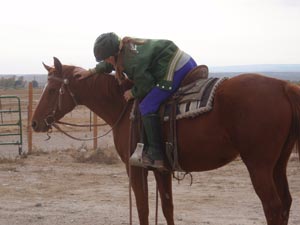 Storm Cat is only one of the most successful sires ever in Thoroughbred racing. He's by Storm Bird (by Northern Dancer), out of Terlingua, by Secretariat. He was a decent racehorse, winning 4 of his 8 races and earning half a million dollars, but it's at stud where he excelled.
He's produced outstanding stakes winners, Eclipse Award-winners and Champions, and many of his get have gone on to be wildly successful at stud themselves.
Storm Cat's stud fee from 2002-2007 (this filly was bred in 2006) was $500,000. Yes, that's half a million dollars a pop. He was pensioned in 2008 at 25 years of age.
Andy's training this 3-year-old Storm Cat filly, not to race, but to be a riding horse - and a fine horse she is.
And it was just around the yard - but
I rode her!