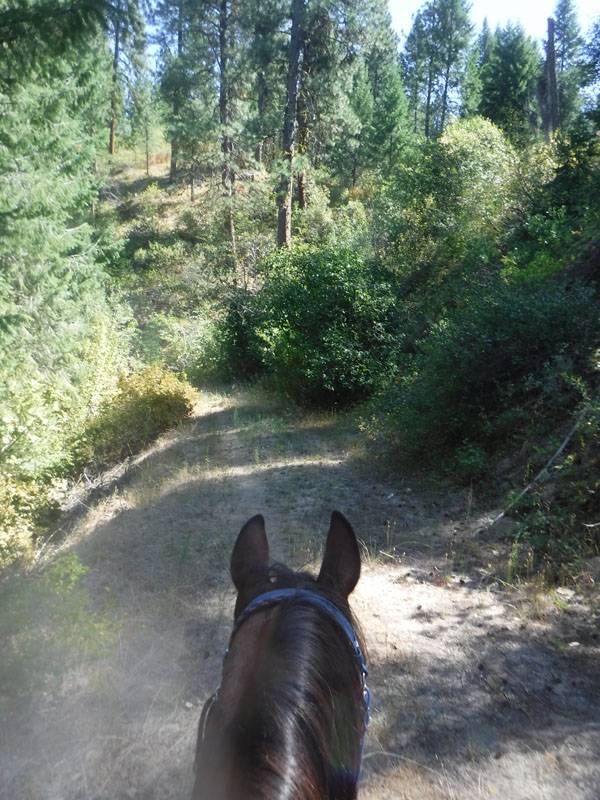 by Merri Melde-Endurance.net
September 10 2020
The secret is out (or will be after this year's edition): Old Selam is one of the best endurance rides in the whole Western end of the U.S.
With some AERC members off-shoot splintering into separate little groups - at least one of which is now imploding - I sure do appreciate our little local grassroots endurance riding group, SWITnDR, SouthWest Idaho Trail And Distance Riders. The club was incorporated in 1979. The "Old Selam Endurance Ride and Ride & Tie," managed by Byron Merideth, was one of the club's first projects in 1979, with Ridecamp inside the old prison complex of the Idaho State Penitentiary in Boise, next to the barns.
So this year marked more than 40 renditions of Old Selam, in some form or another (one year we had an 'Old Selam Redux' near Weiser when we couldn't use the usual forest trails around Idaho City). The ride is named after an old horse, Selam, who worked in the Idaho State Penitentiary. He was used twice by inmates to escape the prison. One of Butch Cassidy's pals, Bob Meeks, 'borrowed' Selam to make his escape on December 24, 1901. He was caught the next day (Merry Christmas, Bob!) and both he and Selam returned to the prison. Five days later, prisoner Sam Bruner nabbed old Selam to make his escape, and the two were never seen again.
COVID chaos moved the Mary and Anna Memorial ride in Oregon to the weekend before, which probably hurt both of us, but Old Selam this year was a 3-day Pioneer ride, which gave you more bang for the driving buck, particularly for those riders from Nevada and California and Arizona, since rides have been few and far between in some states, due to COVID-19 and the restrictions placed on rides, and due to wildfires burning up western states. 
Old Selam is our club fundraiser ride, and so many people work so hard to come together to put this ride on. I won't even attempt to name all the people who chipped in with the months of planning, weeks of camping out and marking trails, and all the volunteering with the many jobs during the ride to keep things running smoothly, and all the days (weeks?) afterwards that people will be unmarking trail. Special mention does go to Cini Baumhoff, whose family owns the land that we Ridecamp on beside Grimes Creek near the old town of New Centerville.
It was looking to be a very pleasant ride weekend… and then came the heat wave. Day 1 the temperature reached 102*. Days 2 and 3 were about as hot, though slight relief came in the form of, ironically, haze and smoke that drifted in, taking away the pretty views but veiling the power of the sun. There was approximately a 50* difference between the night lows and the day highs!
55 riders hit the trail on Day 1's 25 and 50. 
Carrie Johnson and Payback Daysea Duke won the 25 miler in a time of 3:43, with 9th place Roz Cusack getting BC on Sally Tarbet's Greta. 24 of the 27 starters finished.
 Winning and coming second in the 50 was the familiar Montana duo of Lynn Lee and (second) Suzie Hayes, aboard their youngsters in 6:42, with Suzie's Al Marah Triple Speed getting Best Condition. If you'll recall, Suzie was fresh off winning the Big Horn 100 aboard Sanstormm 5 weeks earlier… which gave all her broken bones time to knit more! Cadence Pearce, granddaughter of Lee Pearce and Naomi Preston, finished her first 50 mile ride aboard Belesema Esperanza (and got the Turtle award!). A couple of riders collapsed from heat exhaustion, but fortunately they were sufficiently revived by cold drinks, air conditioning at Cini's parents' house, and nurse Marilyn Hornbaker. 26 of 28 starters finished.
22 started Day 2's 25 miler, with 20 finishing. Liesl Lemke won aboard Race T Wildfire in 3:39, and got Best Condition.
14 started the 55 miler, with 12 finishing. Suzy Hayes and Atlas won in 5:45. They were almost 1 hour and 45 minutes ahead of second place Jeff Stewart and DWA Malik. How do they move so fast? Well, take one look at the amazing Atlas, 16.2 snowflake-white Anglo Arabian, and after you fall in love with him and watch him move, you'll totally see how. They also got Best Condition.
Day 3's 25 had 28 starters with all finishing. Karen Steenhof and Riley smoked the course in 3:28, with second place Lynn Lee and Al Marah Fastnfire getting Best Condition.
Day 3's 50 had 14 starters, with 13 finishing. Suzie Hayes and Sanstormm won in 5:05, and (surprise) got Best Condition. Cadence Pearce finished in 13th with Belesema Esperanza again, her second 50-miler, and proclaimed she loves endurance, even after she was ceremoniously dunked in the water trough afterwards.
Old Selam's trails really are incomparable - for a mountain ride, they are remarkably un-rocky, and many of the old two-track logging roads are gentle climbs and descents. Water troughs were strategically placed everywhere, and the best water stop of the day was the one where a cooler awaited with ice water and otter pops - most welcomed on sweltering days. 
And the trails were marked so well, it was impossible to get lost (which one or two people still managed to do…). At least one rider saw a bear, and Liz and Linda shuttled many people a mile or so out of camp on Day 3 to gawk at a HUGE moose sitting in a meadow. Coyotes serenaded Ridecamp every night, and though I didn't hear them this year, you might get lucky one year and hear a pack of wolves. And if you get really really lucky, next year you might catch a ghost-glimpse of old Selam, galloping through the forest with an escaped prisoner on his back.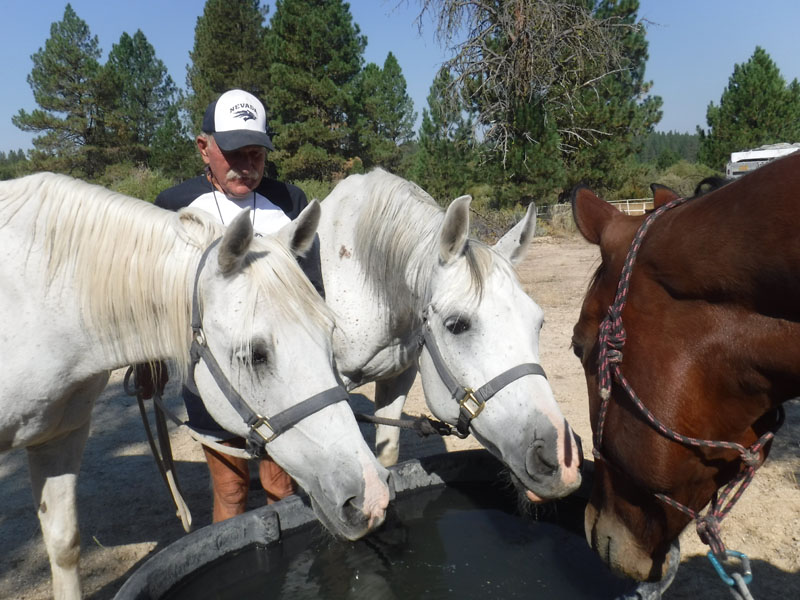 Hillbillie Willie says hi to famous Dave Rabe and famous Cocamoe Joe and famous White Cloud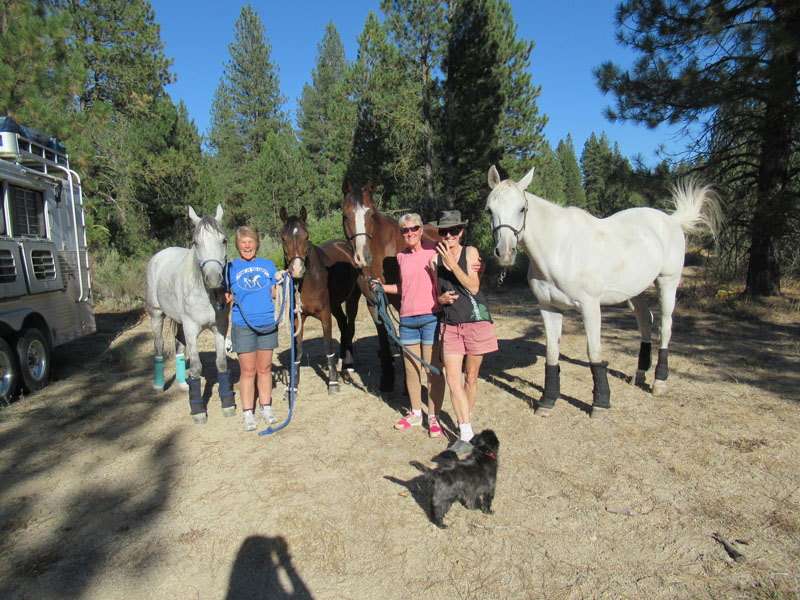 I pose with the Montanans, including 3 Big Horn winners (from right Atlas, Suzie Hayes, Sanstormm)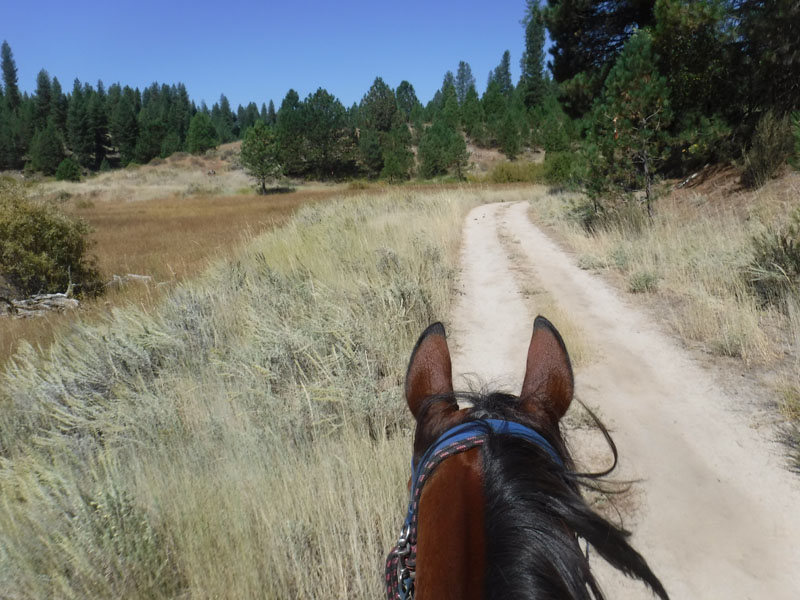 Old Selam trails are The Bomb - look at that footing!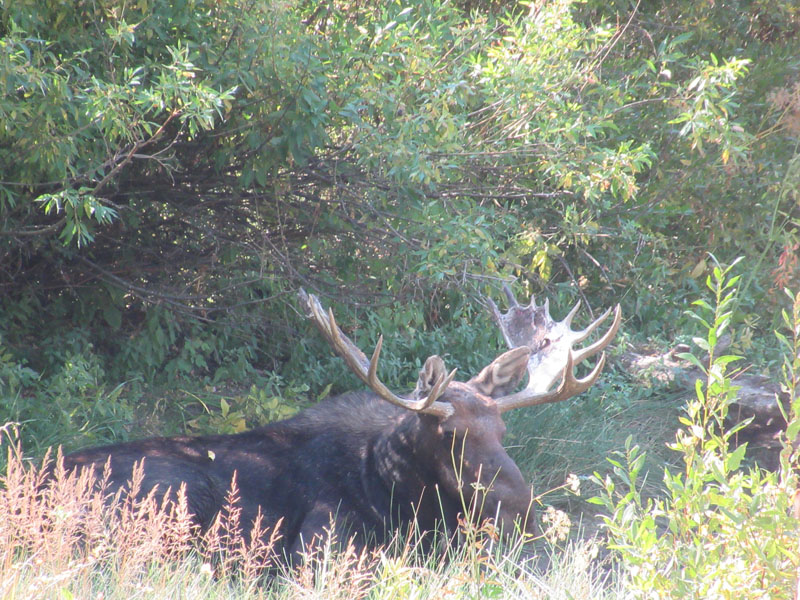 M-M-M-M-M-MOOSE! HYUGE MOOSE!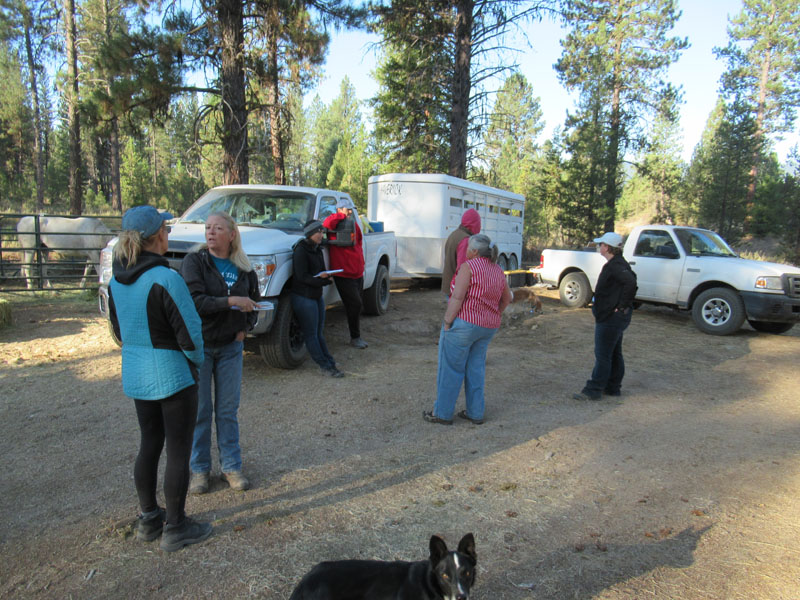 Just a wee slice of the many many volunteers, post ride!
More photos at:
http://www.endurance.net/international/USA/2020OldSelam/