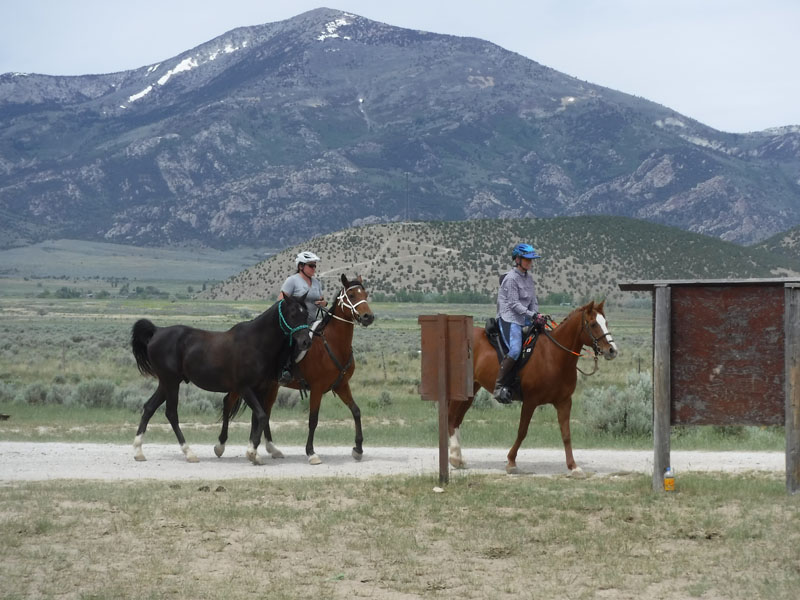 by Merri Melde-Endurance.net
It was 10 years ago that Steph and I were driving back from the Big Horn ride in Wyoming, and we detoured through City of Rocks National Reserve in the bottom of central Idaho, and Steph said, "Wow, this place is amazing, we should put on an endurance ride here!"
Because what ride manager doesn't think nothing of (first of all) ride managing a new multi-day endurance ride and (second of all) putting on a new one that is 4 hours away from home where you have to organize and pack and load all you need for 10 days of camping in the heat/wind/rain/cold/dust and setting up ridecamp and designing and marking trails and riding them and of course doing the reverse at the end of the ride.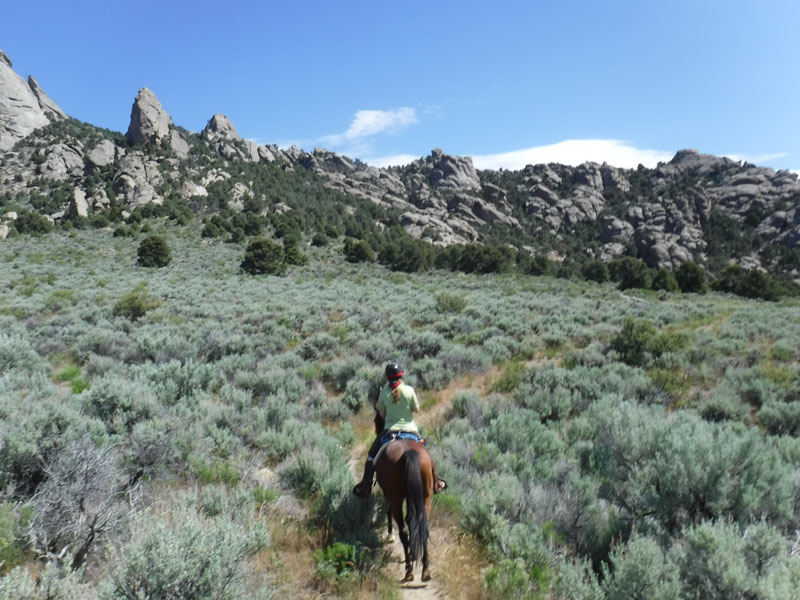 City of Rocks Pioneer endurance ride was held this year for the 10th time in 9 years (one year we also hosted the National Championships), and Steph passed over the ride manager reins to Regina Rose this year. Regina had the added bonus of trying to navigate post-COVID-19 lockdown state, county, local, and AERC regulations, as all horse sports had shut down for months. City of Rocks was one of the first rides to be approved to start up again by AERC, after Regina put together a Covid ride plan designed to keep riders and veterinarians and volunteers safe during the event.
And, being one of the first rides to happen again post-Covid lockdown, Regina had so many riders enter that she had to close entries and start a wait list. Since the normal ride meetings (as well as communal meals) were verboten under the new ride rules, riders who pre-entered got the added bonus of a 34-page (homework) packet that included all the ride information they'd need. (And if you didn't enjoy your reading homework, imagine what fun it was for Regina putting the Covid plan together.)(And when you asked Regina a question, her first response was, "Did you read your rider packet?") :)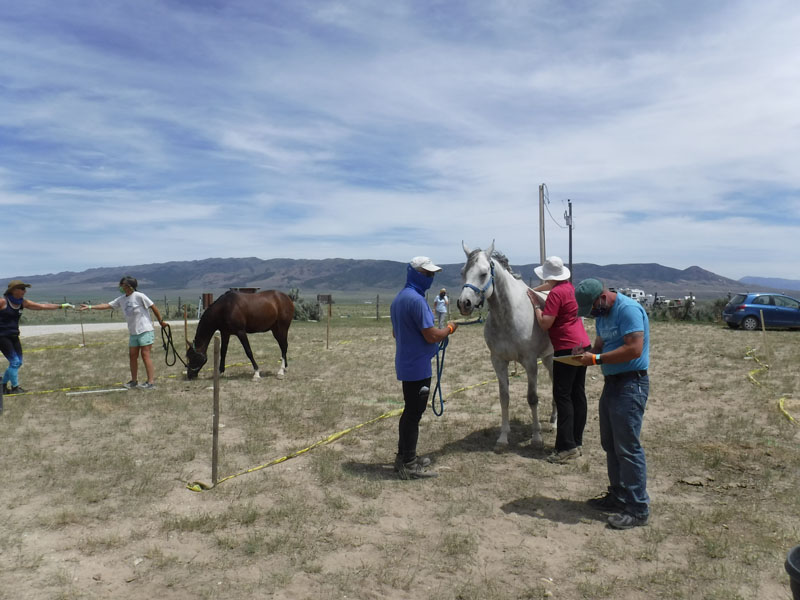 Some of the new rules under the Covid-19 plan for riders included wearing face coverings, either masks or bandanas in the vet check (all vet checks were conveniently in ridecamp) or, in the case of Dave Rabe, his tank top, which he doesn't wear half the time anyway when the weather is warm. :), spacing out in the pulse down areas, spacing out in the 4 staked-out vet lanes while waiting to vet your horse, hand sanitizing stations for volunteers and vets, and for washing stethoscopes and hand-held heart monitors between each use. Riders had to pre-register online (probably the hardest part!), and they received their awards as they arrived at Ridecamp.
Any minor inconveniences riders might have had with the new Covid-19 protocols were over-ridden by the thrill of the opportunity of being back on the endurance trails. Of course the scenery at this ride, and the challenge it provides you and your horse makes up for most anything. I overheard several riders proclaiming it one of the most beautiful rides they've ever done.
It's not an easy ride: basecamp is at 5500 feet, and you'll climb to 7500 feet - sometimes on each loop. Jeff Stuart rode the 55-miler on day 2, and he told Regina, "Man, you took us up to Mt Everest!"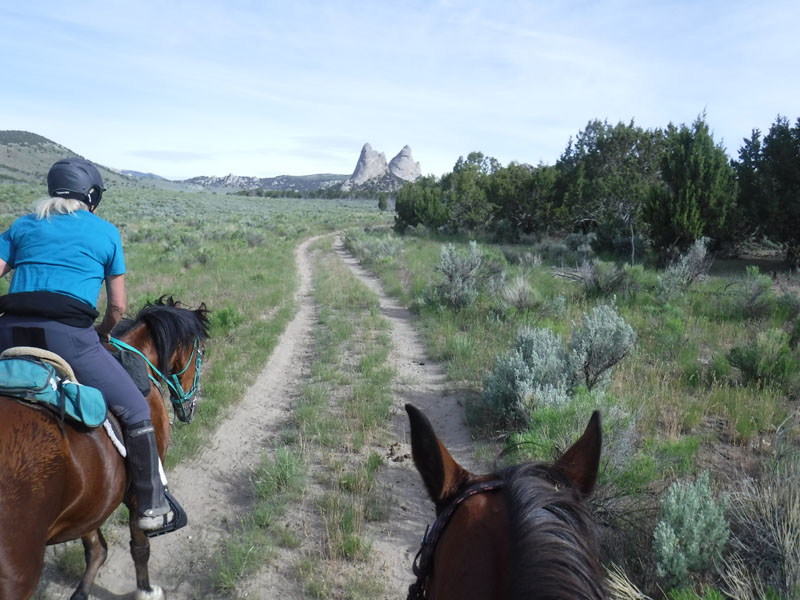 Day 1 had 124 starters (76 in the 50 and 48 in the LD), day 2 had 97 starters (44 in the 55 and 53 in the 30), and day 3 had 68 starters (29 in the 50 and 39 in the LD).
We had many new riders to City of Rocks, some of whom had this ride on their Bucket List, some from as far away as California. We had a number of Hall of Famers/Pard'ners Awarders - humans and a horse - join us: Joyce Sousa, Hal Hall, Dave Rabe, Naomi Preston, Suzy Hayes, Gina Hall, and Fire Mt Malabar.** I rode day 3's 50 on Hillbillie Willie, and he ogled these famous riders on the trail, and he said hi to his mentor, Uncle Mal.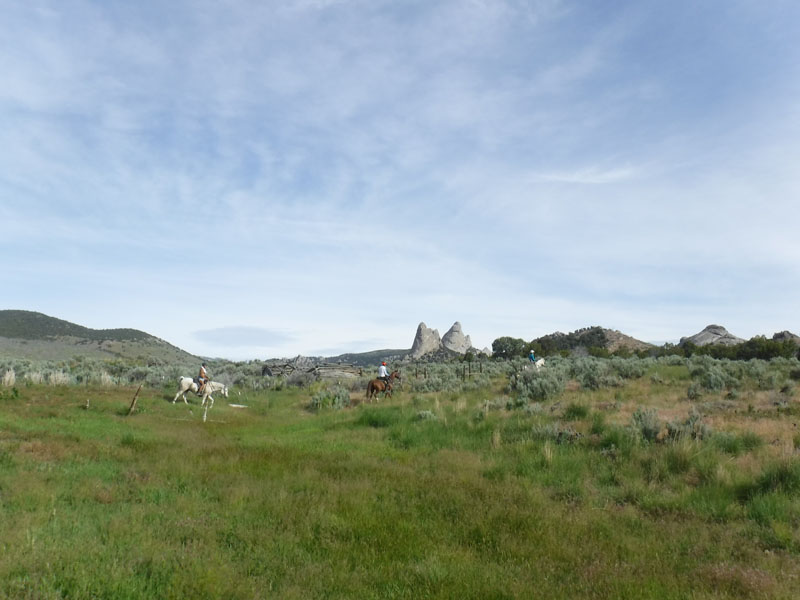 Also present at the ride this year was: WIND. The whole 10 days we were there. There was so much strong wind that any coronavirus particles blew to Iowa. The wind could be described in the words of a famous family mountain climber, John Melde (yes, my older brother), "This howling wind - aw c'mon, it's just air in motion, or is it - relentless, cutting, chilling, biting, freezing, pushing, shoving, tearing, ripping, rending, swirling, roaring, wailing, maddening?" Yes, it was all of those. But the rain (and snow up higher) did hold off until Tuesday morning after the ride! And no thunderstorms this year!
We did have a rider, Kim Elkins, lose her tacked horse in the park on Day 2's LD. On the subsequent days many people volunteered to look for the horse, on horseback and on foot. A super special shout out goes to the Church family in their search efforts. The family showed up to ride the LDs, and they stayed on for days after the ride ended, to search for the horse, on horseback and foot, every day, sometimes twice a day, in wind and cold rain storms. The horse had not been found as of a week later, but there are rumors that it may have been found by someone not connected to the endurance ride. We are awaiting further word on that.
In all it was a successful return to endurance riding in the time of coronavirus, and the new Covid-19 regulations for endurance rides were simply not a big deal for riders and volunteers.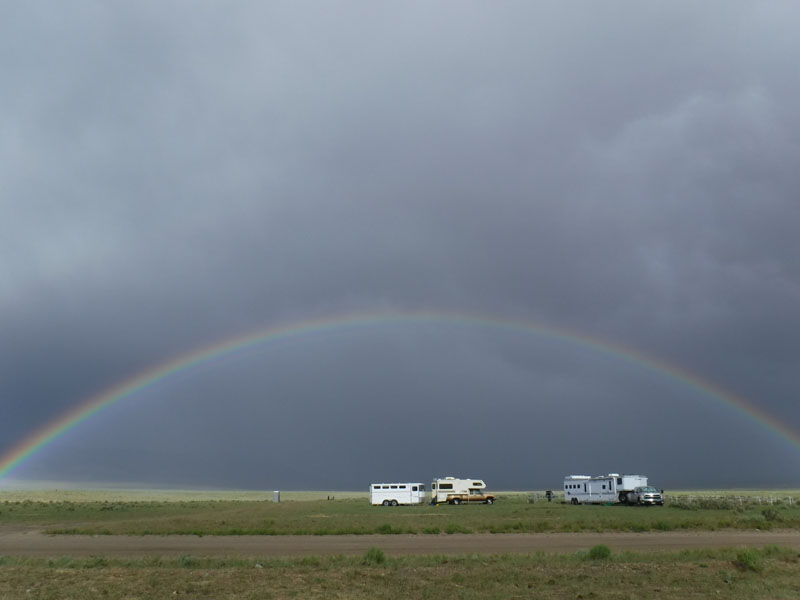 **Here's the detailed list of 'Famers!
Joyce Sousa (Hall of Fame horses LV Integrity 2015 and Jim Bob 2005, Pard'ners Award with Jim Bob 2001)
Hal Hall (Hall of Fame person 1999, Hall of Fame horse El Karbaj 1978)
Dave Rabe (Hall of Fame person 2009)
Fire Mt Malabar (Hall of Fame horse 2018, Lee Pearce and Naomi Preston)
Naomi Preston (Hall of Fame horse Mustang Lady 2001)
Suzy Hayes (Hall of Fame horse Kootenai Zizzero 2011, Pard'ners Award with Kootenai Zizzero 1997)
Gina Hall (Pard'ners Award with Fire Mt Destiny 2015)
...and I hope I did not miss anybody!
More photos and such from the ride at:
http://www.endurance.net/international/USA/2020CityOfRocks/