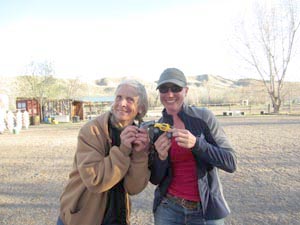 April 2 2016
For the first time in recorded history, winners of the glorious* Idaho Owyhee Tough Sucker endurance rides of 25 and 50 miles were awarded 4WD vehicles. Linda Kluge and Ted won the grueling** 25-mile ride and Best Condition, and Tamara Baysinger and HMR Jammazon won the grueling** 50-mile ride and Best Condition.
The Top 5 finishers in each distance also received 4WD vehicles - though there was some horse trading going on, when a few were not present to receive their great awards, and another lady not in the Top 5 had a grandchild who really wanted a 4WD.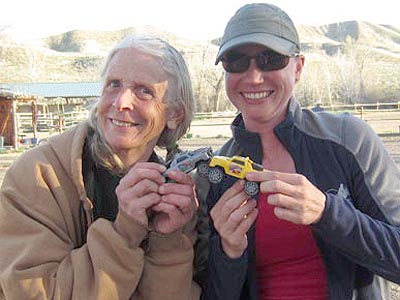 The fierce competitors were well-dressed, including Mike Cobbley in bright blue and black Crazy Legs tights, which I complimented as we passed each other on the trail. (This must be the only sport where you can go up to a guy and say, "Hay, I really like your tights," and he says, "Hay, thanks" without either of you thinking the other is totally weird.)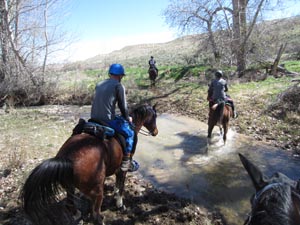 Attendees, including top officials of Belesemo Arabians and Drinkers of the Wind Arabians, were duly impressed as they witnessed the competitiveness and best-dressedness of these illustrious competitive endurance riders and their handsome steeds.
After being awarded her 25-mile 4WD vehicle and precious Championship prizes (a pretty horsie plate and a Tough Sucker coffee mug), Champion rider Linda gave a speech. "I got Ted into shape by dragging a mule behind us up and down these hills. In this ride, he didn't have to drag a mule." He finished the 25 miles in 3:46.***
"He didn't have to drag his Ass," a helpful rider contributed.
Jammer outraced a couple of racing mules. The Mule Gals showed up and kept on Champion rider Tamara's tail for the first loop, but she and Jammer gained some time on them in the vet check, and they had loop 2 to themselves, finishing in 5:51***.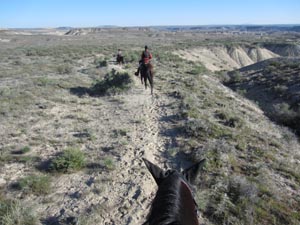 Catherine Lee, a Junior on the mule Irish, finished second nearly an hour later. Her mule partner, ridden by Trinity Jackson riding Out of Idaho, didn't pulse down in time for a completion. Tamara's later comment was, "Two triumphs today: Jammer won first place and Best Condition at Tough Sucker and I only missed a couple spots with the sunscreen. Win-win."
Finishing in 8th place, Lee Pearce and Fire Mt Malabar achieved illustrious Decade Team status. Congrats! You might remember that duo as 2013 Heavyweight 100-mile National Champions, or 2011 National Best Condition winners (with 12 BCs). Lee rode and finished with his wife Naomi Preston, who, as a busy Eagle City Councilwoman and owner of Eagle's Wild West Bakery and Espresso (only The Best Cafe in Idaho), got to ride for the first time in forever, on JAC Redtail, aka Buddy. "Felt GREAT!" she said.
This of course unfolded way ahead of me and Dudley on the 50. We rode with Connie and Phinneas (a bundle of Muscle who tugged on Connie the whole way even though he's 18 years old now) and Junior Sarah on Dessie.
Regina had kept The Dude on his Tough Love Diet while I was away down south for much of the winter, so I have her to thank for having only the task of getting Dudley in shape for the Tough Sucker, and not getting him in shape AND losing weight.
While Dudley has clearly lost a gazillion pounds and looks almost like a totally normal horse now (he just carries a bit of neck crest as a trophy of his by-gone Fat Days), Robert the vet still called him a "7 - Fleshy." We all pshawed that and proclaimed Dudley a "6 - Moderately Fleshy", because he has worked so hard over the years, he deserves it. Robert did concede that Dudley was not the fattest horse at the ride, which was not always the case!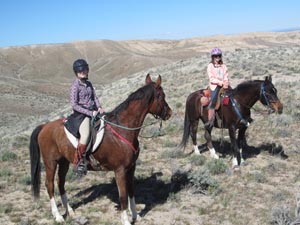 It was a superb day in the Owyhee desert - blue skies, cool enough, a little breeze when it warmed up later in the day, and grass galore on the trail. Any horse could get at least a "B" on gut sounds if they stopped to snack now and then. Dudley's biggest goal in an endurance ride is to get "A" on his gut sounds. He did get all A's on his 4 gut quadrants after the first loop, and finished with B's in all 4. Dudley recognizes there is room for improvement on his gut sounds and is willing to diligently work on that.
Loop 1 took riders toward the Snake River into the Birds of Prey National Conservation Area. After an hour vet check in camp, Loop 2 headed south and west alongside and then above Hart Creek on some of our most scenic trails.
All 17 riders finished the 25, and 23 of 24 riders finished the 50. "This historic Tough Sucker event saw a wide participation of the elite riders in the world of endurance, or at least the elite riders of Idaho and Oregon and thereabouts," said some official, "but the high level and determination by the riders reflects their eagerness to compete strongly to win the trophies."
"Oh, and the other best part of the weekend, besides the great riding and horses and trails was the evening jamming with the Pickett Crick Ramblers. They are truly spectacular to behold*."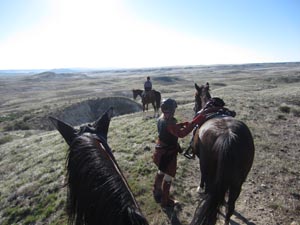 *they are, really!
**they aren't, really
***not really races, you see