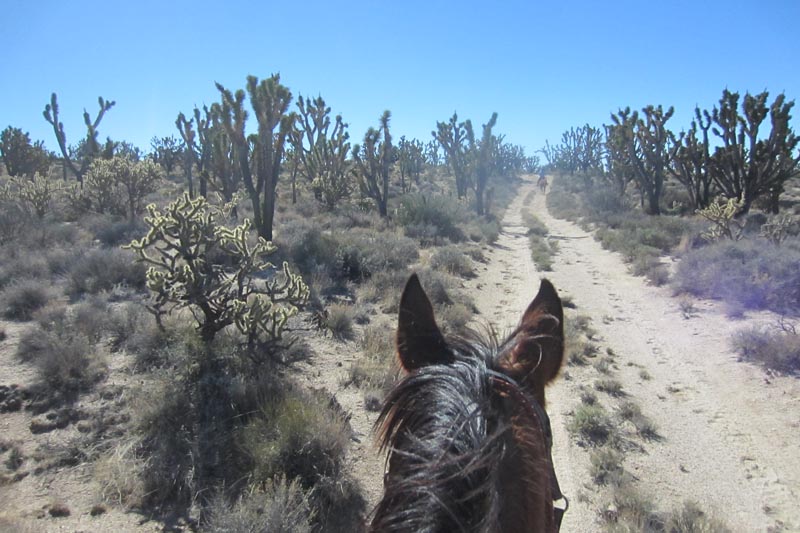 Monday February 15 2016
The main thing you need to know abut the Eastern Mojave Scenic endurance ride is that Joshua trees are not your friends. To be sure, they are fascinating, bizarre, intriguing; but a Joshua tree is like a steel pole with sharp fangs. Or a medieval mace with wicked spikes. (In Spanish it is
zote de desierto
, or "desert dagger".) You don't want to get clubbed by one nor grazed by one when you ride by. You certainly don't want to hug one. They are to be admired from afar, far enough that your body doesn't come into unwanted proximity.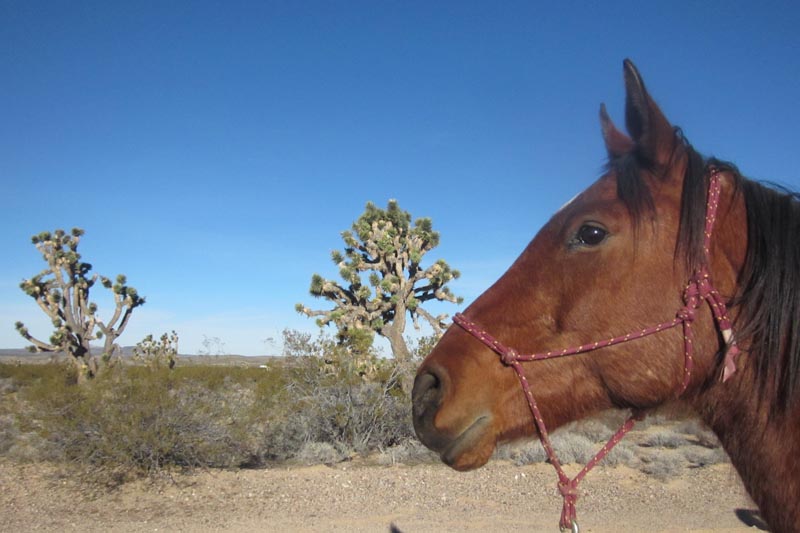 And you have plenty of chances to make contact with these mighty beasts, as the Joshua tree forest on Cima Dome - part of the Eastern Mojave endurance trails - is one of two the largest and most dense anywhere on earth.
The
Yucca brevifolia
belongs to the genus Yucca. The name Joshua tree came from Mormon settlers who crossed the Mojave desert in the 1800s, since the tree's shape reminded them of the Bible story where Joshua reaches his hands up to the sky in prayer. If Joshua was ever riding in the Mojave desert, he was certainly praying that his horse didn't duck into one.
The other thing main thing to remember is that the Duck and Annie and gang have been putting on this ride in the Eastern Mojave National Preserve for 14 years. The 1.6 million-acre Mojave National Preserve is managed by the National Park System, so between the NPS, BLM, and some private land, the Duck has to jump through quite a few hoops to continue putting this ride on.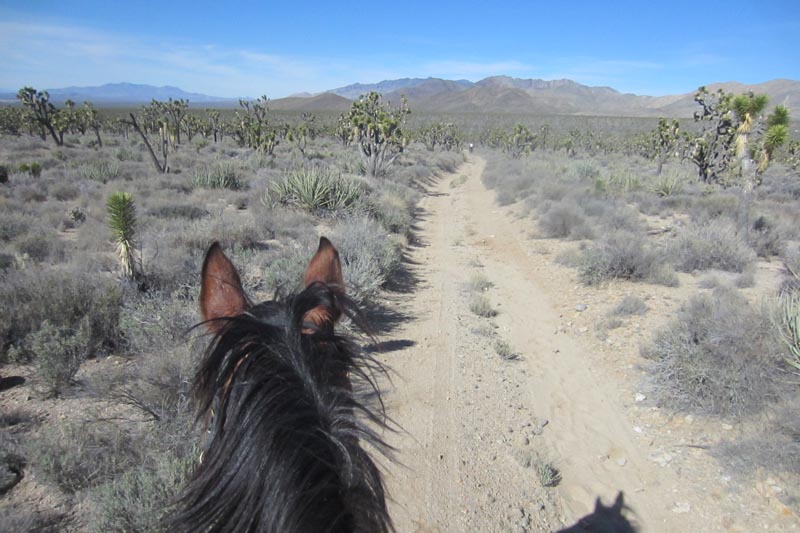 Continuing on Steph's
#WinterWimp road trip
, we headed west from Scottsdale for this ride on the California/Arizona border with Smokey and Jose.
We reunited with Gretchen, the third member of our Unofficial Unauthorized Uninvited Bluegrass band - "U3". At least our horses didn't break away from the trailer and run off.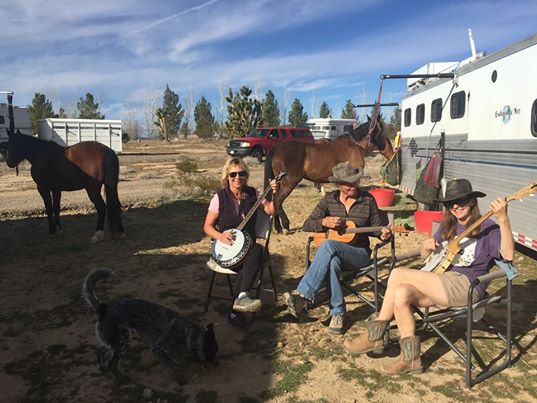 It's been 8 years since I rode the Eastern Mojave. The trails are still as awesome, the unique desert flora still fascinating, the history of the area still intriguing to ride through. The interstate near which we camped was the only thing that had changed - it's even more full of humanity racing between Los Angeles and Las Vegas 24 hours a day, zipping obliviously by this desert jewel.
There's evidence in some areas of this vast Mojave desert of inhabitants from 12,000 years ago in the form of petroglyphs, but our trail on Day 1 took us past more recent historical visitors and inhabitants.
Old mines dot the landscape, and the historical trash the miners left behind lined the Tin Can Alley trail along the foot of the Mescal range. As the Duck puts it, Tin Can Alley is "an important culture site, where early California Rednecks disposed of their unneeded cans. Dumping cans and trash in remote desert washes was an established practice of earlier desert dwellers and is one of those fast disappearing customs of the old west. Fortunately for us, previous Desert Rednecks thoughtfully left us something to remember them by…"
Certainly some of these old Desert Rednecks have been searching for the legendary lost
River of Gold
, where in the 1930's E.P. Dorr discovered an underground river and canyon 2000 to 5400 feet deep, with "many grotesque and fantastic shapes" of stalagmites and -tites that ran for 8 miles - all underground. The black sand river beaches were very rich in gold, but alas, the entrance to the cave was dynamited to keep its secrets safe… and safe they still are, though people still search for this River of Gold.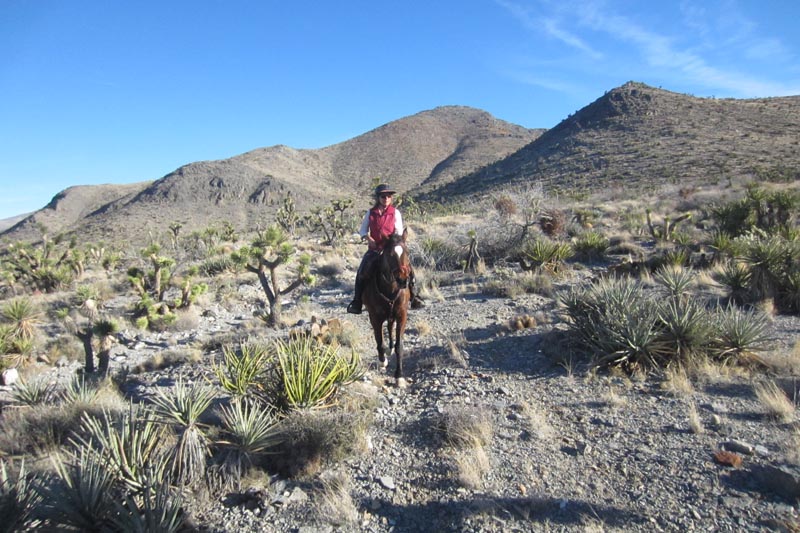 A stretch of a Cactus Patch framed our trail on loop 1, a spectacular array of varied cactuses - looking very healthy and colorful and prickly from winter rains. Turning off from Chevy Canyon (marked by a very old rusted Chevy sprouting from the sand), we headed along two-track roads and winding single tracks through Joshua tree forests, stopping to water at big old water troughs in old cattle ranch pens. One of the troughs was full of moss, and all the horses guzzled this sweet water.
Vet check was at the Valley View Ranch, which, after changing hands several times early in the 1900's, was bought by "Slim" Skinner and his father-in-law, Fred Twisselman in the 1940's and worked as a steer operation (as opposed to the common cow and calf operations).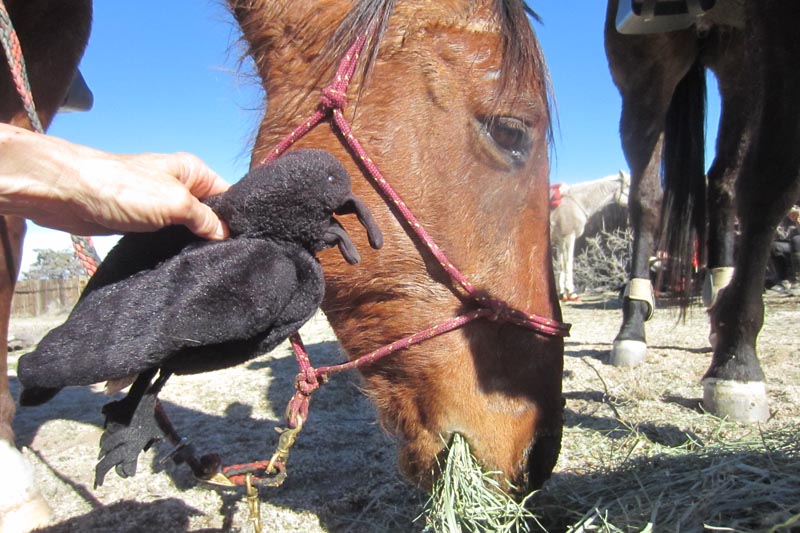 Loop 2 took us up and around Cima Dome, which rises 1500 feet above the desert floor and covers 70 square miles. The dome is an erosional remnant of granite plutons (rock crystallized from magma slowly cooling deep below the surface of the earth) that formed 180 to 80 million years ago.
Along the scenic skyline are the New York Mountains and the Mid Hills. And old windmill or two still stand, a salute to the old ranching days, when year-round water was hard to come by for the cattle that eked out an existence here.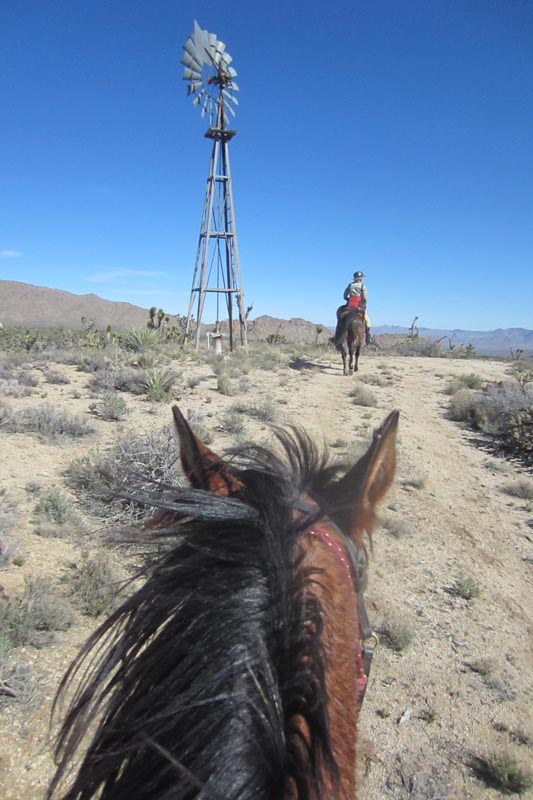 We ran into 3 friendly people hiking on the Teutonia Peak trail. They got a kick out of watching us trot by them down the trail. The nearby Teutonia mine was first worked for silver in 1896, but was quickly abandoned. In 1906, Charles Togel discovered the old mine, snagged investors, and built roads and a small camp called Togel City. The mine was soon abandoned again - just like the Evening Star mine that we passed (which started in 1935 as a copper claim, and ended up producing tin and tungsten in the 1940's), and so many others in the desert.
There's a fair amount of sand to traverse in the Eastern Mojave Preserve, and we took it easy through these deep trails in places, but with a decent breeze, and temperatures in the 70's, it was a great way to pass an afternoon on horseback, endurance riding in the Eastern Mojave Desert and National Preserve.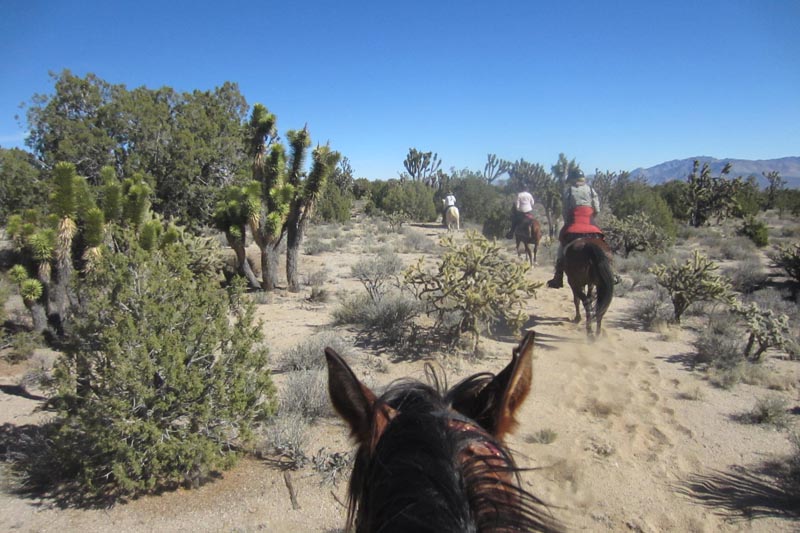 More ride photos at:
http://www.endurance.net/international/USA/2016EMS/