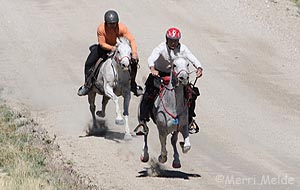 Thursday September 26 2013
Photos and story by
Merri Melde
An exceptional spread of endurance talent graced the 2013 Vettec AERC National Championships at City of Rocks, Almo, Idaho, on September 20-22. The old guard and the new guard left their marks, as Christoph Schork and GE Stars Aflame won the 50 and Kevin Myers and Farrabba won the 100, both in racing finishes, and every junior rider that entered both distances completed their rides.
A humbling collection of endurance royalty showed up to compete. It wasn't princes and prime ministers and the flat-track racers who win 50 mile rides in 3 hours, or 100 mile rides in 5 1/2 hours, but the experienced, long-time, high-mileage riders who are extraordinary horsemen able to skillfully manage their mounts to last over the years and miles of endurance trails.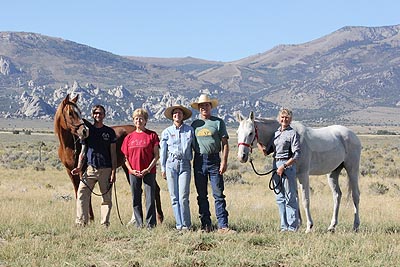 Veterans included 2 Hall of Famers - Joyce Sousa and Robert Ribley, and 5 Haggin Cup (Best Condition in the Tevis) winners - Rusty Toth and Farrabba (2012), Sue Hedgecock and Julioslastchance (2013), and Melissa Ribley (2009). Joyce Sousa teared up at the company she kept. "I am so blessed to be here. Not only are these exceptional athletes, but exceptional people!"
In addition, a number of long-time, high-mileage riders saddled up their horses for the rides: Robert (32,700+ miles) and Melissa Ribley (19,000+ miles), Dennis and Sue Summers (17,700+ miles each), Joyce Sousa (22,200+ miles - riding 20-year old LV Integrity: 8300+ miles, and 34 100-mile completions), Steve Rojek (23,500+ miles), Christoph Schork (25,000+ miles), Bev Gray (18,000+ miles), Suzanne Ford Huff (15,800+ miles), and ride manager Steph Teeter (14,400+ miles), who managed to squeeze in the 50 mile ride on her 22-year-old, 6000+ mile gelding Jaziret Bey Musc to sponsor Canadian junior Katya Levermann.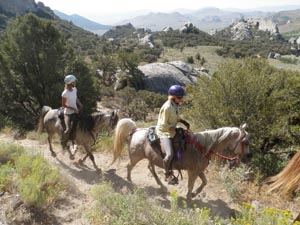 The location for the 2013 Championships was City of Rocks National Reserve outside of Almo, Idaho. The park is distinctive for its spectacular combination of scenic, historic, and geological aspects, and the championship rides represented a unique cooperation between the National Park service, State Parks, Forest Service, and BLM, as well as the local farmers and ranchers, who likely had never seen such an event in their small town (Almo, population around 140). It was the second time the championships were held in Idaho (the 2007 Championships were held in Oreana in the southwest of Idaho, and were also put on by Steph Teeter).
The trails would be tough. The 50 mile ride had approximately 6500 total feet of elevation gain/loss, and the 100-mile ride had 11,000 total feet of elevation gain/loss, with the low point for both rides at 5318 feet, and the high point in the Albion mountains of 8513 feet. Heavy rain the week before the ride eliminated dust on the trails, and cooler weather moved in for the ride, which would be perfect for the horses.
The 50-mile Championship on Friday, September 20 saw 58 starters. Christoph Schork of Moab, Utah, the winningest rider in US endurance history (as of September 2010, he had 200 wins, with a 92% completion rate and over 80 Best Condition awards) was one of the favorites, riding GE Stars Aflame. The pair won the 2011 AERC National 100-mile Championship in New Mexico. Pacific Northwest endurance veteran Dennis Summers riding 7-year-old Hey Soulsister, and Utah's Sue Hedgecock and this year's Haggin Cup winner LZP Julioslastchance, were top contenders, as well as Colorado's Kevin Myers (9000+ miles) and Auli Farwa.
Flying first into vet check 1 after the first 17-mile loop were Christoph Schork, and David Enns of the northwest region. The pair was 21 minutes ahead of the next group of 8 riders, which included Sue Hedgecock, Dennis Summers and Kevin Myers. "The start was crazy," Myers said - five miles of pretty straight unpaved road, where fresh horses could see their competition all the way into Utah. Steph Teeter, on her older horse who at times thinks he's still a 5-year-old, said, "I had the reins double wrapped around my hands!"
Loop 2 was a 23 mile loop up the mountain and back down. Many of the front runners were off on foot running the downhills - "full speed, flat out!" Myers said. The front runners stayed closely bunched, while the rest of the field stretched way out coming into vet check 2, over 3 1/2 hours of spread from first to last.
Myers, Summers, and Gwen Hall were first into the second vet check, with Bill Fullmer 2 minutes behind them, and Tom Johnson and Schork 5 minutes behind them.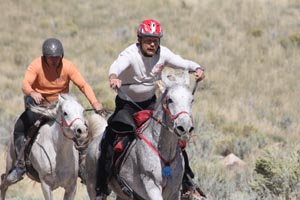 10 miles left to the finish it was anybody's guess as to who would win the sprint in - and indeed it was a race. In the view from the finish line, two riders popped into view in a gallop for a mile down a rough 2-track road, with a sharp right-hand turn onto the main road and the last 50 yards to the finish line: Dennis Summers on Hey Soulsister, and Christoph Schork on GE Stars Aflame. Neither horses slowed down for the turn. Schork had a short lead turning the corner but he went a bit wide, while Summers cut the corner and sliced into Schork's lead. The two gray mares matched strides exactly, running flat out, thundering to the finish line, with Christoph and GE Stars Aflame coming in a length ahead of Summers and Hey Soulsister, in a finish time of 4:44.31. It was over 40 minutes faster than the almost identical course was run a month earlier.
Wasn't it scary, racing in that fast, at the end of the tough 50 miles? "Aw, no, it was fun!" Summers said. "I was just worried about how I was going to make that turn!" Hey Soulsister now has a record of 13 starts and 13 completions. The Summers got her as a 3-year-old from Richard Kiekow in Montana, on a ranch where his Arabian racehorses run around like mustangs for their formative years. Darlene Anderson broke and started her, and the Summers picked and spaced the mare's races carefully - as they do with all their horses. "Everything I throw at her, she's like - 'I don't care, give me more,'" Summers said.
Schork isn't intimidated by leading a sprint to the finish either. "When I'm in front, I don't even think about it. It's when I'm behind racing in, that I think about it, because A, your horse may not pay total attention to what he's doing, and B, if the horse in front of you stumbles, there's going to be all kinds of chaos!"
GE Stars Aflame is an 11-year-old mare by Flaming Tigre out of Samoa Star by Sam Star, who now has a record of 49 completions in 52 starts, with 12 Best Condition awards, and a Tevis Cup finish (with Rose Ross aboard), and the 2011 100-mile AERC Championship under her girth.
Less than a minute later was another sprint for the finish, with Kevin Myers and Auli Farwa edging Gwen Hall for 3rd place by a length.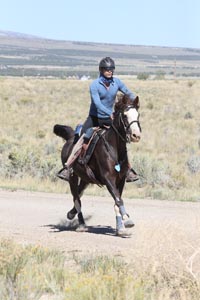 Myers' 13-year-old "Far" is an endurance miracle on 4 legs. Suffering a severe fetlock injury in his paddock at age 6 before he ever did an endurance ride, he completely recovered to earn 3220 miles and complete 52 of 52 rides, including 11 100-milers and 4 Tevis Cups (including a 3rd and 5th place). "It was frantic!" Myers said. "The whole ride! I was pulling on the reins, had my feet out in front of me - and nothing!" Far would have nothing to do with rating on this championship day. "Fantastic ride," Myers commented afterwards. "Beautiful, challenging trail."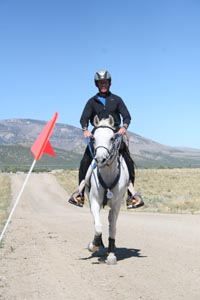 Tom Johnson and AM Lady Liberty Wins, who finished in 6th place 14 minutes behind the winner, received the Best Condition award. Sue Hedgecock's LZP Julioslastchance, who finished in 8th place 25 minutes behind the winner, received High Vet Score.
Saturday was a break between the 50 and 100-mile rides. Christoph Schork hosted a hoof clinic sponsored by Easycare, and riders and crews spent the day getting ready for the 100 mile ride, which would start at 6:30 AM.
Forty-five riders crossed the starting line for the 100. Favorites to win would be Christoph Schork riding Starlit Way, Bev Gray riding Jolly Sickle (2012 National Best Condition horse), Sue and Dennis Summers, riding 18-year-old Mags Motivator and AH Bantiki, Kevin Myers riding Farrabba (the 2012 Haggin Cup winner), Rusty Toth riding FV Aulmystery, and Clydea Hastie riding Ashquar's Dream.
The first 48 miles of trail were identical to Friday's 50-mile course, which meant the first 5 miles were down that straight road to Utah. But in the dark under a bright moon, the 100-milers took off a bit more calmly, without the craziness of the 50-mile start.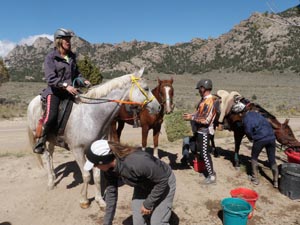 The front runners distinguished themselves early and stayed in front in approximately the same positions all the way to the 3rd vet check at 60 miles. Schork and Gray held onto a several-minutes lead, followed by a close group of the Summers, Toth, Myers, and Suzanne Ford Huff. Huff took a tumble when her horse tripped before the vet check, but Sue helped her back on and Suzanne stayed with the front pack.
By the 4th vet check back at base camp, with 16 miles to go in the ride, Huff had taken the lead by a few minutes, as she headed out into the falling darkness. Hot on her tail were the Summers and Myers. Gray had backed off with Jolly Sickle. Schork and Toth's horses couldn't keep up the pace, and they stayed longer than their 50 minute hold in camp so their horses could rest and eat longer.
At the finish line, out of the darkness at 8:37 PM came the bobbing of glowsticks on breast collars and a thundering of hooves, with Kevin Myers and Farrabba edging out Suzanne Ford Huff by a length in the final sprint, for a ride time of 10:57. Two minutes later, Sue and Dennis Summers crossed the finish line. It was 55 minutes before the next finishers came in: Laura Yost in 5th on OT El Din RSI, Bev Gray on Jolly Sickle in 6th, Christoph Schork on Starlit Way in 7th, and Rusty Toth on FV Aulmystery in 8th. Rounding out the top ten were Terry and Nathan Bradley - Nathan being first Junior.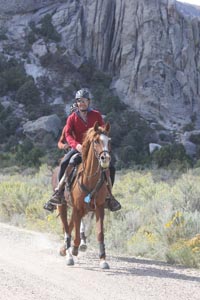 Myers, with over 9000 AERC miles, is on the line between newcomer and old timer, having started in the sport in 1995 with a couple of rides, and diving in the deep end in 2002.
12-year-old Farrabba, by Rabba Baron out of VF Farrubi by Ibn Farlane, now has a record of 2665 miles, with 49 finishes in 52 starts, including 5 100-milers, 3 of them Tevis finishes and a Haggin Cup. You'd never know it to watch him - they don't call him 'Stoner' for nothing."He's so chill," Myers said. "He never gets ruffled. At the beginning of the ride, he's so calm, it's like you don't think he's going to make 100 miles. He doesn't care if 20 horses pass him; he just keeps moving down the trail. But he gets stronger as the day goes on. He's just incredible, a very special horse." Indeed, at the end of the 100 miles, the horse didn't look any different, stressed physically or mentally, than he did the day before the ride.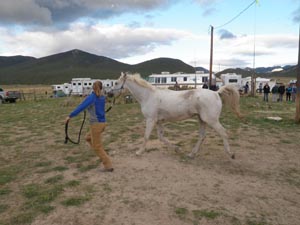 Next morning it was Sue Summers' Mags Motivator who won High Vet Score and Best Condition.
34 horse/rider pairs completed the 100-mile ride. Steve Rojek, riding Chi Hi, was one of those, for his 145th 100-mile completion. It was Chi Hi's 14th 100-mile completion. Rojek's riding partner Kyle Gibbon took a tumble on course when his horse LJ Beaujolais stepped in a gopher hole. The billets on one side of his saddle broke, and they jerry-rigged a solution with another rider's zip ties. They also went on to finish the ride, making 6535 career endurance miles and 32 100-mile completions for Gibbon, and 17 100-mile completions for the horse.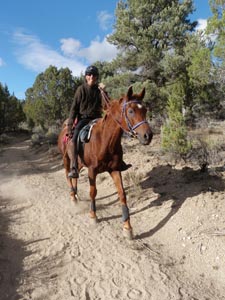 Rojek and Gibbon came all the way across the country for this championship ride (from Vermont), as did Tom and Gina Hagis, from Virginia. Riders and ride managers, the Hagises arrived at City of Rocks early and chipped in to help set up ridecamp and mark trail before the rides; and Gina finished 10th on Lumina in the 50, and Tom finished the 100 in 21st place on Ali Mostafa.
A number of Canadians traveled to the Championships. Elroy Karius finished 11th in the 50 on Diamond Reo, but was pulled at the finish of the 100 on Apache Eclypse. "It was still one of my best rides ever on him," Karius philosophically said of the 18-year-old. "It was a fantastic trail. Beautiful course!"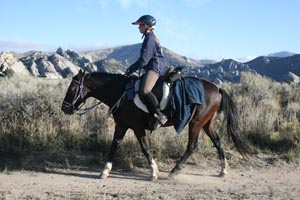 Canadian junior rider Anya Levermann finished turtle on the 100, riding the mustang Bishop, with her sponsor Cynthia Peticolas on BBA Farheed, at 5:41 AM, after 20 hours of riding. It was Anya's 2nd 100-mile completion in as many starts.
In fact the record of the juniors - AERC's 'new guard' - at the 2013 National Championships was outstanding: a 100% completion rate. Three juniors started and finished the 100; 5 juniors started and completed the 50. One of those was Sarah Holloway, who rode her first 50-mile endurance ride this year, finished 6 rides to qualify for this National championship, and finished the 50 miler, riding all of them with her aunt Connie Holloway.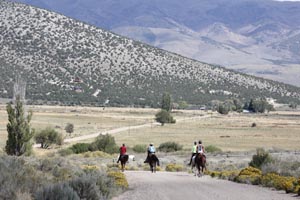 The overall finish rates for National Championship rides were remarkable. The 50 miler had a 84% completion rate; the 100 a 75% completion rate, and it wasn't because the trails were easy. The cooler weather probably helped most of the horses (though there were a few tie-ups on the 100, where it was cold and gusty windy early in the day), and simply the riders' excellent management of their horses.
A took a village to set up the ride - a village from far away. Ride managers Steph Teeter and Regina Rose accomplished an amazing feat of putting on a successful National Championship ride 4 hours from home. "No matter how many people work their butts off and no matter how many days early we arrive, and all of that, it still seems like we're frantically rushing around up until the last minute," Teeter said before the 50 miler. "Scurrying around after dark loading stuff for the out vet checks, finishing up ride entries, etc…" but it is obviously a labor of love for them. Both Teeter and Rose were already discussing trails for their next 3-day home ride 3 weeks later, before the National Championship wrapped up!
Volunteers were indispensable on every aspect of the ride - setting up, running the ride, and taking everything down. Several local northwest riders came and stayed the entire weekend. Roger and Sue Taylor came from New Mexico specifically to help with the ride. The veterinarians - head vet Mike Foss, Art King, Robert Washington and Matt Dredge were excellent and efficient, particularly during the chaos of the first vet checks in each ride.
A complete wrap-up of the ride - photos, stories, results, can be seen at
http://www.endurance.net/international/USA/2013AERCNC/