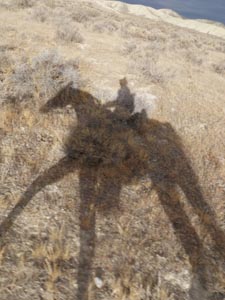 Monday October 29 2012
It looked like a sad little Ridecamp, with but 3 trailers huddled together in back, and a small group parked out front, but it was really a family gathering of horse nuts come for the last Owyhee endurance ride shindig of the year, with old timers and newcomers and a bunch of juniors, three of whom are in running for year-end National Junior awards.
With great thoughtful foresight, I arranged for a rainstorm down low and a snowstorm in the Owyhee mountains a few days before the ride, eliminating the heavy summer dust on the trails, and providing a scenic snowy backdrop for ambience.
Ride weather was perfect: cold before the golden sunrise, and cool during the day, ideal for those horses who already had a good start on their winter coats. Trails wound through the Birds of Prey Badlands, alongside the Snake River (where Amanda and I discovered 'new' ruins from an old homestead, which, despite riding by here numerous times, we'd never seen before),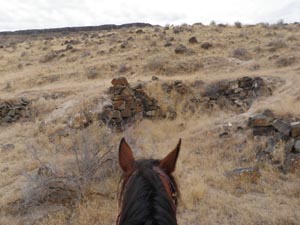 on the edge of the Hart Creek Rim Trail, and along the glorious Hallelujah Rim Trail,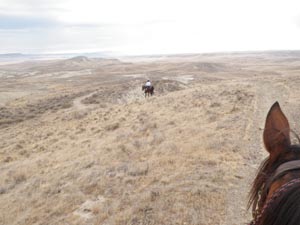 while blue storm clouds left riders alone but highlighted the rippling hills of the Owyhee desert and the rocky buttes of the Snake River.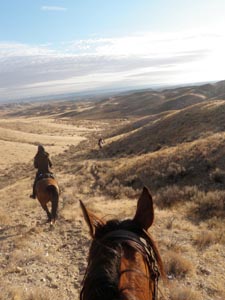 A witch and a ghost, a fire dancer and a clown, Pippi Longstocking and a bikini-clad beach girl galloped the trails, while a saucy pony sported a sunflower hat and boa feathers and a clown horn that scared him when his rider honked it! A Fargo law officer and her dog Hannabelle Licker worked the vet checks while Death roamed around.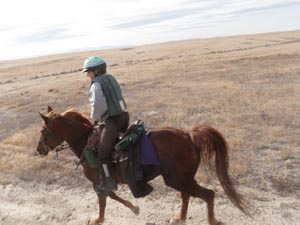 When Karen Steenhof won the 75 miler and Best Condition on day 1 on Rusty, she reached 17,000 AERC miles.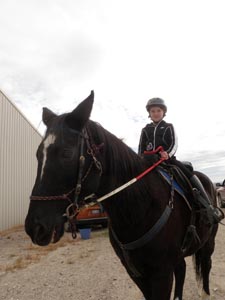 When 4-foot tall Sarah rode 6-foot tall Krusty, she finished her first ever endurance ride on Day 1, and a new endurance rider was anointed. Though she was worn out, she still climbed aboard Krusty on day 2 and finished her second endurance ride ever, and an endurance addict was crowned. Two more juniors rode their first endurance rides on Day 2. Each night sounded like a packed cheering stadium with the family group of riders packed in the warm house for the evening awards and home cooked meals.
It doesn't take a horde to make a mighty endurance ride, just a good group of endurance riding junkies with a love of good trails and great horses, like the kindred endurance souls at the Owyhee Hallowed Weenies.