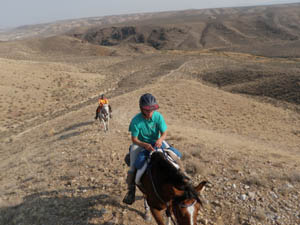 Tuesday October 2 2012
Long-time Owyhee endurance rider Tom Noll put it best: we have a good Tribe here. Through the good and the bad, the highs and the lows. we're one pretty special family who keeps coming back to ride here in Owyhee.
For over 10 years, Steph has put on Owyhee endurance rides in southwest Idaho. This fall was the 10th(ish)-year anniversary of the Owyhee Canyonlands multi-day ride. (10th"ISH" refers to 2001 being the first Owyhee Canyonlands ride, a 1-day 30-50-80; 2002 was actually the first 5-day Owyhee Canyonlands, so, okay, it could accurately be called the "10th+ Anniversary".)
It's always been a good group of dedicated people - locals and foreigners - who show up year after year, camping together, riding the spectacular mountain and canyon trails of the Owyhee high desert, sharing meals, helping each other out, cheering for the finishers.
The Owyhee Canyonlands has been graced with some of the highest-mileage riders of the sport over the years. Several of them are from the Pacific Northwest: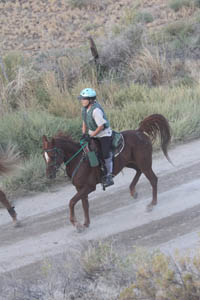 • Karen Steenhof (16,000+ miles) rode in 2001 and 2012 - her horse Rusty got Best Condition on the Day 3 50 this year.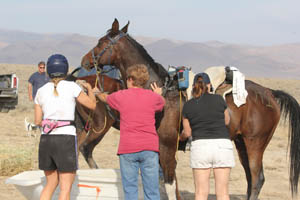 • Pat Murray (13,000+ miles) rode in 2001, crewed for the Ride N Tie'rs this year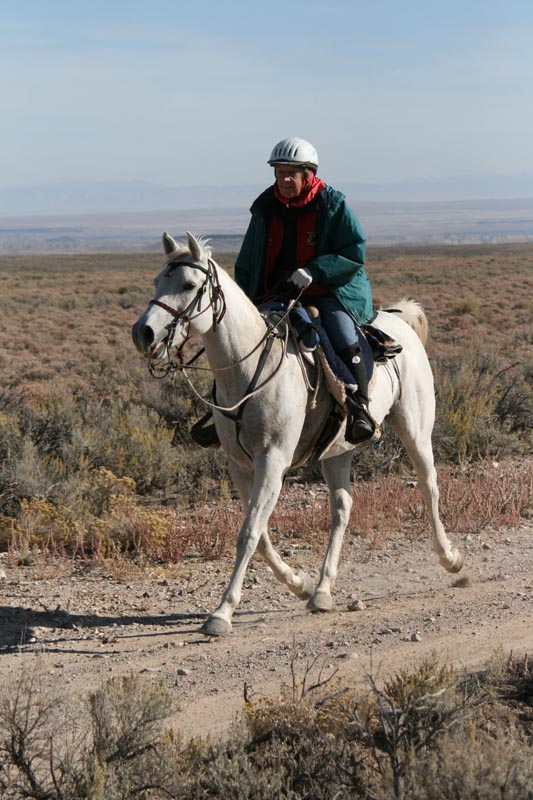 • Dot Wiggins (8000+ miles) rode in 2001 and 2012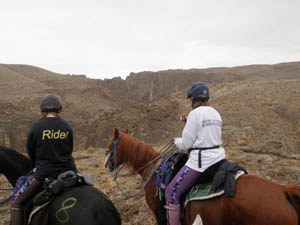 • Karen Bumgarner (22,000+ miles) rode one day in 2001 and was pulled; this year, she and her horse Z Summer Thunder finished all 5 days of the ride for the third time in a row, and got overall Best Condition.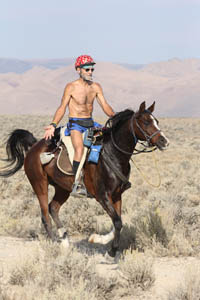 • Dick Root (7000+ miles) rode the 50 in 2001 and this year finished 2 days of (inaugural) Ride N Tie's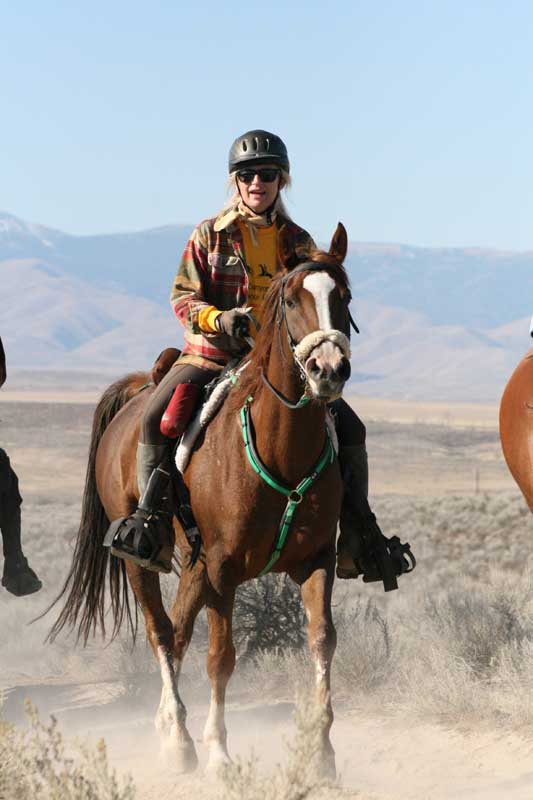 • Nance Worman (8000+ miles) rode in 2001 and 2012, and has the high mileage Owyhee Canyonlands horse: Jasbo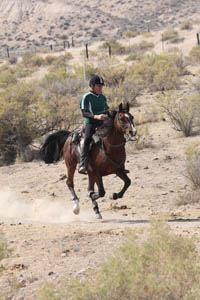 • Canadian Northwest 'invaders' Elroy Karius and Apache Eclypse were the overall 5-day winners in 2003, Elroy then a mere 1000+-mile rider, Eclypse a mere 570-mile horse. (They completed all 5 days in 2002, also). They returned this year, Elroy now a 5000+ mile rider, and Eclypse at 16 now a 3400+ mile horse, completing 2 of 2 days.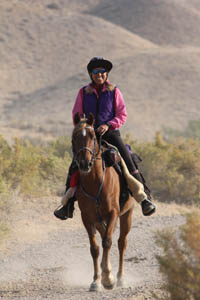 • Canadian Northwest 'invader' Shari MacFarlane (10,000+ miles) from Canada rode in 2001 and again this year.
• Of course there are the ride managers Steph Teeter (14,000+ miles) and Regina Rose (14,000+ miles), and indispensable neighbor Carol Brand (6000+ miles) who rode in the first Owyhee Canyonlands in 2001 and in 2012.
Several other riders of note: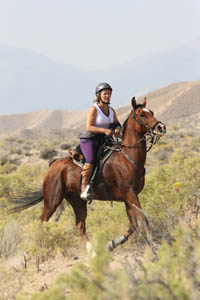 • Cynthia Peticolas-Stroud (10,000+ miles) rode in 2001, and rode this year with daughter Tonya and granddaughter Makayla, a junior.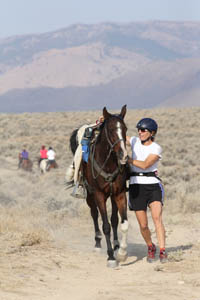 • Layne Simmons (4500+ miles) rode in 2001 and did her first Ride N Tie this year!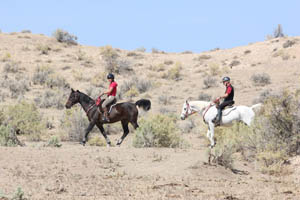 • Leonard Liesens of Belgium rode Steph's horse Rhett in 2001. Leonard returned this year, finishing beside his girlfriend Caroll Gatellier, who rode Rhett 2 days - Rhett is now 22 years old and has 6000+ miles! (and he won and got Best Condition on the LD one day!)
Other visiting luminaries who have kicked up Owyhee Canyonlands dust over the years were Dave Rabe (55,000+ miles), Karen Chaton (32,000+ miles), Julie Suhr (30,000+ miles), Jackie Bumgardner (29,000+ miles), and Jerry Zebrack (17,000+ miles).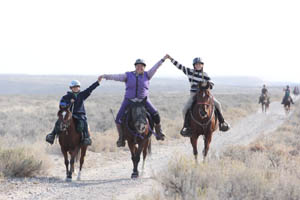 And lest you think it's all about the old folks and high miles, Juniors RULED at the 2012 Canyonlands! 9 Juniors rode and finished a total of 28 rides: Anya and Katya Levermann (from Canada), Barrak and Sanoma Blakeley, Makayla Stroud, and Abrie, Tori, Alex and Calli Church. Barrak won the Day 2 50. Abrie rode an LD bareback with only a halter. Calli (7 years old) rode her first LD.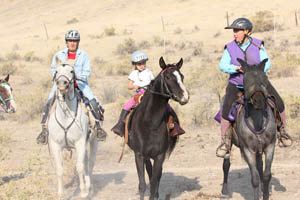 The day that Calli, the youngest rider took to the trail, so did Dot Wiggins, the oldest rider, at 82 years.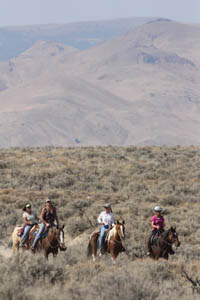 Even if you don't feel like riding a 50-mile or a Limited Distance ride, the Owyhee Canyonlands is happy to have you come enjoy the trails on a trail ride (there were approximately 26 trail riders over the 5 days), or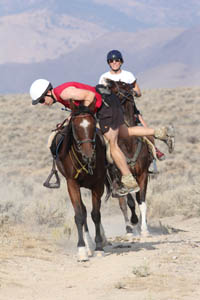 try a Ride N Tie. The inaugural Owyhee Canyonlands Ride N Tie took place this year: 1 team started and finished the first day; 2 teams started and finished the second day, even though one runner got quite lost near the finish for a while.
The Owyhee Canyonlands may become fewer and far between now: it may happen every other year, or with fewer days. But the legends - those made and those in the making - will ride on in the autumn in the Owyhee desert. No matter your riding (or running) preference, you'll find yourself welcome here. It's never too late to start your own legend with this great Owyhee Tribe.