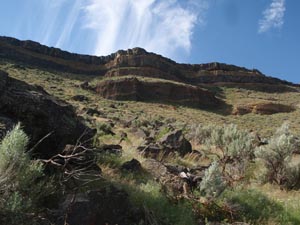 Saturday May 12 2012
Carol, Steph and I hiked and flagged the 'boulder field' along the Snake River, part of the 80 and 100 mile rides on the May 25-27 Owyhee Fandango.
I made a fun video that gives you a hint of some of the scenery and wildlife you'll see, and part of the trail you'll be going over. You'll see that it's not hard; it's just technical for maybe a 1/2 mile stretch. The weather was perfect - not too hot nor too cool nor too windy, and this day, at least, there were no gnats! (Bring your human bug hats or bug spray, and spray for your horses too, just in case.)
I have put in an order for perfect weather on ride day!
You can see more photos, and upcoming videos on the Owyhee Fandango ride page:
http://www.endurance.net/international/USA/2012Fandango/