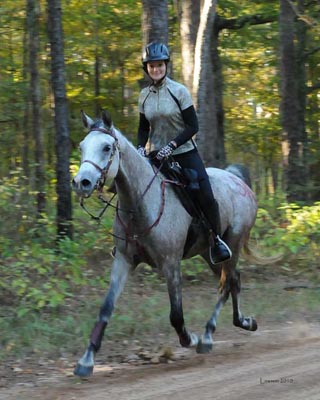 Alisija Granger and Dixieland Dude
Photo by John Lawson
Friday February 3 2012
It's hard to say who is more excited, Alisija Zabavska-Granger, or the country of LIthuania.
Possibly it's the country: "Lithuania is freaking out!" says Alisija, referring to the that fact that she and her 9-year-old gelding Dixieland Dude (aka "Jude") sit 15th on the 2011 FEI Open Combination World Ranking list in the discipline of endurance. It's the first time in Lithuania's history that an equestrian athlete in any discipline has ranked so high. Not only are they highly ranked, but the pair will also fly the flag for her country in the 2012 FEI World Endurance Championship at Euston Park in Great Britain in August.
It hasn't been an easy path getting there. More than once on the long journey, Alisija said, "Never again!" and called it quits. Each time she caught The Bug again, and each time it's carried her to new career peaks.
In her normal life, 36-year-old Alisija trains horses in Texas, gives riding lessons, and shows Arabians for clients in Hunter Jumper, Western and English Pleasure classes, and Sport Horse disciplines. But her passion is endurance riding. It came about when she had to give up her other passion of show jumping.
In her native country of Lithuania as a junior, Alisija excelled in show jumping, representing her country nationally in the sport. After visiting her brother in the UAE in 1996, she fell in love with the warm climate and decided to stay and get a job. When she found she couldn't afford to compete in show jumping there, she started looking for another discipline in which she could compete internationally. That was when she came across a newspaper article that talked about the popularity of endurance riding.
"So I decided to get me an Arabian and start training it," Alisija says. "And obviously I didn't know what I was doing, because I would ride the hair off that poor Arabian - I would ride 20 miles every day in the desert." She knew something wasn't right. "I didn't know what I was doing, I didn't know where to go, how fast to go; I needed to find somebody I could ride with who could share some experience with me."
And then Fate intervened in the form of two Endurance Queens.
One day while out training in the desert, Alisija saw hoofprints. She followed them, but for a couple of days, she never managed to find the horses that laid them. Then one day while riding, her stallion started acting up, "and when I looked back, I saw three horses galloping toward me with the speed of thunder!"
It was a most auspicious encounter. Two of them turned out to be Jan Worthington and Grace Ramsey, the highly respected duo who pioneered the path for American women training endurance horses on the edge of the Rub'Al Khali desert in the UAE in the 1990's.
Like Jan and Grace have done for countless other aspiring endurance riders over the decades, they took Alisija under their wings, and they taught her about the sport of endurance - about training, feeding, and electrolytes, and they gave her a racing schedule. A few days later they put her on one of their horses in a 96-km endurance race - "and that's how I got baptized by fire!" Alisija says.
"I swore, I
swore
, with everything I had, that I would never, ever, do that again. I was so sore after that first ride, I had to be carried around. I wasn't able to walk. I told everyone, 'This is horrible, this is a nightmare, I'll never ever do this again,
ever
, in a million years!'
"…and ten days later I got back on a horse," Alisija laughs. "I got The Bug!"
After learning and gaining experience working and riding for endurance stables in the UAE, Alisija set her goals high: the World Equestrian Games in Jerez, Spain, in 2002. She qualified to ride in it, but paperwork problems with her Lithuanian federation were too overwhelming, and it ultimately didn't work out. Alisija moved to the US in 2005 to try to qualify for the next World Equestrian Games in Aachen, Germany in 2006, and thought she had done everything right, but again, paperwork problems botched that dream.
"Never again!" Alisija said. It was too disheartening and frustrating, after all that work.
But it wasn't long before she got The Bug again, because next was the World Equestrian Games in Kentucky in 2010. "It
has
to happen," she had said, "because now it's in my backyard!" She qualified again for the WEG on one of her horses, and the paperwork was perfect, but this time, bad luck stung her with a lame horse.
Then she met Merlin. A talented gelding owned by Ed Kidd, Alisija fell in love with Merlin after her first endurance ride on him, a 9th place finish in the 100-mile Fun In The Sun ride in March of 2010. "He's such an amazing horse. I don't think I've ever sat on a horse of that caliber before in my life. He is just a beast. He's a machine! That horse knows his job. The moment you point him to a starting line, he knows exactly what he has to do."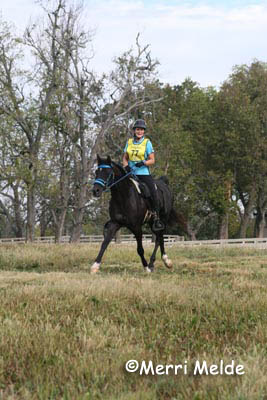 Alisija and Merlin in the Kentucky 2010 WEC
And so Alisija and Merlin faced the starting line of the World Endurance Championship during the World Equestrian Games in Lexington in September of 2010. FInally, her dream had come true. "I told everybody, 'as soon as I get to the World Equestrian Games and compete, I will be so relieved, because I've been trying so hard for so long, that will be it for me. I won't do it anymore. I would accomplish it and that would be something on my record."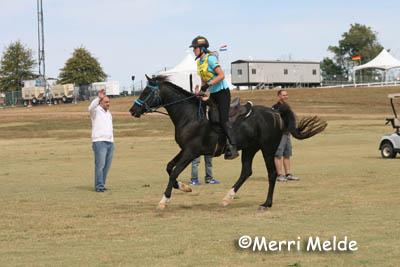 Alisija and Merlin in the Kentucky 2010 WEC
Sadly, Alisija and Merlin were pulled after only the second loop, when Merlin cramped up from cold water at the vet check.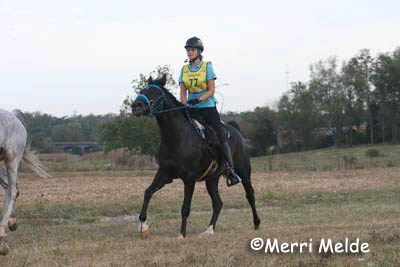 Alisija and Merlin in the Kentucky 2010 WEC
You can guess what happened after that.
"But of course, I got The Bug again! I told my husband Charles 'I didn't finish, I got pulled, so now I have to go for a good placing, and
then
I will quit! This time I have to get there again, and I have to do it with my own horse."
Enter Dixieland Dude. He'd been bred to be a show horse but he didn't have the looks for that. Alisija had bought him as an "unbroke" 4-year old in 2007, but in truth he was just plain wild, and uncatchable. Alisija was able to piece together the rest of the story later. Being unsuitable as a fancy show horse, he'd been kicked out in a pasture on his farm, and he'd turned somewhat feral. The only way they could catch him for shots and hoof trims was by lassoing him around the neck. A trainer had tried for a month to break him, then gave up.
But by the time Alisija knew all this, she already owned Dixieland Dude and had found out for herself just what he was like. "He was bad for a while; he wouldn't let me catch him. He wasn't easy to be around." Once she was able to catch him, it took her a long time to be able to just lead him without him trying to break away from her and run off.
Lesser mortals might have looked for another, easier prospect, but Alisija confesses: "It was love at first sight. And…" she pauses, "I don't want to say I'm crazy, but, I think I like challenges in life. I fell in love with the horse when I saw him, and I wanted him no matter what."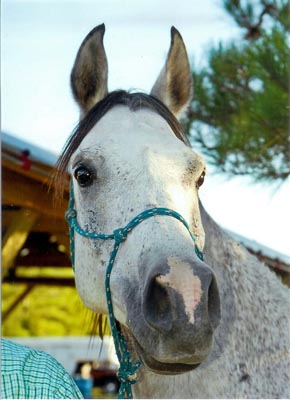 Dixieland Dude
Photo by John Nowell
And, so committed, Alisija took her time with "Jude", and eventually gained his trust. One day he let her climb on his back, and then she knew they were on their way. Alisija broke, trained, and started him in endurance. He's still hard to catch sometimes, but she brushes off this part of his personality: "I've learned in life that every super horse has some quirk."
And she is very excited about Jude's prospects. "He's amazing. He's not Merlin yet, but he may be, because he's still very young." His record is promising: seventeen rides over five seasons without a pull, all but one of those in the Top Ten (they got lost that day!). Their most recent ride was a second place finish in the 100-mile Goethe Challenge in December of 2011, where Jude got his COC (Certificate of Capability, 100 miles at or under the minimum qualification speed of 14 km/h) for the 2012 WEC.
Alisija wouldn't call him an easy ride. "He's got some spunk. He's confident with a good balanced rider, and he's getting better and better as he does more competitions. He can catch you off guard though, he can spook and get you off balance, so you have to keep your eyes open on him all the time. He's not the kind of horse you can ride on a loose rein and trust him," she says. "And he's strong! He starts out strong, then sometimes in the middle of the race he'll take a break, go to a slow canter or trot, and then get his second breath, and he picks it back up again. He knows how to take care of himself, and he eats and drinks wonderfully at a race."
Jude's not a smooth ride, either. "Since he was bred to show, he's got that high action trot. He's very bouncy. I'm sore for a week after I ride him in a competition!" That's saying something for a person who rides horses all day long.
The level course at Euston Park in Great Britain should suit Jude well. "Jude's not a big climber, but he's great on the flat. He also does well in sand and humidity."
Alisija is thrilled that she has achieved her dream of qualifying for the 2012 WEC on her own horse. "When you get to ride your own horse that you have developed from scratch, from nothing, from zero, I think that's like raising a child. It's amazing. This is
my
horse, that I've developed, I've trained. I didn't just go out and buy a horse, it's
my
baby, it's my child. So for me to represent Lithuania on this particular horse is a big big pride."
And she's going to go for it in Great Britain. "I don't want to go to the World Endurance Championship just to finish. I want to go and take chances. I want to race, I want to do my best, and I want to have a horse that will be able to compete with the top class horses. That's my goal."
After Alisija's ride in the Kentucky WEC, she's done her homework. She and her crew will prepare in advance - how they'll handle Jude in the vet checks, what they'll do in general. "I have more experience now, and I have a Bad Ass crew, and they are so excited about the whole thing. This is the biggest thing ever, and this time I think we have no excuse not to do very well." Alisija's husband Charles, who has supported her on her quests, will be a big part of her Great Britain WEC adventure this summer.
Endurance has not been a big sport in Lithuania, but Alisija and Jude just might change that. With the Federation behind her, there is talk of possible sponsorship in the works.
But if Alisija finishes well in Great Britain, don't believe her if she tells you she's accomplished her goal and she's done. "I already told my Federation, my next plan is France in 2014, of course! But first we have to get through England before we talk about France.
"The Bug is caught, and there's no quitting. I probably will be like Jan (Worthington), who is 70-something years old and trying every time."