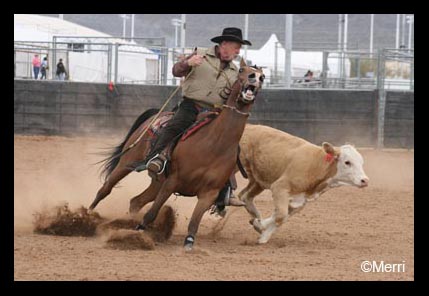 Saturday February 25 2011
On one side of the Scottsdale Arabian Show venue, the Athletes took the stage in their Championships and showed off their agility. The working cow horses do it all - combining "the thrill of cutting and the finesse of reining." The working cow horse does a bit of cutting, spinning, rolling back, wheeling, sprinting, flying lead changes, sliding stops - and a bit of thinking. You can see some of them change horsenalities when their cow steps in the arena - their whole body shifts forward, all attention on that cow.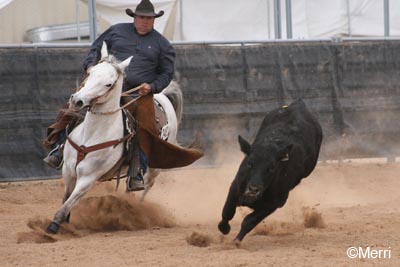 You can see some of them eyeballing the cow as they are turning it. **(There were also reined cow horse classes... are these two the same thing?)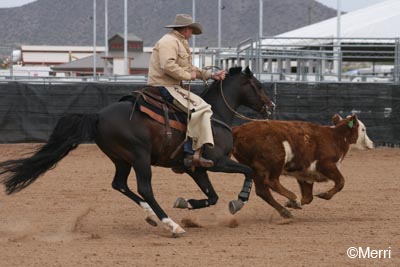 I lusted after one of them (#880! More pictures of him in the slide show and photo galleries from today). He won his class. I bet he'd make an outstanding endurance horse, as would many of these physically fit, sturdy and well-built horses.
Near as I can figure from the prize money listings, first place in the Championship classes receive from $125 to $1600.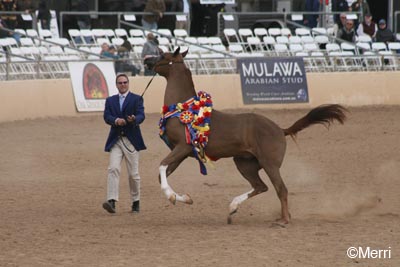 On the other side of the venue, the Adored took center stage in their Halter classes.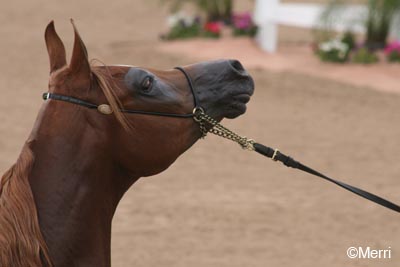 These finely chiseled, delicate, fine-legged, wide-eyed, head-tossing, shampooed and shined and greased two-year-olds showed off their looks. Winners of the Championship classes took home $12,483.33, Reserve Champion $6,241.66. (Yearling Champions received nearly $40,000.)
At higher levels of Hunt Seat Equitation, riders sometimes switch horses as part of their test, and are judged on how well they ride a horse other than their own. Wouldn't it would be quite interesting to turn the tables on these two classes of Arabians? They are the same breed but oh so different in every way. Stick the Working Cow Horse in the Halter arena and let them show off their looks, and stick the Halter Horse under a Western saddle and point them at a cow.
Now,
that
would be a show to see!
Slide show here:
Many more photos here:
http://www.endurance.net/international/USA/2011SAS/