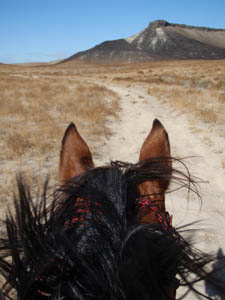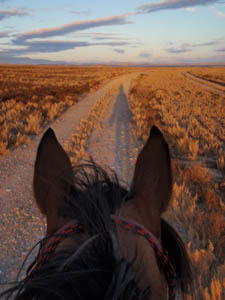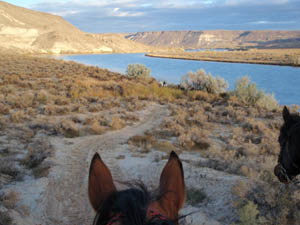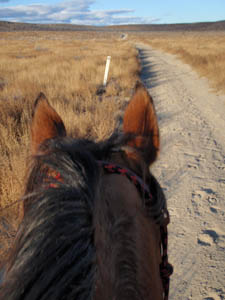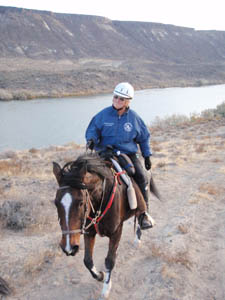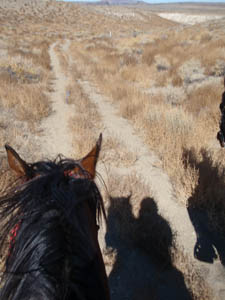 Sunday November 1 2009
I have a confession: even though I love doing endurance rides - I am seriously obsessed with them - I just HATE getting out of bed early in the morning before a ride. I think it probably goes back to my racetrack grooming days, when I got up at 4 AM, 7 days a week, for 8 months of the year.
I especially hate getting out of bed early with a night of zero sleep, and a dreadful headache so bad that I'm fighting nausea. Ugh. But no way I wasn't going to ride Jose. Plus I was riding with Steph and Rhett, and Annerose Carlile and GAC Ginger. Ginger is 10. Annerose is 72. She's got nearly 10,000 AERC endurance miles, and about as many entertaining stories to tell. (Like the time she won the Swiss Championship - I think she was in her 50's - after her horse did a somersault on the trail and landed on her and they got back up and kept going; there's a story about getting bees in her bonnet/helmet - but I didn't ask her about that one.)
And it wasn't just another 50-mile endurance ride, and it wasn't just another 50 mile endurance ride on Jose: it was the first ride since breaking my rib 5 1/2 weeks ago. I was definitely not going to miss this one. I downed many Ibus and hoped for the best.
And besides, Jose and Rhett are best buddies, and no way was Jose going to hang out in the corral today while Rhett went off and left him again.
It was chilly and breezy in the dark morning, but skies would be mostly clear for the day. Jose didn't want the bridle. He thinks he goes best in a hackamore. I know better. Bridle first loop, and maybe hackamore the second or third loop. Maybe not.
Off at 8:15 in the sunrise, starting east of Castle Butte, heading for Henderson Flat, site of the Utter Disaster in 1860. Cold strong breeze in our faces, fresh and eager horses, our long shadows pointing the way along the trail west. Jose wanted to fly, but he wasn't pulling hard on me. Rhett was working on pulling Steph's arms out of her sockets. Annerose cruised along on Ginger right behind us, always smiling when I looked back. There really isn't much better than riding a good horse on a trail in the desert sunrise. My headache was gone, I was really glad I got up this morning. : )
Turn north - no Indian attacks - to the Snake River. The river is a stunning blue in the golden sunrise, with little white caps kicked up by the wind. Ginger drinks at the first watering hole, but Jose and Rhett turn up their noses. Great footing along the river, the three horses cruising along the trail around Wildhorse Butte. We merge onto the Oregon Trail westward, where in some places you see the actual ruts worn by the wagon wheels a century and a half ago. We ride over the trail where a few years ago Tom Noll saw cougar tracks, and where I once saw wolf tracks big as my hand.
We make a figure eight loop and head back toward the morning sun, with dark Castle Butte framing horse and rider silhouettes. We thought Jose and Rhett might slow down since they turned away from their home and towards Regina's, but no, they keep pulling us along.
And with 6 miles left on the first loop: trouble. No more trail markings! For some reason, this little bit of connector trail to Regina's didn't get marked. Which way to go?? Fortunately, I was with Steph, who had marked the rest of the trails, and therefore knew which way to go, so I followed her. Lee and Naomi were with us, so they followed us, but there were three riders in front of us who got a bit lost. They were compensated for it, allowed to leave on the second loop before us so they wouldn't lose their placing. A conference between Steph and ride manager Regina and the vets also resulted in lengthening the vet hold to an hour, and dropping the last 7-mile loop, because the loop we just did, and the next one (a reverse of the first one) were longer than the 21.5 miles that were written down.
I didn't care, I was having such a great ride on Jose. He was drinking well and pounding down the food at the vet check (especially when Sandra held the dish for him). We heard Gary's Tennessee Walker stallion came out of surgery well after yesterday's colic, and it wasn't nearly as bad as they'd feared - great news.
Back out on the second loop. Do I put the hackamore on Jose? He thinks so. I think not. As we started out, our horses were relaxed, trotting along casually, on a loose rein. Then Steph put Rhett into a canter, and that was all she wrote. Glad to have the bridle in Jose's mouth, still. He was fresher this loop, having a great time cantering alongside Rhett. We did a lot of merry cantering on the flat stretches with perfect footing over the desert... how could you
not
??
Still the strong cool breeze blowing in our faces - which we were grateful for. In a few sheltered parts of trail with no wind, the buffalo gnats were horrible (think of those poor settlers in slow ox-pulled wagons). I spit them out of my mouth and blew them out of my nose and wiped them out from under the bandana that was covering my forehead and ears. Some of the bugger still bit me. Jose snorted them out of his nose in indignation.
Even though we were riding over the exact same trails, going the opposite way gives you completely different scenery. Didn't see those kissing rocks before. Didn't see those bluffs that look like a boiled over kettle before. The Snake River is a different color going this way. And even though I've done this Wild Horse Butte trail many times, I never get tired of it. I never get tired of riding in this Owyhee desert.
And Jose wasn't tired of it. He politely
requested
that we go faster, the entire loop. Never flagged, never let up, no matter which direction we turned. And best, most amazing of all? He finished the ride with a 40 pulse, and ended up tying for High Vet Score. Jose!
It turned out to be (like many, many of my rides are) one of the best rides ever. The Owyhee trails were awesome (even though I've done them before), the company great, the weather perfect, Jose brilliant.