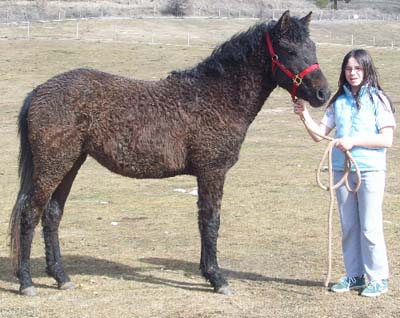 Wednesday November 18 2009
Think of what it would be like if you couldn't have the one thing you enjoyed most in life. For you addicted horse people, that would be your horses. What if you had to give up horses, riding, everything, because you had a daughter who was severely allergic to them?
That's what happened to Shelly White, when she discovered her infant daughter was severely allergic to horses. Shelly couldn't even walk in the house after being around horses without her daughter having difficulty breathing. She eventually had to completely give them up - there was no other choice. She hoped that maybe one day down the road, say when her daughter was 20 and out of the house, she might get back into horses. As Anastasia grew up, she herself was "infatuated with horses," but she couldn't be around them.
When Anastasia was 12 or 13, Shelly heard about the North American Curly horse, which is known for being hypo-allergenic. When the 3-year-old Curly horse *Cuervo arrived at their farm in Summerland, BC, Canada, it was a life-changing event.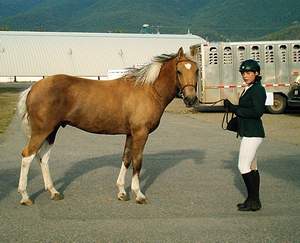 Not only was Anastasia able to be around *Cuervo, and start riding him once he was broke, but she eventually did everything on the palomino Curly - jumping, 4H, Pony Club, dressage, and endurance. And Shelly was rather astounded with his temperament. "I was used to Arabians - you know, a sometimes 'reactive' breed - but this horse was amazing. He came from a thousand miles away, but when he arrived, he was very calm from the beginning. He didn't barge into you or step on you, he was very personable - we were so lucky to have him!"
*Cuervo was such a good horse that Shelly soon got more Curlies. She picked up 3 mares from a Curly Horse Rescue, and they ended up becoming her foundation broodmares. She later got her own stallion - *Sandman's Magic - and now she has about 20 Curlies at her
Curly Standard Place farm
.
Known as North American Curly Horses, or American Bashkir Curlies, the name obviously comes from the curly coat they get in the winter, and their sometimes curly manes and/or tails. The curly coat sheds out in the summer, though the hair in their ears always remains curled. (The * before a Curly's name means they have curls in their coat, as there are some Smooth-Coated Curlies.)
The curly gene has been seen in most every breed; curly coated horses have been documented as early as 161 AD in drawings in China. The earliest indication of curly coated horses in America is from the 1800's among the Sioux and Crow Indians.
One theory as to how the Curly breed developed in America comes from the wild Mustang. When the curly coat showed up in other breeds, it was looked on as an unfavorable trait. When a Mustang showed up with a curly coat, it wasn't discarded. The curly coated mustangs in fact showed a high degree of hardiness, and rancher John Damele from Nevada is credited with starting to breed the curly coated mustangs, and crossing them with his working stock, in the early 1900's.
In 1971 the American Bashkir Curly Registry started up with 21 horses; now there a several thousand. ("Bashkir" is a breed from the Ural mountains in Russia with a thick, curly winter coat; however, there is no evidence that the curly coat in North American breeds is related. A photo of this breed was saved in a scrapbook by the Damele family, which is where the name for the American Bashkir Curly horse came from.)
Shelly White admits she sounds somewhat like a fanatic, but why not? "You can do anything with Curlies - driving, dressage, reining, endurance, trail riding. They like people, and in fact will seek them out; they are easy going; they will tackle just about anything without questioning you. They don't overreact to things, and they tend to think first before reacting. I've gotten spoiled with my Curlies!"
Besides breeding, raising, training and selling Curlies, Shelly's stallion, *Sandman's Magic, just completed quarantine, and now has frozen semen available for Europe and Australia. "Sandman will be a grandfather of the Curly breed in Australia!" Shelly has also donated a breeding to *Sandman's Magic to the current
Curly Horse Rescue Silent Auction
.
Shelly enjoys endurance riding as a family affair - the riding and camping with her kids - though Anastasia, now 20, still suffers from horse allergies. She rides her Curly mare *Spar's Barefoot Contessa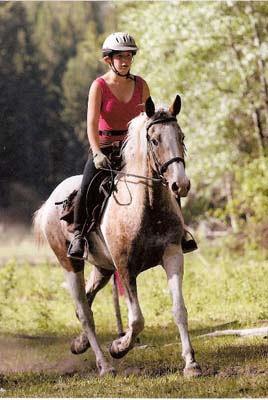 - produced from one of Shelly's foundation Curly mares - but is worn out at the end of the day. Shelly's son Shane has ridden *Cuervo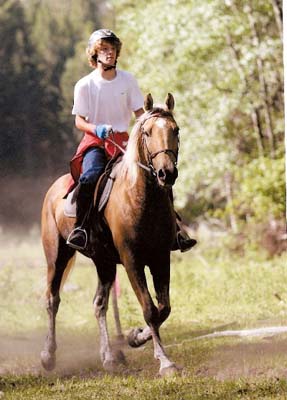 in endurance also. The family would like to do more endurance in the near future... I might have talked Shelly into trying one of our Owyhee multi-day rides. : )
Check out the
Curly Horse Rescue
and their
Silent Auction
, which began November 15, and runs to December 10, and consider bidding on some items.
Or, have a closer look at
Curly Standard Place Farm
. Have a talk with Shelly, and she just might talk you into your own Curly.
"Put a little curl in your world - you won't regret it!"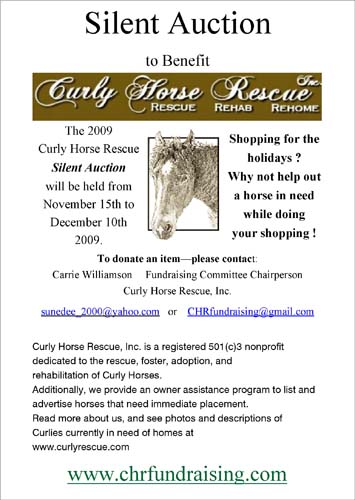 (Photos are Shelly's)