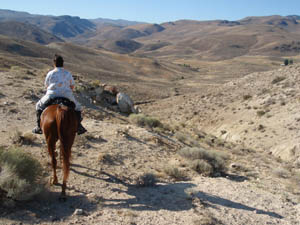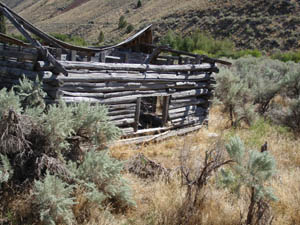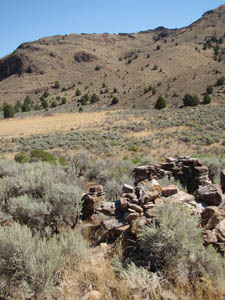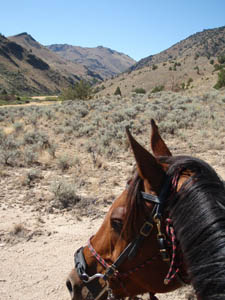 Monday August 31 2009
Another gorgeous day of exploring the Owyhee desert on horseback, with Jose getting to escort two of his ladies up Castle Creek Canyon.
Starting in the Owyhee Mountain foothills, we rode along an old road beside the creek - possibly originally built by miners 150 years ago, or at least in the 1950's by homesteaders on the creek. We know it's at least as early as the 1950's, because we rode by an old rusted-out 1950's Buick, overgrown with weeds and sagebrush.
There are remnants of a couple of mines, and several homestead sites, some with wooden cabins or parts of them still standing, some with stone ruins. The leftover irrigation canals are still evident, all of them likely dug with a fresno scraper (invented 1883, a blade that scooped up the soil and deposited it on the side as it went along) and mule. There is still a live orchard (plums, apples), an old berry patch, a cemetery, and a few scattered poplar trees, which were popular among homesteaders.
It really made you think of those people who chose to eke out a living here in the middle of nowhere. It was an easy 7-mile ride for us up the canyon -
after
we hauled 11 miles to get to our starting point - and we hauled from Oreana, which really still is in the middle of nowhere. Back in the old days you wouldn't ride to the nearest town every day for a latte, and you wouldn't drive your wagon every week to the nearest town for a bag of groceries or a newspaper.
We found it quite beautiful - another hidden surprise in the high desert - a trail for recreation now. Wonder what the people who lived here a hundred years ago thought of it?
More photos of our Castle Creek Canyon ride at
www.endurance.net/merri