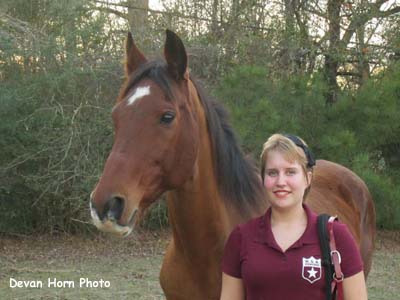 Sunday January 27 2013
It's a rare thrilling experience for any international endurance rider to get an invitation to ride in the Presidents Cup Endurance Race in Abu Dhabi, but for Young Rider Devan Horn of Texas, it's an endurance dream come true. "I'm beyond excited!" the 19-year-old says. "I haven't slept in 3 days!"
Devan will partner with Jason and Ceci Butler-Stasiuk's CJS Maverick for the 160-km race on February 16th, which is known for its tough course in the sand (and often heat and dust storms), its large number of participants (usually over 100 starters), and its record-breaking finish times (6:21.35 in 2012, 6:25.13 in 2011, 6:21.12 in 2010). CJS Maverick is a 9-year-old National Show Horse (3/4 Arabian, 1/4 Saddlebred) with a record of 650 AERC miles, and 11 completions in 16 starts, with 3 Best Condition awards.
It's an unusual move for the race's Organizing Committee. Normally, invitees are senior international riders who had not previously competed in Abu Dhabi; this year the decision was made to invite Young Riders to compete with the seniors. Reportedly, 16 foreign Young Riders have been asked to participate. Travel expenses are paid for a rider, horse, and groom.
Never before has Devan ridden in such a large and prestigious, competitive seniors race; nor has she ridden CJS Maverick in competition before. Add to those ingredients the facts that Maverick has only competed in and completed one 100-mile ride, that he is very competitive, and that he has not faced a starting line with over 100 starters before, and one might forgive Devan for feeling a little intimidated. But none of that makes a dent in the poise and confidence that this Texas endurance rider radiates.
Some of that self-assurance was surely transmitted from international competitor Darolyn Butler, whom Devan first met 12 years ago, and whom Devan considers a second mother. Darolyn is a long-time endurance rider, multiple National AERC Champion, multiple international medalist, and currently 6th in AERC lifetime mileage with over 33,000 miles.
"My parents moved down to Texas when I was around 7," Devan explains, "and I had so much energy, they just dropped me off at Darolyn's house and said 'keep her'. So I started working at Darolyn's and helping out with her trail riding business, and it was just a natural flow into endurance riding. Darolyn's been really great; she's been my mentor since I was 7."
Like Darolyn, you could say that endurance is Devan's obsession. "I was really lucky that my first horse discipline was endurance. I love everything about it - the time spent with the horses, the people in the sport, the Arabian breed. It's really the only discipline I can ever see myself doing."
Devan has been competing in endurance on Darolyn's and Ceci's horses since she was 11 years old (Ceci is Darolyn's daughter); and since then Devan has completed over 2800 AERC miles, finished the 100-mile Tevis Cup, competed in 3 North American Young Riders FEI rides, and won a 120-km Young Rider race in England, her first time riding overseas.
Her experience riding and handling many different horses will serve Devan well, and she has logged many training miles on Maverick, but, what about that first-time ride on a horse in a big race?
"No doubt he's going to be very forward, and I'm going to have to really work hard to rate his speed. I'll have to focus on really keeping our pace, and keeping him controlled. But luckily he's not one of those horses who loses his head in a crowd."
Maverick's current training for the Abu Dhabi race in the sand consists of doing what Darolyn Butler's endurance horses always do. "We're going to focus on long and slow down here in the heat and humidity, do a couple of nice rides, and take it day by day." Fortunately, Maverick will be familiar with the sand course in Abu Dhabi, because that's what he trains over every day. "It's all sand," Devan says. "The only time we're not in sand is when we're crossing the road to get to more sand!"
Getting the international experience and getting to compete abroad is one of Devan's dreams. "I'm not sure where my endurance career is going, but I live for the International. i think it's just so great to be able to see another country from the saddle."
On February 16th, this USA Young Rider will get to do just that.
Follow her experience in Abu Dhabi at:
http://www.endurance.net/international/UAE/2013PresidentsCup/