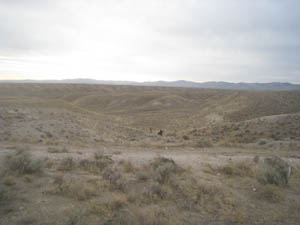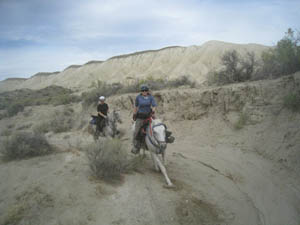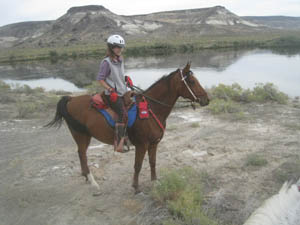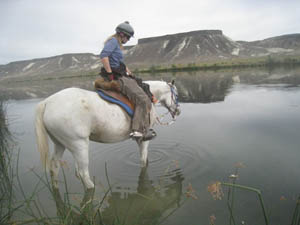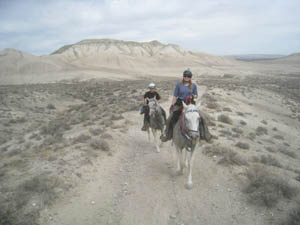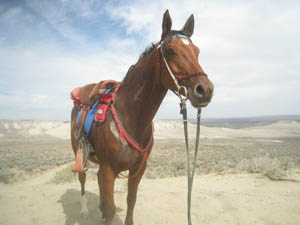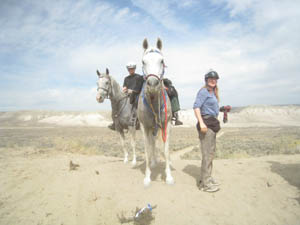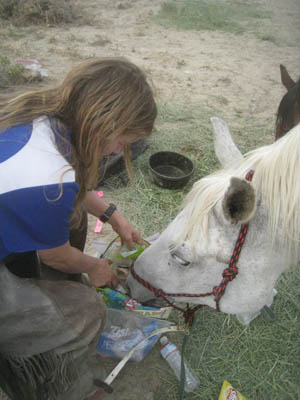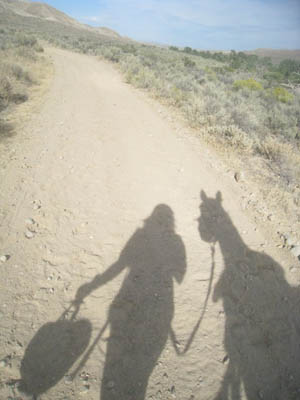 Wednesday September 24 2008
DAY 2 - Wildhorse Butte
While the ride down to the Snake River petroglyphs was left out this year, riders still got a chance to ride along the Snake River, along the old Oregon Trail, and around the base of Wild Horse Butte, 300 feet high and almost a mile in diameter.
And I was one of them!
Connie rode Rushcreek Mac, and I rode my pal Jose Viola, (with Raven in Bag), on the 55-mile ride, and we picked up Helen Bonner on the way out of camp under cloudy skies with an orange strip of sunrise slicing the eastern horizon. Same ol' trails I've done at least 4 times now... up onto the north flats, across the highway, through part of the 485,000-acre Snake River Birds of Prey National Conservation Area, through a deep wash that gets so narrow you can touch the sides as you canter along if you dare to let go of the reins, on a big loop around Fossil Butte, into the vet check at 18 miles, back out on a big 38 mile loop to the Snake River and back to the vet check, and 12 miles back into camp.
And they never get old. Every time I ride the trails out here, even around the house, I'll see something I never noticed before - a pile of boulders, the angle of a wash, a fold in the hills that suddenly looks unusual, a different game trail I haven't tried yet. Different lighting - different times of the day or the year - add yet another element to the trails and the Owyhee mountains on the horizon. And it always makes me think of the pioneers in the 1800's that traversed the area when they had to blaze their own trails - especially when I'm hot and dusty and tired... and I know I have a hot shower and cold Dr Pepper awaiting me back at the house.
A thin cloud cover kept the day 5-7 degrees cooler than a baking sun would have, and the bugs weren't so bad along the ever-scenic Snake this time. We were cruising along with our horses - Jose wanted to go faster faster faster! - and Mac was pushing a bit to keep up with Jose - but we'd started out at the back of the pack (
somebody
couldn't get ready to leave the starting line on time), and we stayed there. Everybody seemed to be cruising about the same speed and staying in their same positions.
Now, a word about the out vet checks here. Riders leave their gear bags in a pile in the morning, where the volunteers (namely neighbors Linda and Mike) load them into the horse trailer, drive to the out vet check, and unload the bags. Some riders pack efficiently - a little food for the rider and horse - in a bag that is small and light. Connie and I packed a bag that was very big and extraordinarily heavy. So heavy, that I had to have help from Mike carrying it to where Connie and I set up. "What've you got in there, a body?" Well - it was lots of treats for us humans (Connie doesn't ride anywhere without a Goodie Bag, and this one was full, and of course we had to have a few Starbucks coffee drinks, and lots of frozen water bottles) and horses (lots of beet pulp - wet and therefore heavy, and some dry grain, and carrot treaties). We hadn't even put any blankets in, or hay, like we normally would! We had to make sure that we and our horses wouldn't go hungry, no matter what the weather or trail conditions. Mac discovered all the goodies in Connie's human Goodie Bag and was nosing around in it trying to help himself, while dripping wet beet pulp all over us.
The trails were mostly soft (and just starting to get a bit dried out and dusty), the company and conversations good, and the ride really was coming to an end quickly; too soon, we were zipping along the last plateau top towards home. We had to pass a shortcut turnoff to our house that Jose and Mac both knew well, but we didn't have any trouble keeping the boys cruising past it, to the downhill trail (Merri's Trail) at the end of our Pickett Creek Canyon. There, when we stopped to get off to walk down the hill, Connie found Mac had thrown a front shoe.
We just walked the whole two miles on foot back into camp - it felt good to stretch the leg muscles after much steady, fast trotting. Actually, it only felt good once I could walk with my bad kneecap... which worked itself out after a half mile or so. Jose's a fast walker, so I had a good workout keeping up with him. That was my daily dog walk... only the dogs weren't with me (and boy, did they need their daily walks, as they were ballooning out from all the food they were begging at the ride dinners!) And we did it - another 50 miles of trail for me and my great pal Jose.
29 of 30 horses finished the 55 mile ride, and all 21 riders finished the 30-miler. Evidently many of them were gaited horses again, as evidenced by the many "Go Gaiters!" cheers during the awards. Apparently they also kidnapped Steph (she went to their trailer on the pretext of looking for somebody or something) and they plied her with a (?) shot of tequila, so she had a good time conducting the ride meeting.
The well-fed, jocular and sometimes rowdy group of endurance riders and families were quiet as church mice as Dr Michael Peterson gave one of his very popular informational lectures, this one on the mechanics of feeding beet pulp to endurance horses.
Highlight of the day had to be the completion of the 30-mile ride by Skyla Stewart and her 27-year-old - that's TWENTY-SEVEN years old - horse AW Habod. He had a great time - as you can see from the story Habod himself wrote.
Then there was Jacinta Denton, who won the 25 on her lovely gelding Krasniy Kumeer. She was so excited receiving her award - "I've never won anything in my life!"